Log in to use the pretty print function and embed function.
Aren't you signed up yet? Log in!
After the case studies of Turkish Lira and Indian Rupee, this week we focus on the case of Indonesian Rupiah.
The weakening of Jakarta's currency started at the beginning of 2018, and continued until October, when the currency reached (and exceeded) the threshold of 15.000 Rupiahs per US Dollar.
Since Novembre, the currency is experiencing a significant recovery, which allowed it to regain 4.8% of its value against US dollar.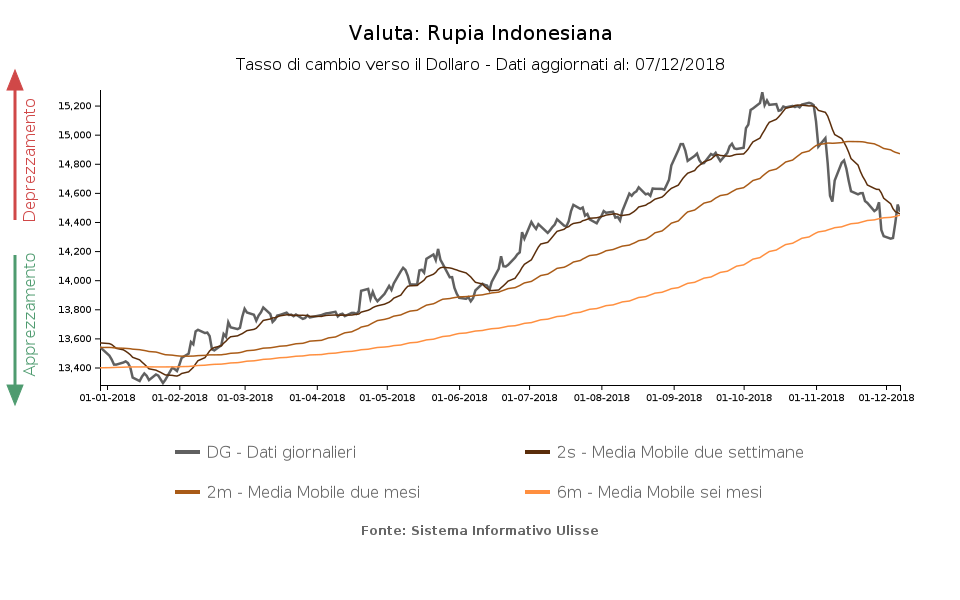 Factors supporting the currency
Commercial war on stand-by
To the benefit of the Rupiah, international tensions deriving from US-China trade war have recently loosened a bit: last Saturday, US President Trump and Chinese president Xi Jinping met in Buenos Aires, and agreed on a temporary truce. US administration postponed by 90 days the increase of tariffs to 25% (from the current 10% rate), in order to give more time to negotiations.
Indonesian policy-makers' reaction to the news was positive, because commercial tensions push investors away from the assets of emerging economies.
Central bank's operations
The determined work of Bank Indonesia (BI) has contributed to the strengthening of the Rupiah in recent months: the reference interest rate, which currently equals 6%, experienced its fifth increase of the year in November.
Indonesia's government intervened to support the Rupiah too, with actions aimed at correcting the current account deficit, one of the main factors behind the depreciation. In addition to administrative measures focused on the reduction of imports and the support of national exports, latest government policy initiatives focus on promoting tourism and attracting foreign investments.
In spite of these initiatives, latest data released by BI show that the current account deficit has increased by almost 11% in Q3-2018 compared to the previous quarter, and almost doubled compared to Q3-2017. Thus, at the moment, government's actions do not seem to have achieved their goals.
Last but not least, oil is a relevant factor to keep into account: Indonesian currency benefited from the recent reduction in oil price, since its imports, although noticeably lower than India's, still represent a significant negative component in the trade balance.
Indonesia's trade balance, oil & gas sector
Source: StudiaBo elaborations on Bank Indonesia's data.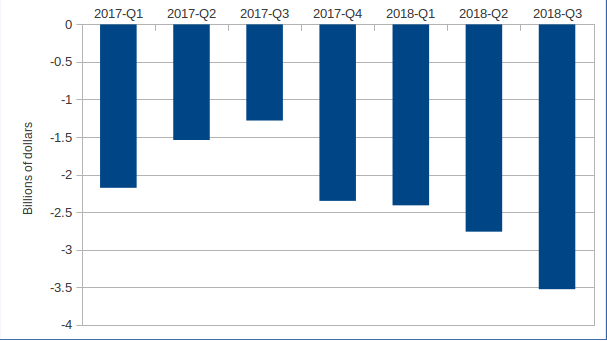 Macroeconomic outlook
Overall, Indonesia's macroeconomic perspectives are good. Inflation is moderate, so it does not reflect, at least for the moment, the weakening of the currency. In November, growth in consumer prices exceeded 3% (year-on-year), a value within the boundaries set by the central bank.
As far as economic growth is concerned, it seems to be quite solid: GDP recorded a +5.2% growth in Q3-2018, year-on-year. Since growth is good and general elections are due to be held next year, analysts predict that the economic growth factor could temporarly be sacrificed in favor of currency stability: no president durings his election campaign aims at losing voters by reducing the purchasing power of poorer classes.