Log in to use the pretty print function and embed function.
Aren't you signed up yet? signup!
Recent data show an overall deterioration in the export performance of Italian territories.
First-quarter 2019 data for Italian exports at the Provincial level, available in the Exportpedia section of ExportPlanning.com, show a reduction in the number of Italian Provinces with upward trends in exports (59 percent compared to 73 percent in the previous quarter); this is the case in the north of the country in general and in north-west provinces in particular.
Exports from Italian provinces: Year-over-Year Percentage Change in Q1-2019
(current euros)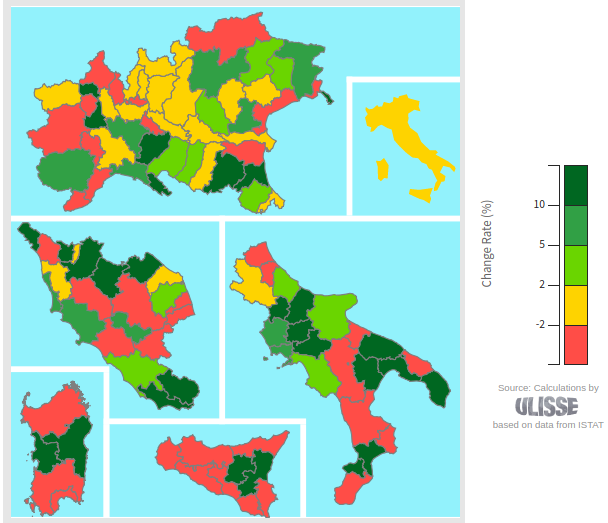 Source: processed by StudiaBo on ISTAT data
ATTENTION: variations related to the provinces of Sardinia are not considered, since from Q1-2018 a new regional structure was established by the Regional Law n. 2/2016 and subsequent resolutions of the Regional Council n. 23/5 of 20 April 2016.

Bologna, Florence, Latina, Frosinone and Arezzo are the best performing territories for export increases in Q1-2019.
In Northern Italy, Bologna was confirmed - for the third consecutive quarter - as the "best performer" territory, with a growth of 415 million euro compared to the last-quarter of 2018.
In Central Italy, Florence is, once again, the leading province in terms of export performance, with an increase in provincial exports of almost 670 million euro. Also of note are the positive trends of Latina, Frosinone and Arezzo.
In the South of Italy, after the weak signs of improvement in the last few quarters, the share of provinces showing a growth in export values decreased once again, falling to 53 percent. An exception to the general trend was the particularly favorable performance of exports from the provinces of Bari, Catania and Naples.
Please refer to Exportpedia for further details of Italian Exports analysis at the Provincial level, for sectors and destination markets.