Settimana di indebolimento del dollaro - III set. agosto
Published by Luigi Bidoia. .
Exchange rates
Log in to use the pretty print function and embed function.
Aren't you signed up yet? signup!
A fronte delle incertezze di cosa farà nei prossimi mesi la Fed, la settimana appena trascorsa ha visto un progressivo indebolimento del
Dollaro
, che venerdì ha superato i 1.13 dollari per euro. Tra le principali valute mondiali, sono rimasti, viceversa, stabili i cambi verso l'euro dello Yen e del Franco Svizzero.  Nell'arco della settimana è risultata relativamente stabile anche la Sterlina, dopo che martedì aveva raggiunto 0.87 pounds per euro, chiudendo la settimana a 0.86 pounds per euro.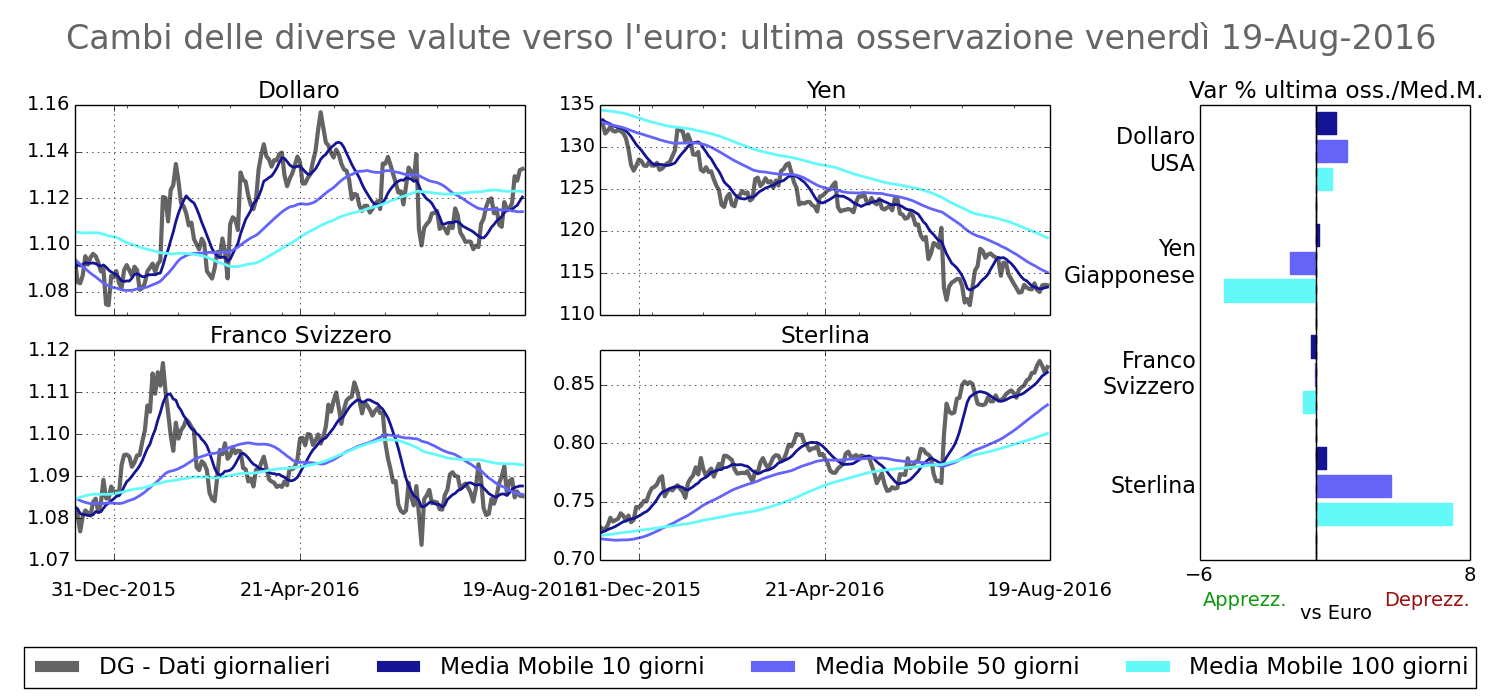 I movimenti del dollaro si sono riflessi su tutte le valute asiatiche, risultate tutte in deprezzamento rispetto all'euro. Da segnalare il deprezzamento dello
Won
sud coreano che inverte repentinamente la dinamica che lo aveva caratterizzato negli ultimi due mesi. Tra le valute non asiatiche, altrettanto repentina è stata l'inversione verso un deprezzamento del
Real
brasiliano e, soprattutto, del
Rand
sud africano. Meno accentuati sono stati gli effetti dell'indebolimento del dollaro sul Rublo, sullo Shekel israeliano e sulla Lira turca. Anche le valute europee
fluttuanti
hanno accusato un leggero indebolimento verso l'euro.