Log in to use the pretty print function and embed function.
Aren't you signed up yet? signup!
Nel secondo Trimestre 2015 le esportazioni della provincia di Cremona sono risultate in territorio negativo rispetto ai valori dell'omologo trimestre dello scorso anno ( -2.9% in euro ), fattore che differenzia la provincia rispetto al contesto nazionale.
Tale performance è da ascriversi principalmente alle difficoltà sperimentate dal settore metalmeccanico (-8.4% in euro rispetto all'omologo Trimestre 2014), e nello specifico dall'export siderurgico, come i prodotti in acciaio (-34.7% in euro, con un calo assoluto di 42 milioni di euro) e la fabbricazione di tubi in acciaio (-10.2 milioni di euro, pari al -7.1%) oltre che dal settore dei prodotti in carta e cartone (-17.7%). Per entrambi i comparti siderurgici le maggiori turbolenze si sono registrate sui mercati statunitense e turco , verso i quali si è esportato complessivamente circa 39 milioni in meno rispetto ai valori del secondo Trimestre di un anno fa.
Uniche eccezioni nel panorama metalmeccanico locale il settore dell' elettrotecnica (+11.6% in euro) e il comparto della bullonistica (+8.3%).Nonostante il dato metalmeccanico, il contesto delle esportazioni provinciali mostra segnali incoraggianti, con la Chimica , l' Agroalimentare, il sistema Casa e il sistema Moda in territorio positivo, seppure con diverse intensità.
[caption id="attachment_5982" align="alignnone" width="572"]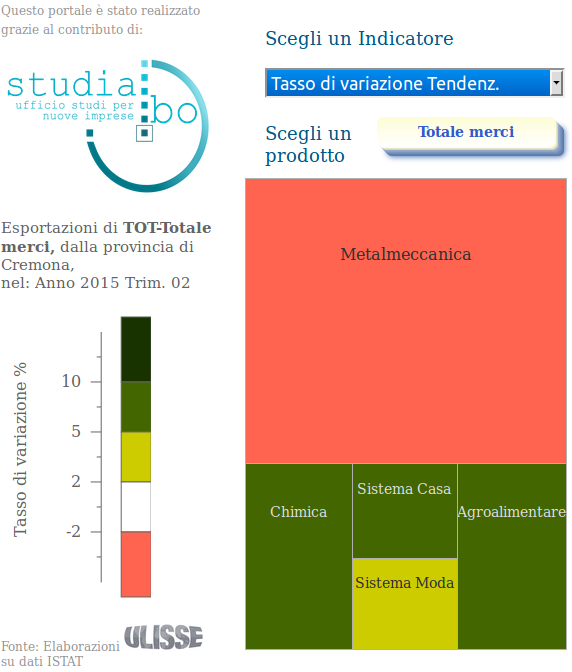 Esportazioni totali della provincia di Cremona: Variazioni tendenziali II trimestre 2015 per macrosettore[/caption]
Il "bicchiere mezzo pieno" riguarda sopratutto le performance di esportazione di " Profumi e cosmetici ", che realizzano un +14.1% tendenziale in euro, grazie ai forti incrementi sperimentati nei flussi commerciali verso il mercato polacco e tedesco (+2.3 milioni di maggiori esportazioni, se considerati congiuntamente), della " Chimica di base ", che aumenta le proprie esportazioni di 7.7 punti percentuali (anche in questo caso grazie alla crescita sperimentata sul mercato tedesco:+2.8 milioni di euro, pari al 21.5%) e dei " Prodotti in plastica ", che realizzano una crescita tendenziale del 10.8% in euro, concentrata perlopiù in Polonia (+82.4%) e Repubblica Ceca (70.3%).
[caption id="attachment_5988" align="alignnone" width="1155"]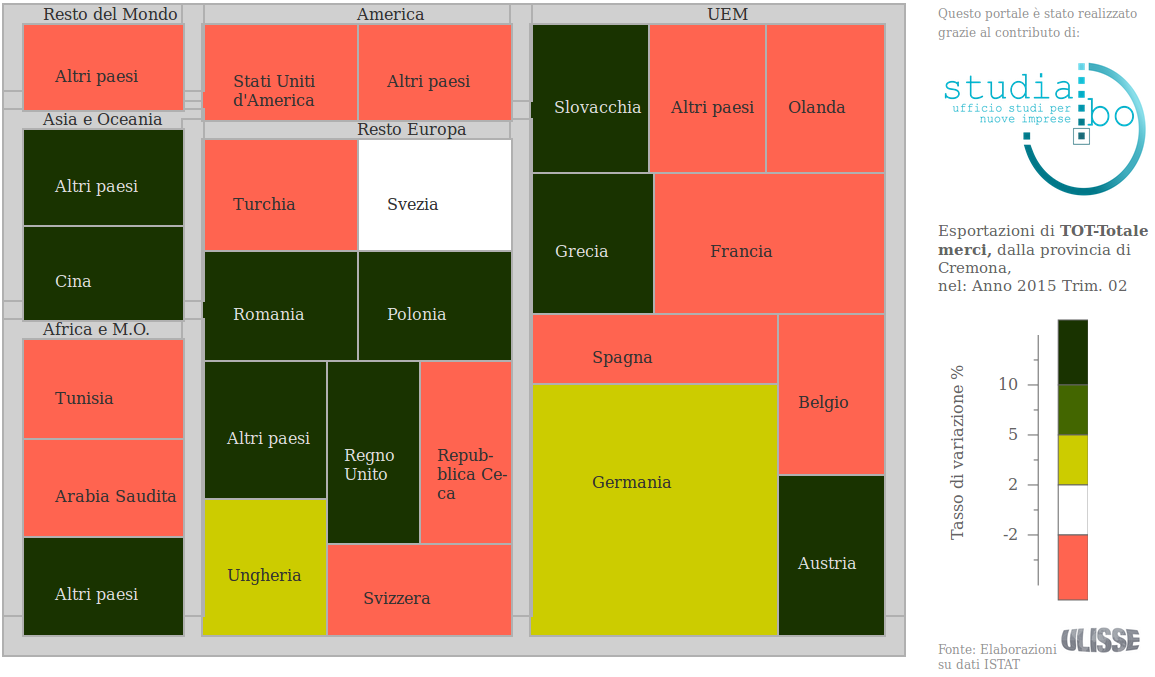 Esportazioni totali della provincia di Cremona: Variazioni tendenziali II trimestre 2015 per Paese di destinazione[/caption]