I tassi sul rublo attirano investitori - V sett. Settembre
Published by Luigi Bidoia. .
Exchange rates
Log in to use the pretty print function and embed function.
Aren't you signed up yet? signup!
Il 16 settembre la banca centrale russa ha abbassato i tassi di riferimento sul
Rublo
( CBR key rate) da 10.5 a 10.0%. Nello stesso giorno, il Rublo quotato a 73 rubli per euro, ha iniziato lentamente ad apprezzarsi, fino ad arrivare alle quotazioni di ieri molto vicine a 70 rubli per euro. La riduzione di soli 50 punti base del tasso di riferimento è stata valutata positivamente dai mercati, come una giusta mediazione tra le sollecitazioni del presidente Putin a procedere con più determinazione nella riduzione dei tassi e l'esigenza della banca centrale di confermare sul campo la propria autonomia. Con un'inflazione in Russia attualmente sotto al 7% e tassi di interesse di riferimento in Europa e in Giappone pari a 0 e negli Stati Uniti dello 0.5%,  operazioni di Carry Trade sul Forex possono presentare un rapporto interessante tra rendimento e rischio, portando ad un trasferimento di capitali da valute a basso interesse verso il rublo. In questa situazione, dall'inizio dell'anno il rublo si è già apprezzato sull'euro di oltre il 10%. Si deve tuttavia osservare come nella prima metà del 2014 le quotazioni del rublo erano risultate costantemente inferiori a 50 rubli per euro, suggerendo come l'attuale fase di apprezzamento debba essere interpretata con un aggiustamento rispetto alle valutazioni eccessivamente negative che hanno caratterizzato la seconda metà del 2014 e soprattutto il 2015.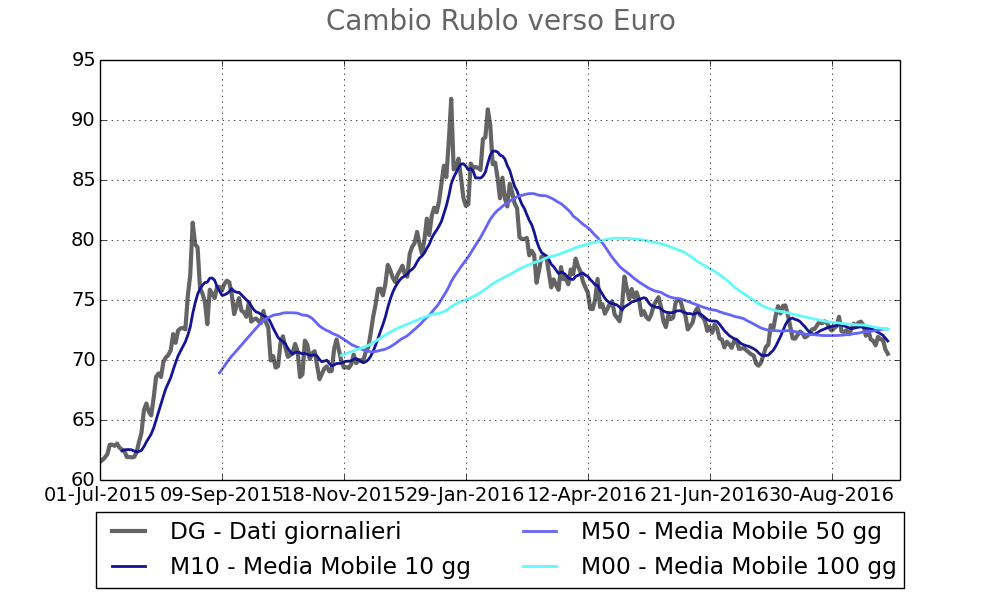 Continuano ad essere limitate le modificazioni tra i cambi delle principali valute mondiali, con il Dollaro leggermente sotto a 1.12 dollari per l'euro, lo Yen prossimo a 113 yen per euro, la Sterlina leggermente sopra a 0.86 pound per euro e il Franco svizzero che si muove intorno a 1.09 franchi per euro.
La scorsa settimana, l'euro si è leggermente indebolito verso quasi tutte le valute asiatiche. Tra queste spicca lo
Won sud coreano
, le cui quotazioni sono risultate stabilmente inferiori a 1250 won per euro. Tra le valute delle economie in via di sviluppo, il Rand Sudafricano sembra aver trovato un punto di equilibrio in un intorno di 15.5 rand per euro. In America, il Peso messicano è ritornato sotto ai 22 peso per euro, dopo che per alcuni giorni, tra la fine della settimana precedente e lunedì della scorsa, esso aveva raggiunto il massimo storico di 22.4 peso per euro. Le valute europee si sono caratterizzate per una accelerazione della fase di apprezzamento della
Corona norvegese
, che ha registrato quotazioni nuovamente inferiori a 9 corone per euro.