Log in to use the pretty print function and embed function.
Aren't you signed up yet? signup!
In this week the dollar weakened against all the currencies, both developed and emerging countries. Some currencies have appreciated over 2% within one week, i.e the Mexican Peso and the South African Rand. Regarding the most important currecies, only the Turkish Lira has not appreciated against the dollar.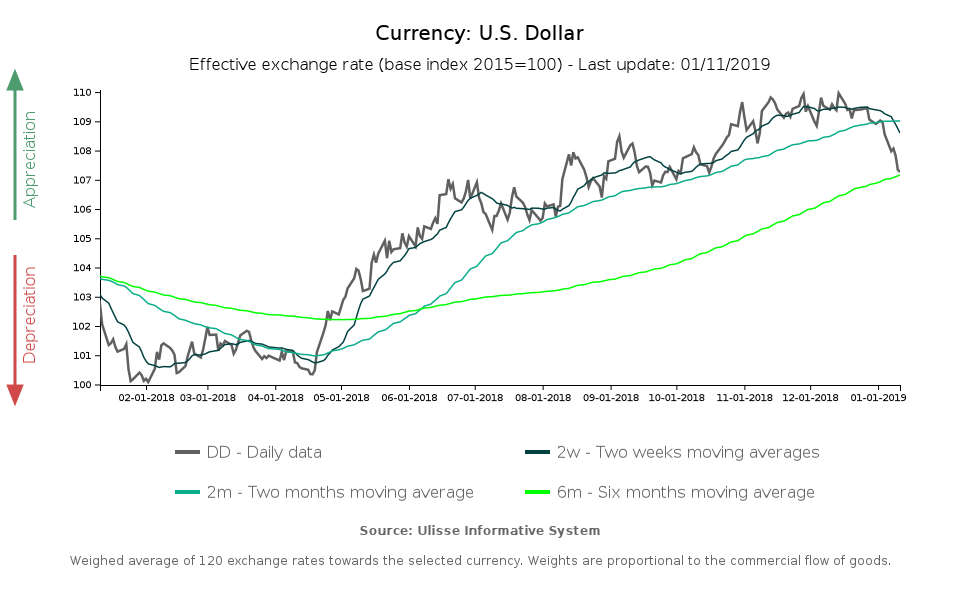 The weakness of the dollar reflects two thorny problems that the US administration has to face.
Firstly, the governament shutdown1, due to the lack of an agreement between Republicans and Democrats on the construction of the Mexican wall, one of the main projects characterizing the Trump's electoral campaign. Furthermore, after the Middle Term elections and the Democrats' victory Trump administration's maneuvering capabilities have strongly diminished.
The second issue is the disclosure of the Federal Reserve's December reports regarding the monetary policy. These reports show that the Federal Reserve's prudence about further rate hikes.The markets do not envisage any further rate hikes by the Fed in 2019. Beyond the expectations on future returns of dollar-denominated securities, the motivations that led the Fed to prudence were important. The main concern of Fed chairman J. Powell seems to be, in fact, the growth rate of public debt and the budget deficit. Both of them would require a long-term solution.
The normalization of monetary policy in 2018, albeit slow, is leading to a significant increase in interest payments on public debt, not offset by equivalent revenues. Thus, all the chickens are coming home to roost due to the strong reduction in taxes by the Trump administration in the last two years. The risk, reported in 2018 by the International Monetary Fund "of a possible recession for the first economy in the world" seems to materialize.
The only dossier that seems to be moving towards a solution is that one relative to the commercial war with China (see Imbalances in the US and China foreign trade ). The current negotiations in Beijing should involve more and more senior officials in the next few days. In particular, the Chinese Deputy Premier Liu He may fly to Washington to carry on the negotiations directly with Secretaries Pompeo and Mnuchin.
---
1) Shutdown is a typical US procedure that occurs whenever Congress fails to approve a budget law. It starts automatically and involves the cutting off of some administrative activities.