Log in to use the pretty print function and embed function.
Aren't you signed up yet? signup!
As 2020 calmly begins to recede into the past, western economies are still facing a tightrope walk to full recovery. The swift and massive shock of the unfolding pandemic has plunged countries into severe fallouts. Despite the huge efforts deployed to contain it, the U.S. economy has suffered a heavy blow due to the fast-spreading virus.
Certainly, U.S. exporters are among those who paid the highest price: between the first and the second quarter of 2020, exports plummeted a record 26%, with values declining from $395 billions in Q1-2020 to almost $290 billions in Q2. Significant recovery notwithstanding, U.S. exports end a tumultuous year still at -9% compared to Q4-2019, as can be seen from the graph below. After the sharp 30% YoY fall that took place in Q2, in line with the outbreak of the Covid crisis, exports have in fact entered their phase of rebound, nonetheless closing 2020 still broadly into negative territory.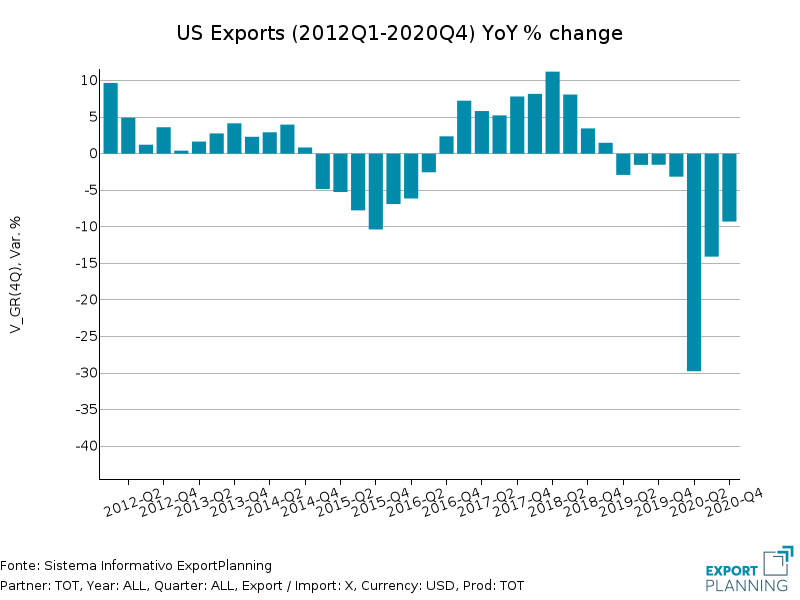 Source: Export Planning
Whereas exports have so far not succeeded in adequately recovering their pre-crisis levels, import values in the fourth quarter outpaced slightly those of 2019 - respectively $641 and $638 billions. Even though imports recorded a 20% YoY drop in the second quarter, they have declined overall to a milder extent and did not allow exports to catch up.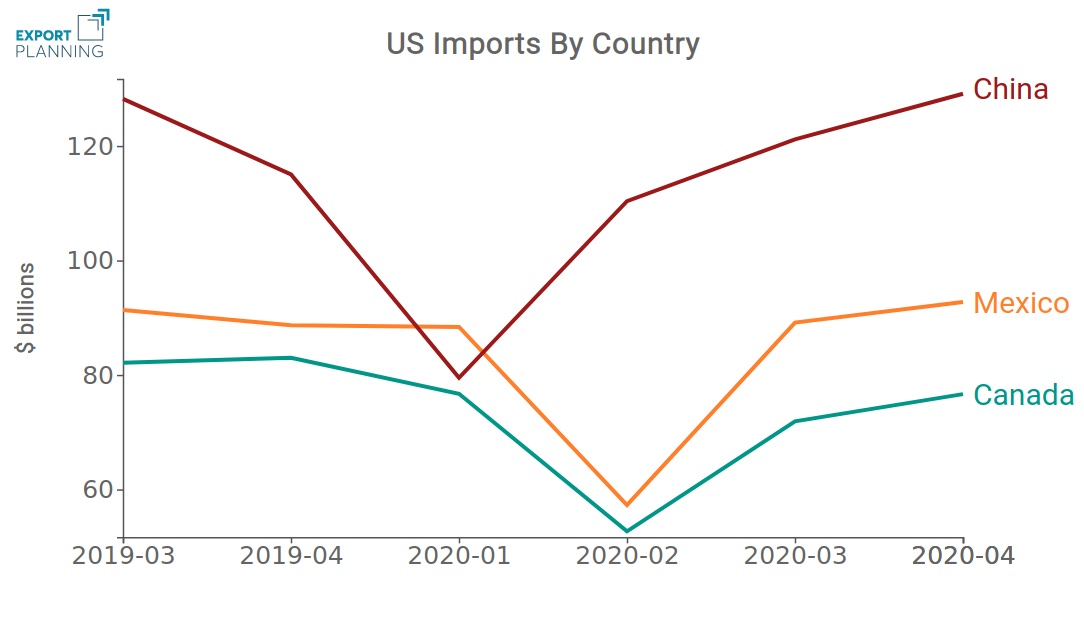 Source: Export Planning
The graph above shows U.S. imports from its three largest trading partners, namely China, Canada and Mexico. Over last year's second quarter, imports from Mexico and Canada plunged respectively 35% and 31% QoQ, as much of international trade was grounding to a halt across western societies. These bounced back rapidly, almost fully converging on 2019's Q4 values.
In the meanwhile, American imports from China increased remarkably, from $79 billions in Q1 to $110 billions in Q2 (+38%). It comes as no surprise that health and wellness products figures among the most imported (+68%), along with industrial equipments (+46%). This goes against a more general trend, observed since 2018, which saw a gradual decline of imports from China: in 2019-Q4, imports diminished by 24% compared to 2018-Q4.
The resurgence in imports lays bare Trump's defeat in decisively reducing American trade deficit, which surged to its highest level since 2006, according to a report from the U.S. Department of Commerce published in November. Furthermore, the "Phase One" deal signed with China has failed to deliver the expected results, due to the extraordinary health and economic circumstances, thus putting the U.S. trade deficit under further stress.

Rising imports constitute a real threat to the stability of US Balance of Payments, though the country remains net exporter of services. This fact is particularly significant as it helps counteracting a persistent deficit in the current account. Most importantly, it is a clear sign of the American willingness to spearhead the trading of advanced IT services and technologies.
Be that as it may, the Covid-19 crisis has brought bad news. The graph below illustrates the quarterly U.S. net position in goods and services as to the Balance of Payments' Current Account: between the first and second quarter of 2020, U.S. trade surplus in services went down to $53 billions (-20% compared to 2019-Q2). Since 2013, that has always stayed well above $55 billions, reaching the peak of $82 billions in 2019's last quarter. As a result, the shrinking services surplus has driven the Current Account further into negative territory, sinking to -$171 billions in Q2 (-43% compared to 2020-Q1). This is the lowest quarterly CA deficit recorded over the past decade. Regrettably, this is not expected to improve in H2-2020, as data for goods signals further widening deficit.
Expecting a rebound of services in the last two quarters, albeit reasonable, should not divert the attention over the previous fall.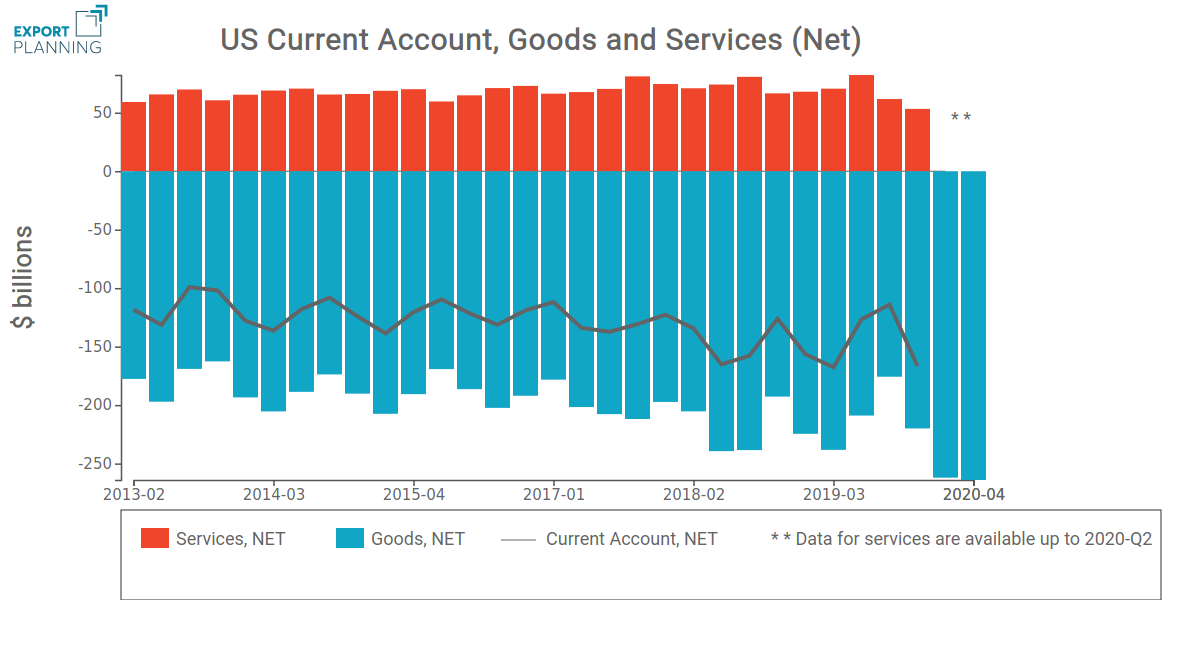 Source: Export Planning Processing of IMF data
Conclusions

The fall in services export engendered by the pandemic poses a serious challenge as to how the United States could handle their problematic trade deficit. That has also crucial implications on the current dollar's weakness. Be that as it may, services remain fundamental drivers of growth for the United States. Moreover, they keep broadening U.S. technological appeal abroad.
The theme of trade policy is therefore expected to firmly remain on the table for the new American presidency as well, as rebalancing the US current account deficit requires new ways to boost exports.