Log in to use the pretty print function and embed function.
Aren't you signed up yet? Log in!
On May 17th, the European Commission and the United States have agreed to ease tensions on their dispute over trade tariffs, avoiding any EU tariff escalation on a range of American products. In a joint statement , Valdis Dombrovskis (the Commission's Vice President and Trade Commissioner), Katherine Tai (US Trade Representative) and Gina Raimondo (US Secretary of Commerce) claimed that the EU would suspend for up to six months a threatened doubling of retaliatory duties, previously scheduled for the start of the next month. Since duties on steel and aluminum were first announced by Trump in 2018 – using Section 232 of the Trade Expansion Act to legally justify the decision - they have been a major sticking point in the economic relationship between Brussels and Washington. As a matter of fact, the new truce constitutes the second concrete step to restore fruitful relations under the Biden administration after both parts decided to temporarily suspend all tariffs related to the enduring Airbus-Boeing dispute in March.

Though tariffs have not been removed, last week's announcement has been greeted as a step in the right direction, bringing new hope of finding a quick and proper solution to the longstanding issue which could somewhat satisfy both trade partners. Importantly, it gives us the opportunity to analyze the extent to which tariffs have been detrimental to the US economy, focusing on those products upon which EU retaliatory measures have been imposed by June 2018.
The trade balance is a key macroeconomic indicator to look at.
When Trump imposed the tariffs on steel and aluminium, his main objective was to correct trade imbalances with the European Union. Things, however did not play out as he hoped. Indeed, the European Union responded with a round of retaliatory tariffs on a group of US products, thereby undermining the American attempts to boost their own exports at the detriment of Europeans.
As shown in the graph below, the trade deficit with the European Union has never really narrowed by a significant amount after 2018 (when EU retaliatory tariffs firstly came into force), hovering between $35 and $47 billion. When the pandemic started taking its toll, imports declined, leaving a trade deficit of $35 billion in 2020-Q2. Yet purchases from Europe rebounded soon. In this year's first quarter, the deficit amounts to about -$40 billion.
US Trade in Goods with EU
Source: ExportPlanning elaborations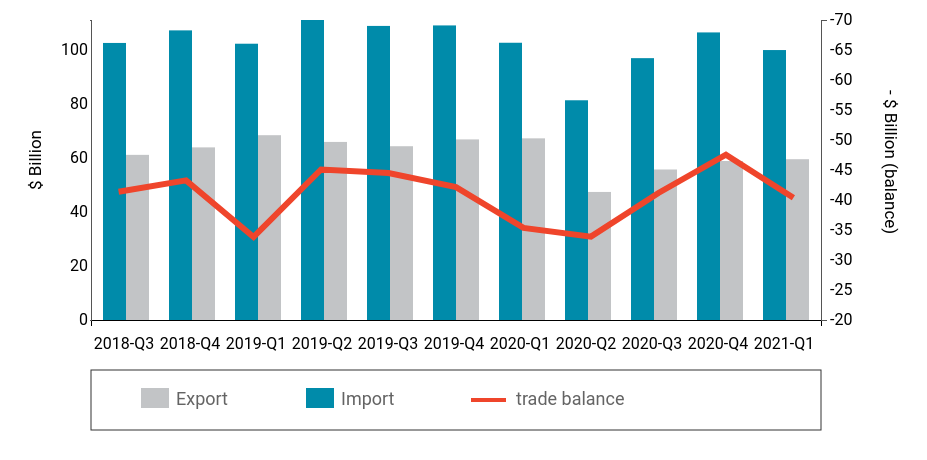 Which products have been hit by EU tariffs?
It could be particularly important to understand which goods have been most exposed to the round of tariffs.
The EU's tariffs pending for June would have hit about $4 billion in U.S. exports to Europe. These includes, among other products, American-made items which are renowned all over the globe, namely motorcycles, bourbon whisky, jeans, peanuts and orange juice. Even if they remain subject to 25% retaliatory tariffs, US exporters can breath a sigh of relief after the decision to avoid further hikes, that would have led to 50% duties on the same goods by June 1st. The following graph illustrates the export of the above-mentioned goods to the EU over the last years. At first look, it is clear that the poor performance on the European market has been largely determined by the imposition of tariffs.
US exports subject to 25% EU tariffs (2016-2021)
Source: ExportPlanning elaborations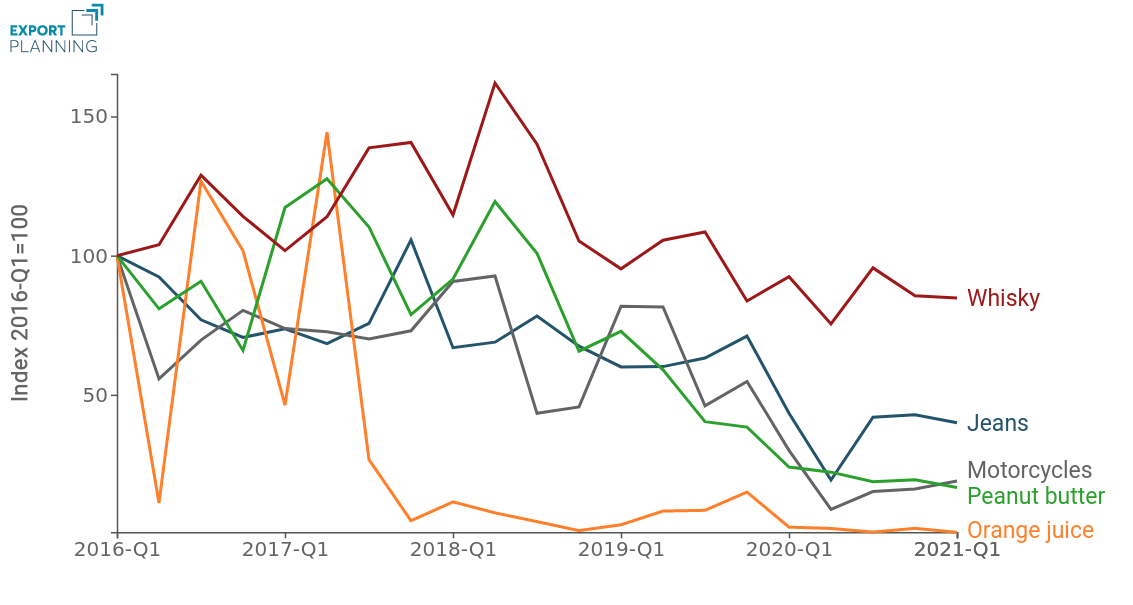 Given that the US is Europe's largest source of imported whisky, American producers suffered a heavy blow with the onset of duties: indeed, sales of whisky went from $184 millions in 2018-Q2 to $96 millions in 2021-Q1. Peanut butter, however, experienced the steepest fall, with exports going from $12 millions to $1 million in two years. Germany and the Netherlands, respectively the third and fourth-largest importer of peanut butter up to 2018, cutted their purchases by more than a half in just one year.
US orange juice was wiped out of the EU market even before 2018 tariffs; between 2016 and 2017, exports diminished -26%. Certainly, tariffs constituted a further blow: in 2021-Q1, exports plunged to approximately $99 thousand. The same is true for motorcycles, whose demand from Europe continues to drop (from $183 millions in 2018-Q2 to $37 millions in 2021-Q1). In particular, Harley-Davidson producers complain about and strongly oppose EU's decision to charge tariffs on their motorcycles.
Various fashion items have also been hit by the European Union's retaliatory measures, including US jeans: the value of exports in the last quarter show a -50% YoY decrease in comparison with 2018-Q1.
Conclusions
According to American and European representatives, the decision to extend tariff suspensions aims directly at creating the space to resolve the "steel issue" by the end of the year. That directly implies the removal of the ongoing duties on imported steel and aluminium. Whereas exporters would certainly welcome such a move, the promise to end trade wars with Europe runs into opposition from the American steel industry.
There are reasons, however, to claim that the tariff removal would represent a strong "win-win" strategy for both parts. Indeed, the US and the EU should remind that, together, they are better positioned to deal with China, which is assumed to be the main responsible for steel excess capacity in global markets. Ultimately, a deal could serve as a good example to the rest of the world in these difficult and uncertain times. Only time will tell whether the two parts are up to the challenge.