Log in to use the pretty print function and embed function.
Aren't you signed up yet? signup!
Employing thousands of Americans across the country, the U.S. personal care and beauty industry is a critical component of the U.S. economy. With more than $9 billion in exports in 2019, U.S. personal care and cosmetics are among the most highly desired brands in many overseas markets. Holding a market share of 10%, the United States is the second-largest exporter.
Between 2011 and 2019, U.S. exports in the sector have grown at 2.5% CAGR (compounded annual growth rate). Nonetheless, the Covid-19 pandemic has hit the industry hard, with foreign sales recording a -16.7% y-o-y decline in 2020. After the sharp fall registered in 2020-Q2, exports of cosmetic products have undergone a gradual recovery. Yet figures for this year's first quarter say they are only halfway to a full recovery, as foreign sales still lag behind corresponding 2019 values: whilst the US traded $2.2 billion worth of cosmetics in 2019-Q1, it exported $1.9 billion in 2021-Q1. That is at odds with the performance of the other countries; overall world exports have rapidly climbed beyond pre-crisis levels, as illustrated in the graph below.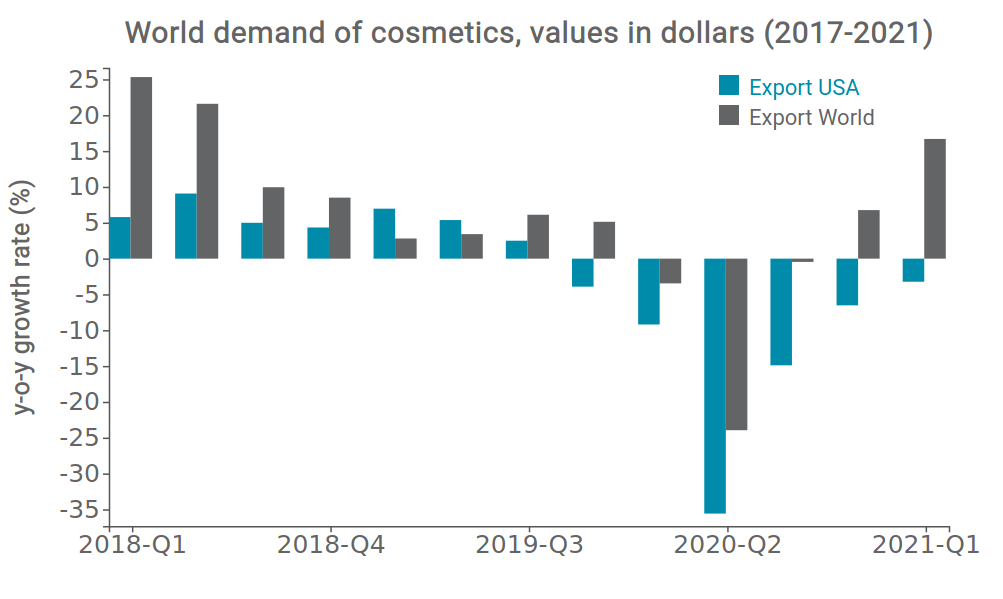 Source: ExportPlanning elaborations
With free-movements restrictions and the closure of premium beauty-product outlets, the COVID-19 pandemic constituted a major blow to the American cosmetic industry. Indeed, foreign sales have not rebounded to pre-crisis levels yet. The following graph illustrates the export performance of cosmetic products in 2021-Q1. Growth rates have been computed with respect to 2019 values to properly keep track of sectoral recovery.
US Export of Cosmetics: Product Performance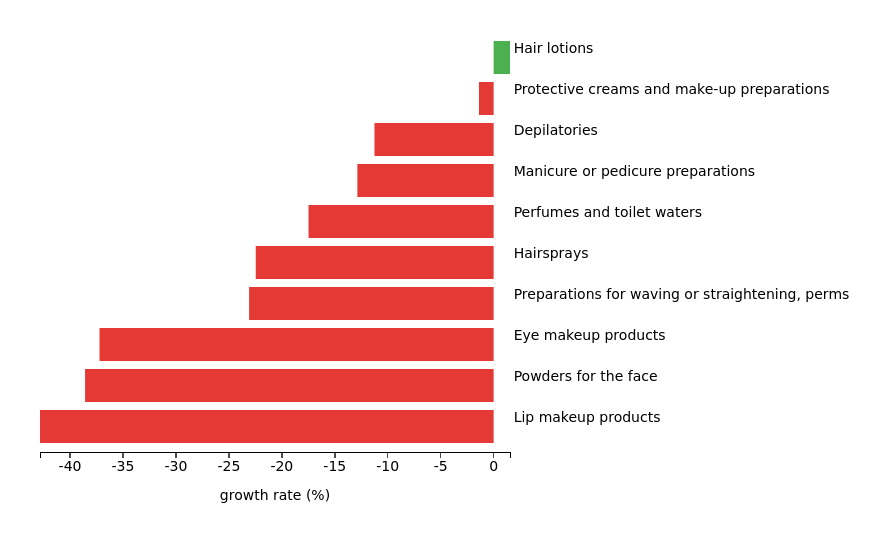 Source: ExportPlanning elaborations
Looking at the graph, it is clear that almost all goods are performing poorly in global markets. There are, however, a few exceptions.


This year has started on a particularly positive note for hair lotions, whose foreign sales experienced a +1.54% growth rate. Trade relations with the United Arab Emirates may partially explain the positive trend, with exports to UAE reaching record $1.1 billion in 2021-Q1.


When compared to the other goods, the fall in exports of protective creams and make-up preparations has been the smallest (-1.3%). These products were able to build a good reputation in international markets over the past few years: sales went from $2 billion in 2011 to more than $4 billion in 2019.


Whereas exports of depilatories and manicure and pedicure preparations have shown respectively a -11.2% and -12.8% growth rate, facial skin care products experienced the largest decrease, with sales of eye makeup products (-37.2%), powders for the face (-38.5%) and lip makeup products (- 42.8%) all into negative territory.
Trade partners and competitors
Finding the best opportunities in the cosmetic industry implies an updated understanding of recent trade dynamics. Looking at the main importers of American goods could therefore be particularly useful.
Apart from China, whose cosmetics purchases actually increased by 1.4%, other important destination markets saw a decline in their imports in 2020. Indeed, sales to the UK and Australia went respectively from $654 millions in 2019 to $582 millions and from $504 millions to $444 millions. Also exports to Canada went through a -12% y-o-y decline. Yet the North-American country remains by far the world's largest importer of US cosmetics.
US Cosmetics: Main Importers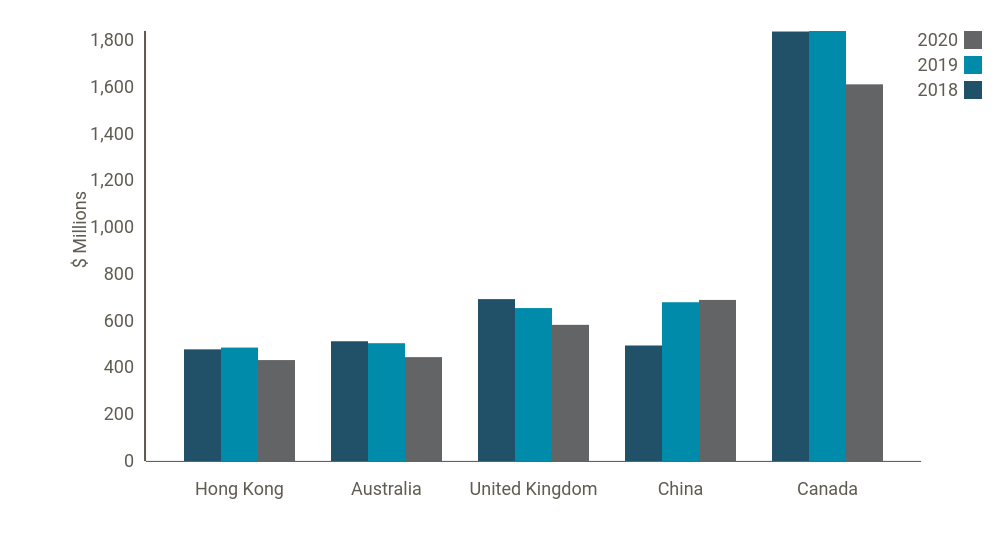 Source: ExportPlanning elaborations
Quarterly data show a deterioration in the American competitive positioning. Which countries are benefiting from this situation?
After France, which holds a 17% market share, US exporters face fierce competition from Korean and Japanese producers, who have gained significant market shares amidst the pandemic. In particular, South Korea has rapidly closed the gap with the US in cosmetic sales, reaching a 9% market share. There is indeed growing global appetite for Asian products: the two countries' cosmetics exports had enjoyed double-digit growth rates every year since 2014. In 2021-Q1, exports of South Korean and Japan were worth respectively $2 and $1.8 billion.
Despite the high quality of its products, Italy struggles to keep up with the other market players.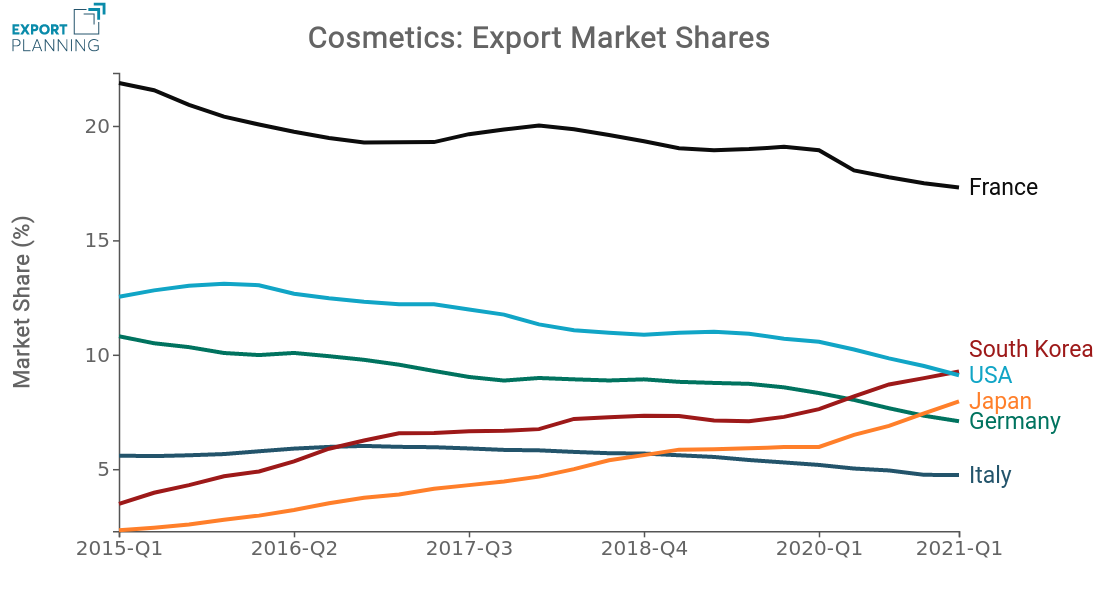 Source: ExportPlanning elaborations
Conclusions
This analysis has highlighted the negative effects of the Covid-19 pandemic on US cosmetic industry. In 2021-Q1, several goods have still not recovered to 2019 values. Given the realities of working from home, physical distancing, and mask wearing, it has become much less important to wear makeup and fragrance. By contrast, hair-care products (such as hair lotions) seem to be benefiting from increasing consumer demand. For American exporters, keeping an eye on the unfolding dynamics will turn out to be extremely important.