Log in to use the pretty print function and embed function.
Aren't you signed up yet? signup!
The growing economic and social impact of sport has secured it an important place in global trade. Particularly, the market for sporting goods has experienced continuous growth over the past decade. Between 2010 and 2019, total trade grew by 29%, from $31.5 billion to $40.3 billion. As the Covid-19 pandemic keeps hampering many aspects of people's lives, including routine fitness activities, data on international trade in sporting goods is key to understand the most recent developments in consumers' behaviour.
Internationally traded sport-related items can be grouped by sport discipline, or by specific types of sport equipment and accessories. The product groups concerned are:
Fishing equipment
Ski equipment
Gymnastic and athletic equipment
Golf equipment
Racket sports equipment
Boats and water sports equipment
Parachutes
Bicycles
Skates
Balls
Whereas China, followed by Taiwan, leads the exports of sports equipment (selling $15.4 billion abroad in 2019), the US emerges as the single biggest buyer, with imports amounting to nearly $9.4 billion in the same year. The following chart records the marked increase in US imports throughout the last two decades: American purchases went from $5 billion in 2000 up to $9.4 in 2019, showing a compound annual growth rate (CAGR) of 3.2%. Buoyant Chinese exports mirror this trend: as a matter of fact, in 2019 more than half of US imports of sporting goods came from China ($5.2 billion).
Sports Equipment: US Imports (2000-2019)
Source: ExportPlanning elaborations.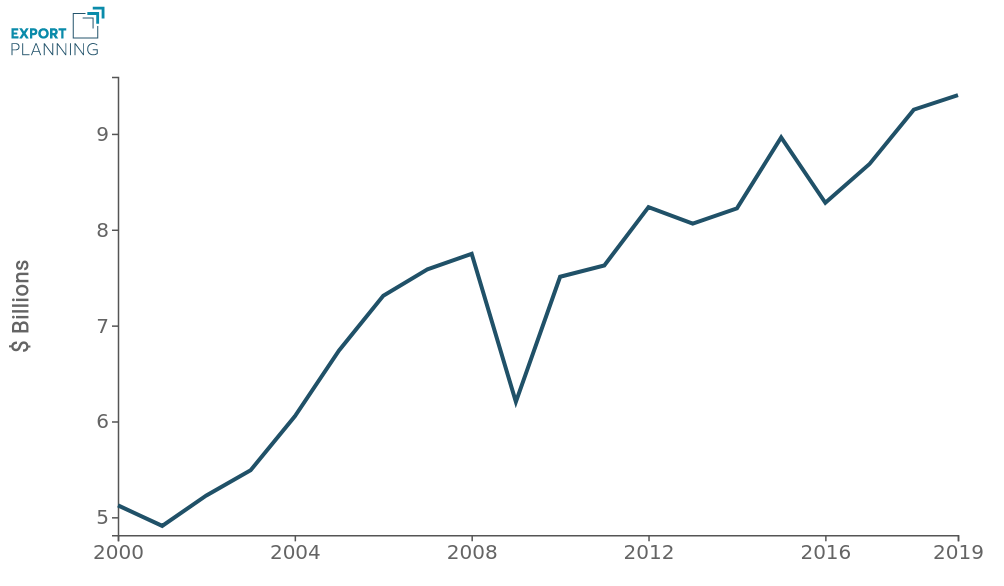 US Exports of Sports Equipment: Structure, Trends and Opportunities
In spite of the dominant role played by China, the US nonetheless emerge as the third biggest player in the global industry for sports equipment, with total exports amounting to more than $2.4 billion in 2019. Among these, the lion's share goes to gymnastic and athletic equipment - the largest US export category in 2019, with $1.37 billion worth of sales - followed by golf equipment and parachutes respectively at $469 million and $228 million.
ExportPlanning historical data show a differentiated performance for US exports of sports equipment among the different categories over the last years - a comparison which helps to understand the evolution of global consumers' preferences. The chart below displays how the different categories of US exports evolved from 2012 to 2019; to better identify the dynamics of the series in spite of their different orders of magnitude, we take 2012 as base year and we assume it to be equal to 100.
Sports Equipment: US Exports, by Category (2012-2019)
Source: ExportPlanning elaborations.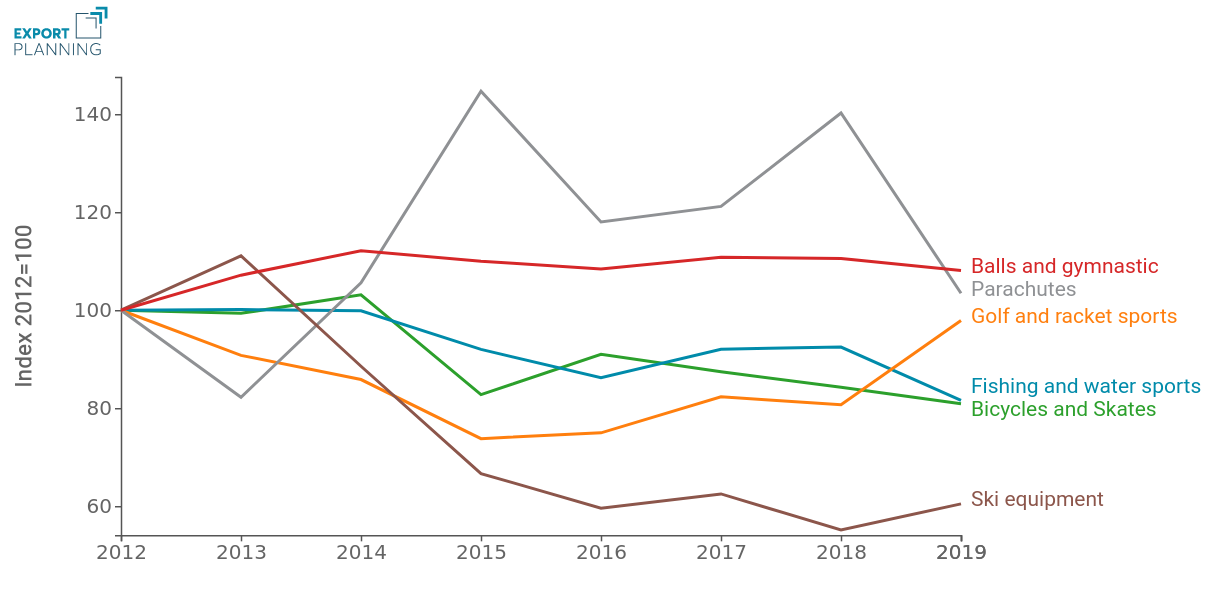 As can be seen from the graph above, American exports of parachutes surged remarkably between 2013 and 2015, making it the fastest growing category. Yet they might have lost their appeal down the road, given the recent trend reversal which brought them back around 2012 levels. As for ski-related equipment and bycicles & skates, sales have declined more or less gradually since 2013; ski equipment showed just a slight rebound in 2019.
While values of balls and gymnastic equipment exports have remained stable over the period under analysis, golf and racket sports seems the only group exhibiting a significant upward trend, starting from 2016; in particular, exports of golf equipment signal a 21% YoY growth in 2019. The trend observed for US exports of golf-related equipment confirms what has emerged at world level over the last years: global demand has in fact shown positive and significant year-over-year growth rates for three years in a row, from 2017 to 2019, suggesting that an increase in golf popularity might have recently taken place on a global scale.
The Impact of the Pandemic
The sporting goods market has not been spared from the repercussions of the unfolding pandemic; nevertheless, the impact of Covid-19 did not spread evenly throghout all the categories of sports equipment. Specific sports have been hit with varying intensity, depending on how accessible they were in a jeopardized environment.
In the face of an overall drop of 13% YoY for US exports of sports equipment in 2020, the demand for outdoor individual sports equipment has proved relatively resilient: exports of fishing equipment and bicycles lost respectively 7.7% and 5.9%, compared to 2019, whilst tennis even showed a positive year-over-year growth rate (+17.3%), thereby successfully weathering the year of Covid-19. The greatest drop in exports was recorded for sea sports equipment (like sailboards) and parachutes, which both confirmed the negative trend already recorded in 2019. Team sports also struggled, with exports of balls - including all inflatable ones - down 12% in 2020; this was also due to the cancellation or postponement of major sporting events, as well as the limits imposed to amateurs linked to Covid-19 restrictions.
Sports Equipment: YoY Growth Rate of US Exports,
by Category (2019-2020)
Source: ExportPlanning elaborations.

Conclusions
Although the US imports the vast majority of sports products, it is nonetheless striving to diversify its exports. Keeping exports afloat is in fact essential for the industry to preserve its role as key global player. 2020 was a challenging year for sports equipment, leading to widespread drops in exports, but 2021 will not be less demanding. Indeed, Covid-19 has accelerated trends that will have long-lasting impacts on companies throughout the sporting goods value chain: these undoubtedly include the increasing participation in individual forms of sports and exercise.
An example of this change is the increased interest in golf, as mentioned above. If global demand for golf equipment was already on the rise over the past years, Google Trends data clearly suggest an increased interest in golf-related products over the summer and autumn of 2020, in the aftermath of the first global wave of Covid-19. The inherent characteristics of this sport, which is played outdoors and does not require intensive contact, make it particularly suitable for the pandemic period.
It cannot be granted that increased interest might translate into more foreign sales - as for 2020, golf equipment felt the blow of the pandemic, causing US exports to drop by more than 10% year-over-year. Nonetheless, the case of golf serves as a goods example of the macro-trends that are shaping the sporting industry, and to which the industry needs to quickly adapt in order to win in a fast-changing reality.