Log in to use the pretty print function and embed function.
Aren't you signed up yet? signup!
Con questo articolo si intende proporre un nuovo metodo di analisi rapida dei flussi internazionali di merci. L'interpretazione richiede un attimo di pazienza per poter acquisire alcune regole: • i flussi viaggiano in senso orario, per cui, nel grafico, gli Stati Uniti esportano in Sud Corea (linea rossa) ed importano dalla Cina (linea verde). • i colori indicano le aree geografiche. • il grafico rappresenta il 50% dei flussi realmente avvenuti nel 2013, in quanto sono stati selezionati quelli di maggior dimensione. Se si fossero considerati tutti i flussi, il grafico sarebbe apparso come una fitta ragnatela di linee e punti. • i dati sottostanti sono in dollari e lo spessore delle linee è proporzionale al valore scambiato.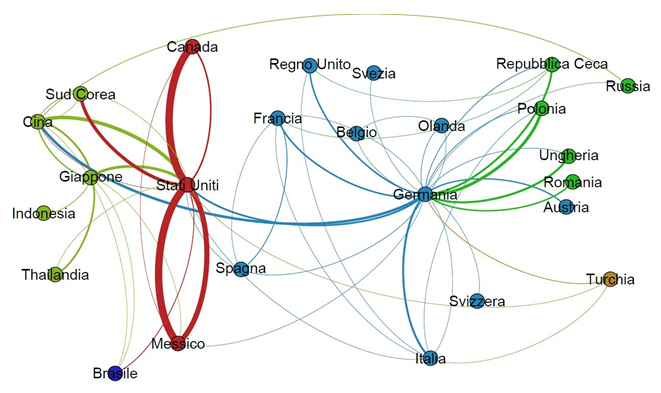 Passando all'analisi si evidenziano: • i forti flussi interni al Nord America, con gli Stati Uniti che lasciano spazio solo ai cinesi, ai giapponesi ed ai tedeschi. • la Germania è il fulcro del mercato europeo dei tubi in gomma: rifornisce i principali mercati ed importa dai Paesi dell'Est e dall'Italia. • fra i Paesi europei, solo la Germania arriva in Cina e negli Stati Uniti. • la Turchia si sta muovendo verso i principali mercati occidentali. Dall'analisi emergono spunti non banali che meritano di essere approfonditi.