Log in to use the pretty print function and embed function.
Aren't you signed up yet? signup!
Positive le province del Triveneto (pur con qualche eccezione); Lombardia, Emilia Romagna e Marche, invece, con performance contrastanti
Il Sistema Casa Italiano si è tenuto nel corso del 2013 in linea di galleggiamento. Le esportazioni dell'industria italiana del Sistema Casa ( Mobili , Apparecchi Domestici , Apparecchiature per Illuminazione , Elettronica di consumo ) hanno evidenziato nel corso del 2013 un risultato complessivo di debole crescita (+1.2% in euro). Tale risultato discende, tuttavia, da performance alquanto eterogenee a livello territoriale.
Il 55% delle province italiane ha evidenziato variazioni di segno positivo delle esportazioni del Sistema Casa. Le province che hanno offerto i maggiori contributi alla crescita delle esportazioni italiane di questa industria sono state, nell'ordine, Treviso , Piacenza , Como , Macerata , Gorizia . Contributi positivi hanno riguardato anche le province di Firenze , Pordenone, Vicenza , Pavia , Biella , Monza Brianza , Reggio Emilia e Pisa .
[caption id="attachment_3033" align="alignleft" width="1024" caption="Sistema Casa: Contributi % alla variazione delle esportazioni italiane 2013/2012"]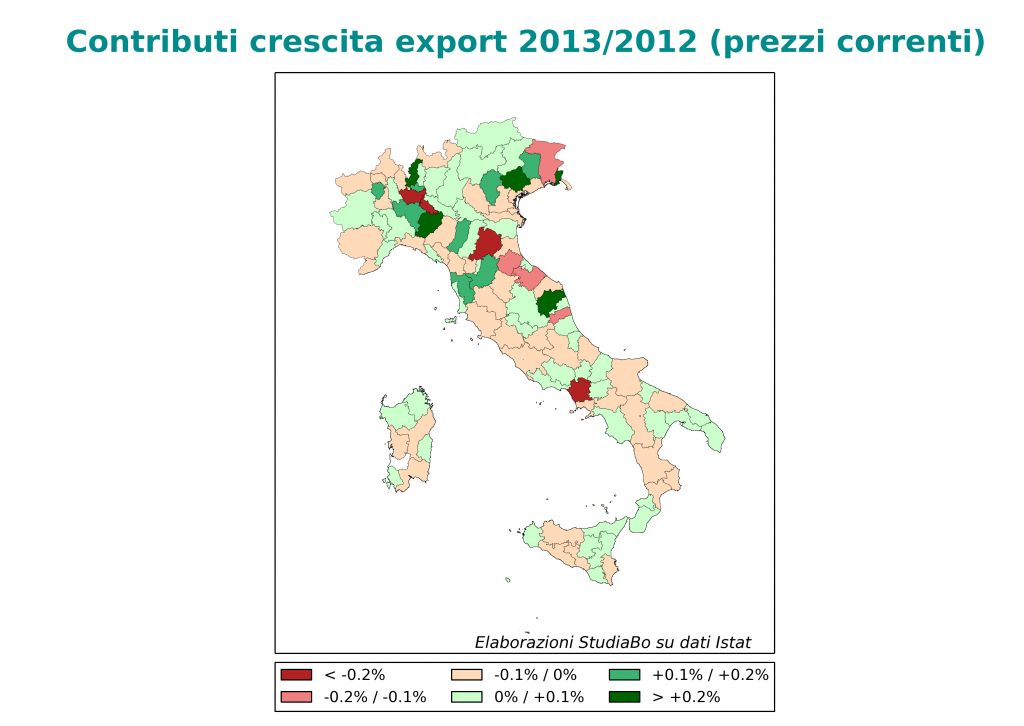 [/caption]
Le aree territoriali di maggior specializzazione hanno mostrato dinamiche in chiaroscuro. Complessivamente, il Veneto è stata la regione che ha offerto i contributi più favorevoli alla crescita delle esportazioni italiane del Sistema Casa, seguita da Emilia Romagna , Piemonte , Friuli Venezia Giulia e Trentino Alto Adige . Tuttavia, nei casi di Emilia Romagna e Friuli Venezia Giulia il risultato complessivo nasconde anche performance provinciali negative. In particolare, le province di Bologna , e, in misura minore, Udine e Forlì Cesena hanno offerto contributi particolarmente negativi alla performance nazionale del Sistema Casa.
Lombardia e Marche hanno espresso contributi complessivamente negativi alla variazione delle esportazioni italiane del Sistema Casa, a causa soprattutto delle performance delle province di Milano e Lodi e, in misura minore, Pesaro Urbino e Ascoli Piceno . Da ultimo, la Campania è la regione che ha complessivamente offerto il contributo più negativo, soprattutto a causa della performance della provincia di Caserta .