Log in to use the pretty print function and embed function.
Aren't you signed up yet? signup!
Gli Stati Uniti costituiscono il primo mercato di importazioni al mondo ed il secondo principale esportatore mondiale, dopo la Cina. L'importanza in termini di potenzialità commerciali di questo paese è, quindi, indubbia. Nel prossimo futuro, inoltre, gli Stati Uniti potranno diventare un partner commerciale ancor più rilevante e accessibile anche per il sistema delle PMI italiane in virtù dell'accordo di libero scambio tra l'Unione Europea e gli USA, denominato TTIP (Translatlantic Trade and Investment Partnership), attualmente in fase di negoziazione.
Il commercio con l'estero degli Stati Uniti tende, pertanto, a rappresentare una base informativa particolarmente interessante per supportare i processi d'internazionalizzazione delle imprese italiane. Le informazioni ricavabili dal commercio con l'estero degli Stati Uniti si caratterizzano, infatti, per:
coerenza dei dati : grazie all'adozione di una classificazione denominata Sistema Armonizzato (Harmonized System, HS), è garantita la coerenza fra le dichiarazioni delle imprese USA con quelle, ad esempio, delle imprese europee. E' quindi possibile confrontare i flussi dei singoli prodotti, così da poter anche evidenziare le differenze fra mercato USA e Europeo;
dettaglio merceologico : le statistiche relative al commercio con l'estero USA presentano una granularità merceologica particolarmente elevata, fino ad un livello (HS10digit) composto da oltre 27 mila codici prodotto per quanto riguarda le esportazioni e 35 mila codici per le importazioni;
tempestività di aggiornamento : gli Stati Uniti si caratterizzano per una struttura amministrativa particolarmente consolidata, che consente di produrre le statistiche relative ai loro flussi di commercio estero con un ritardo di soli cinque settimane. Ad esempio, già da inizio maggio sono disponibili i dati relativi al primo trimestre dell'anno.
Queste caratteristiche, unitamente all'applicazione di opportune metodologie di data mining, possono consentire di produrre una base dati altamente informativa, in grado di supportare i processi di marketing internazionale delle PMI italiane. Utilizzando questi dati è possibile, infatti, avere informazioni sulla dinamica congiunturale delle vendite sul mercato statunitense di un determinato prodotto. E' possibile, inoltre, sapere a quale prezzo viene venduto un dato prodotto e, soprattutto, se il mercato USA accetta di pagare o meno un premium price per la maggior qualità offerta da un fornitore rispetto agli altri. Infine, consente di valutare la competitività dei diversi paesi concorrenti presenti sul mercato USA, evidenziandone i punti di forza e di debolezza.
Al fine di rendere facilmente disponibili e accessibili questa base informativa, StudiaBo ha sviluppato DW USATrade, un nuovo Data Warehouse del Sistema Informativo Ulisse contenente le informazioni del commercio con l'estero degli Stati Uniti.
Le dichiarazioni di commercio con l'estero delle imprese USA (da e verso tutto il mondo), rese disponibili da U.S. Census Bureau (https://usatrade.census.gov/), vengono "certificate" da StudiaBo attraverso opportune elaborazioni di data mining, riclassificate secondo la classificazione prodotti Ulisse e distribuite nella forma di Data Warehouse attraverso il portale Ulisse Analytics ( http://uda.studiabo.it/analytics/dwusatrade/try/ ).
[caption id="attachment_3109" align="alignleft" width="1359" caption="DW USATrade (uda.studiabo.it)"]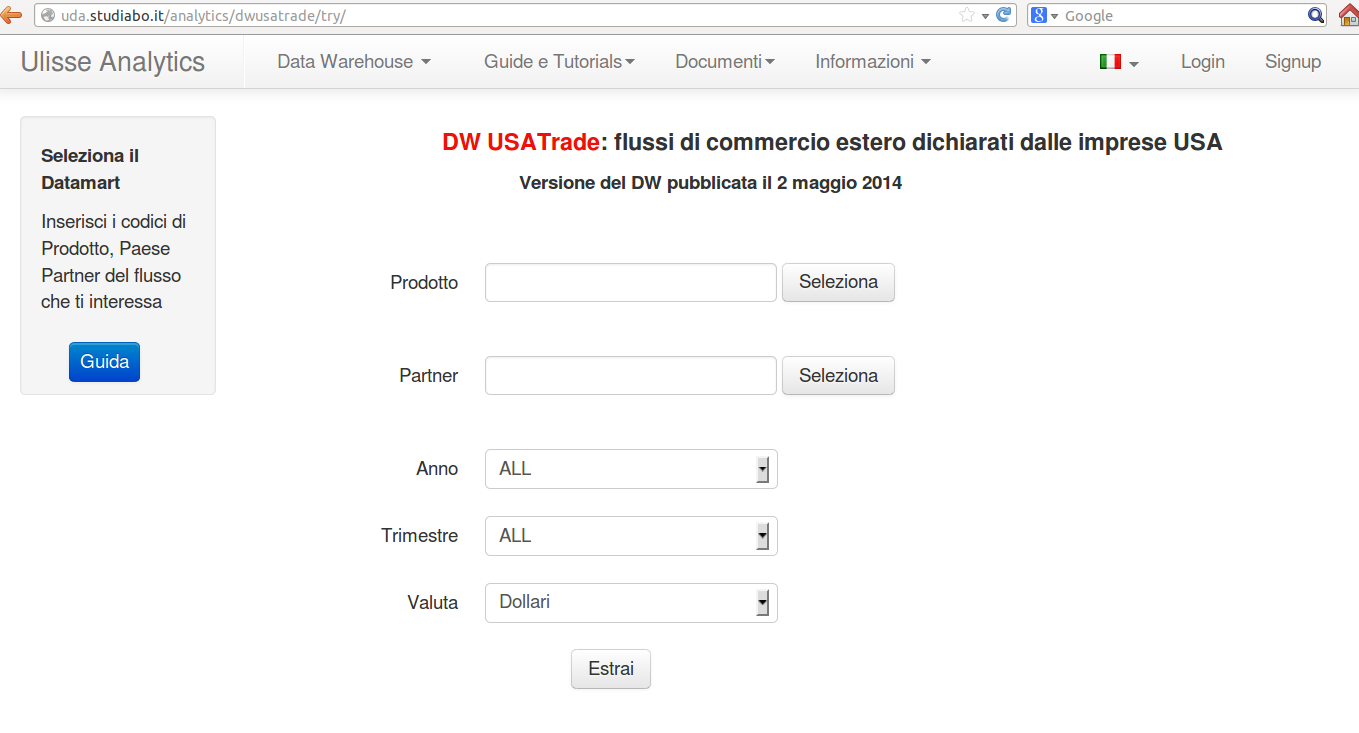 [/caption] La riclassificazione merceologica effettuata da StudiaBo è riconducibile ai concetti di Industria (UL20), Settore (UL200) e Prodotto (UL3000). I dati sono disponibili anche a livello di singolo codice doganale(HS10digit). Al momento i dati contenuti in DW USATrade sono disponibili liberamente a tutti gli utenti del portale Ulisse Analytics (uda.studiabo.it) a livello di classificazione prodotti UL20. I livelli di classificazione più dettagliata sono accessibili solo ad utenti registrati.