Log in to use the pretty print function and embed function.
Aren't you signed up yet? signup!
Il quadro congiunturale delle esportazioni dei territori italiani si conferma solo moderatamente positivo. Tuttavia, i dati del primo trimestre dell'anno evidenziano una elevata diffusione della crescita – pur in molti casi moderata - nei territori del Nord Est e, in misura minore, del Nord Ovest e del Centro. Al Sud, invece, si rilevano situazioni più differenziate, con una marcata polarizzazione tra un gruppo rilevante di province che evidenzia aumenti tendenziali significativi del proprio export, da un lato, ed un altrettanto folto gruppo di province che registra rilevanti flessioni, dall'altro.
Nel primo trimestre 2014 la performance delle esportazioni italiane, benché solo debolmente positiva (+1.5% in termini tendenziali nei valori in euro), evidenzia una decisa prevalenza di territori con segno "più". Nei primi tre mesi dell'anno il 68% delle province italiane ha registrato, infatti, valori delle esportazioni in crescita tendenziale.
[caption id="attachment_3275" align="aligncenter" width="708" caption="Esportazioni italiane I Trimestre 2014: Variazioni tendenziali (euro correnti)"]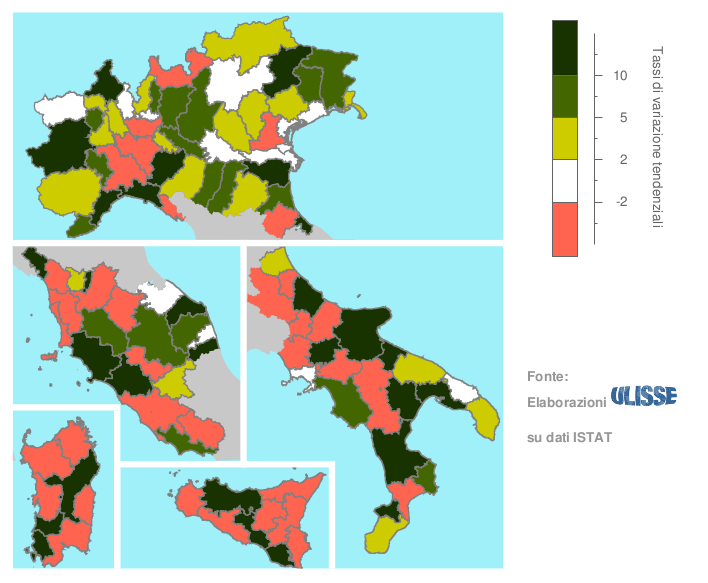 [/caption]
In modo particolare, si rileva una elevata concentrazione di territori in crescita nei valori tendenziali soprattutto nel Nord Est (91% delle province), prevalenza di province in aumento anche nel Nord Ovest (70%) e nel Centro (67%), mentre al Sud il quadro appare più polarizzato (54% delle province in crescita nei valori tendenziali).
Nel Nord Est registrano aumenti tendenziali a due cifre le esportazioni delle province di Piacenza , Ferrara , Rimini, Belluno . Nel Nord Ovest , invece, spiccano per crescite superiori al 10% le esportazioni delle province di Torino (che ha offerto il contributo più positivo alla crescita complessiva delle esportazioni italiane), Savona , Genova e Verbano-Cusio-Ossola .
Tra i territori del Centro si evidenziano incrementi tendenziali a doppia cifra per le esportazioni delle province di Massa-Carrara , Viterbo, Ascoli Piceno , Prato , Grosseto , Ancona .
Al Sud , infine, si rilevano performance alquanto eterogenee: ben 14 province, infatti, registrano aumenti tendenziali a doppia cifra (in particolare Taranto , Carbonia-Iglesia s, Caltanissetta , con incrementi tendenziali superiori al 50%), a fronte, invece, di altre 15 province che hanno sperimentato una riduzione tendenziale del proprio export superiore ai 10 punti percentuali.
I dati di esportazione relativi al primo trimestre 2014 dei diversi territori italiani documentano, quindi, uno scenario complessivamente di moderata crescita. Tuttavia, la elevata diffusione - soprattutto al Nord e al Centro - dei risultati di crescita a livello geografico sembra confermare la forte propensione del tessuto industriale italiano a ricercare nei mercati esteri la via di uscita alle attuali difficoltà della nostra economia.