Log in to use the pretty print function and embed function.
Aren't you signed up yet? signup!
Nel terzo Trimestre 2015 la provincia di Brescia ha registrato un nuovo aumento tendenziale delle proprie esportazioni. L'export provinciale ha realizzato nel terzo trimestre dell'anno un incremento pari a 2.1 punti percentuali rispetto allo stesso periodo dell'anno precedente, totalizzando un valore pari a 3.5 miliardi di euro.
Protagonisti di questo miglioramento nelle performance provinciali risultano i settori del Sistema Casa (+5.9% in euro in termini tendenziali), della Chimica (+4.3%) e della Metalmeccanica (+2.6%). Arretrano invece il Sistema Moda (-2.3%) in euro rispetto al corrispondente trimestre 2014), e soprattutto il settore Agroalimentare (-6.7%).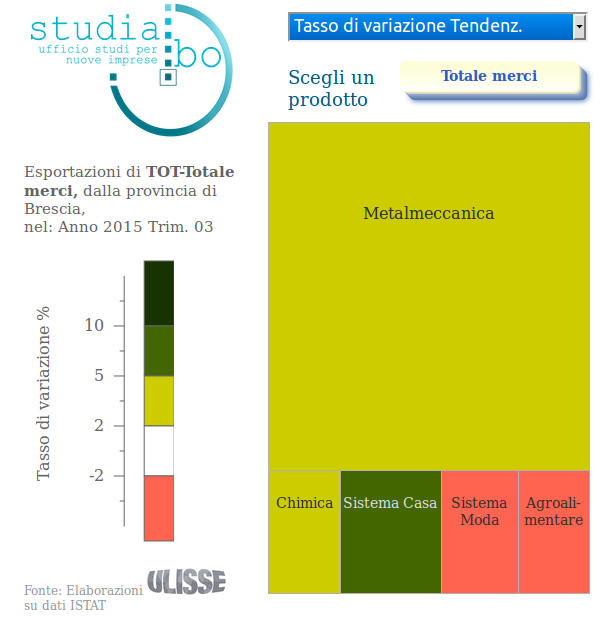 I Paesi che hanno giocato un forte ruolo di traino nei confronti delle esportazioni bresciane nell'ultimo trimestre sono risultati, su tutti, Spagna (+22.3% in euro in termini tendenziali), Polonia (+18.7%) e Cina (+14.7%).
A seguire, nell'ordine, Algeria, Slovacchia, Hong Kong, Regno Unito, Messico, Germania e Marocco sono i Paesi trainanti le esportazioni della provincia di Brescia nel III trimestre 2015.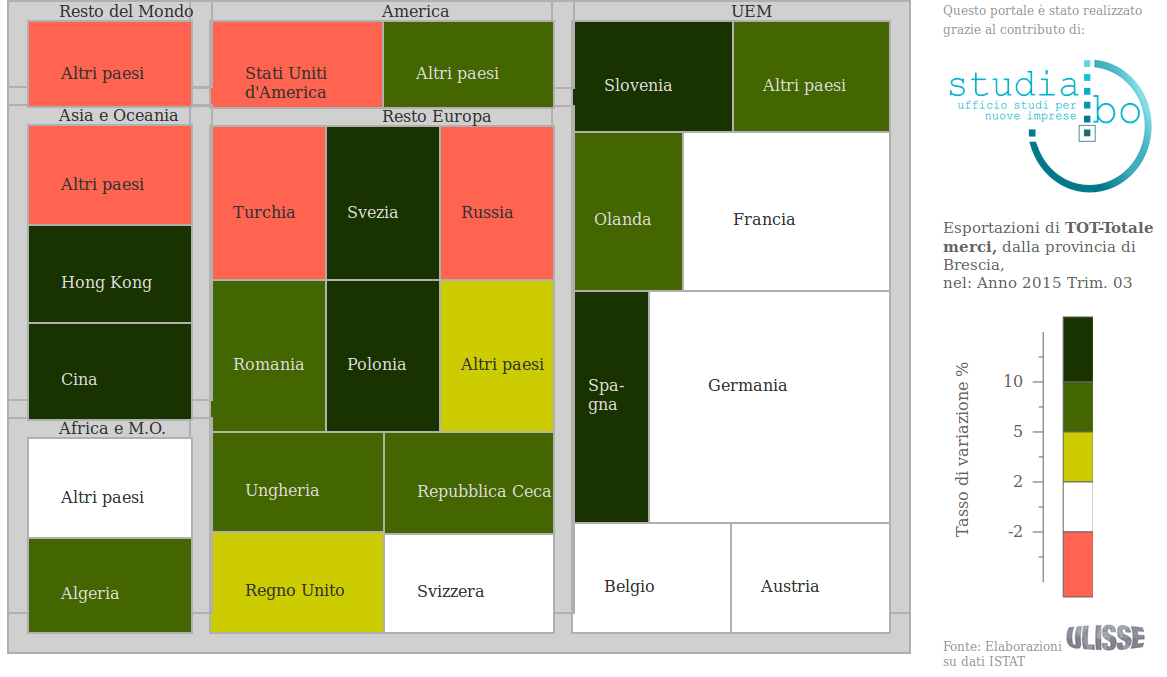 In modo particolare, si evidenziano le performance di crescita delle esportazioni provinciali di Autoveicoli (+16.4% in euro in termini tendenziali), del settore delle Macchine utensili (+28.4%) e dei Mobili per casa, ufficio e negozi (+12.5%).
Di converso, si segnala il nuovo calo delle esportazioni provinciali verso mercati emergenti quali Russia (-38.2% in euro in termini tendenziali) e Turchia (-14.2%) . Anche Egitto e Brasile si configurano tra i principali mercati frenanti l'export provinciale nel III trimestre 2015. Da sottolineare, inoltre, la battuta d'arresto l'export bresciano rivolto al mercato degli Stati Uniti d'America ha fatto registrare nel trimestre più recente (-4.3% in euro rispetto al corrispondente trimestre 2014). Tale flessione è riconducibile soprattutto alla caduta delle vendite provinciali di Agroalimentare , che appaiono da diversi trimestri in forte difficoltà sul mercato USA; in particolare, si segnalano le flessioni sul mercato statunitense delle esportazioni bresciane di Bevande , Formaggi e derivati del latte , Pasta, biscotti e altri prodotti da forno .