Gli effetti di Brexit sui cambi - IV sett. giugno 2016
Published by Luigi Bidoia. .
Exchange rates
Log in to use the pretty print function and embed function.
Aren't you signed up yet? Log in!
La scelta degli inglesi di uscire dall'Unione Europea ha determinato, come atteso, forti variazioni nei tassi di cambio di tutte le valute mondiali. Essi sono stati, tuttavia, relativamente contenuti, dati gli interventi delle diverse banche centrali. Allo stesso tempo, le dinamiche registrate ieri hanno chiaramente indicato la direzione verso cui sono orientati i mercati. Come atteso la valuta più penalizzata è stata la
Sterlina
inglese, che si è deprezzata ieri del 5% verso l'euro, portando al 10% il deprezzamento da inizio anno. Dietro alla Sterlina, hanno accusato un deprezzamento le altre valute europee:
Corona Norvegese
,
Corona Svedese
,
Sloty Polacco
e
Fiorino Ungherese.
Diversamente da quanto era successo nel corso di questo mese, ieri il
Franco Svizzero
si è apprezzato solo marginalmente rispetto all'euro (+1%).  Molto più intenso è stato l'apprezzamento del
Dollaro
(+3%),  delle
valute asiatiche
e delle altre valute mondiali. Il grafico che segue riporta la dinamica giornaliera del tasso di cambio della Sterlina verso l'Euro. E' del tutto evidente come le quotazioni di venerdì, pur segnando una forte crescita rispetto a quella del giorno precedente, risultino in linea con quanto registrato dalla Sterlina da inizio anno. I prossimi giorni ci diranno quanto questo
contenimento
sia frutto degli interventi delle banche centrali.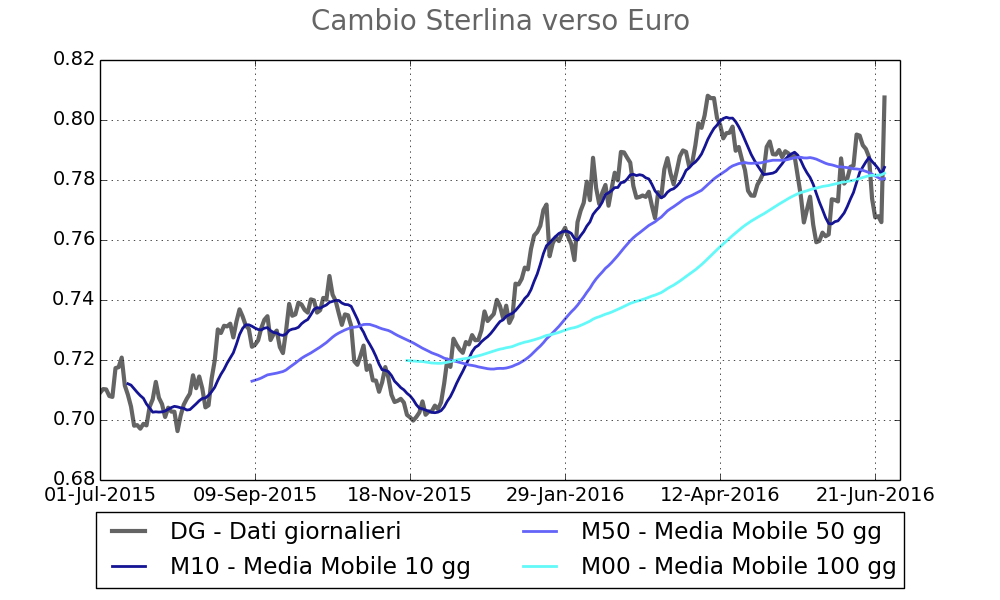 L'analisi dei tassi di cambio delle principali valute verso l'euro segnala, coma già indicato, l'apprezzamento del Dollaro e dello
Yen
. Quest'ultimo, in particolare, ha registrato, nella sola giornata di venerdì, un apprezzamento del 6%, portando al 12% l'apprezzamento accumulato dall'inizio dell'anno.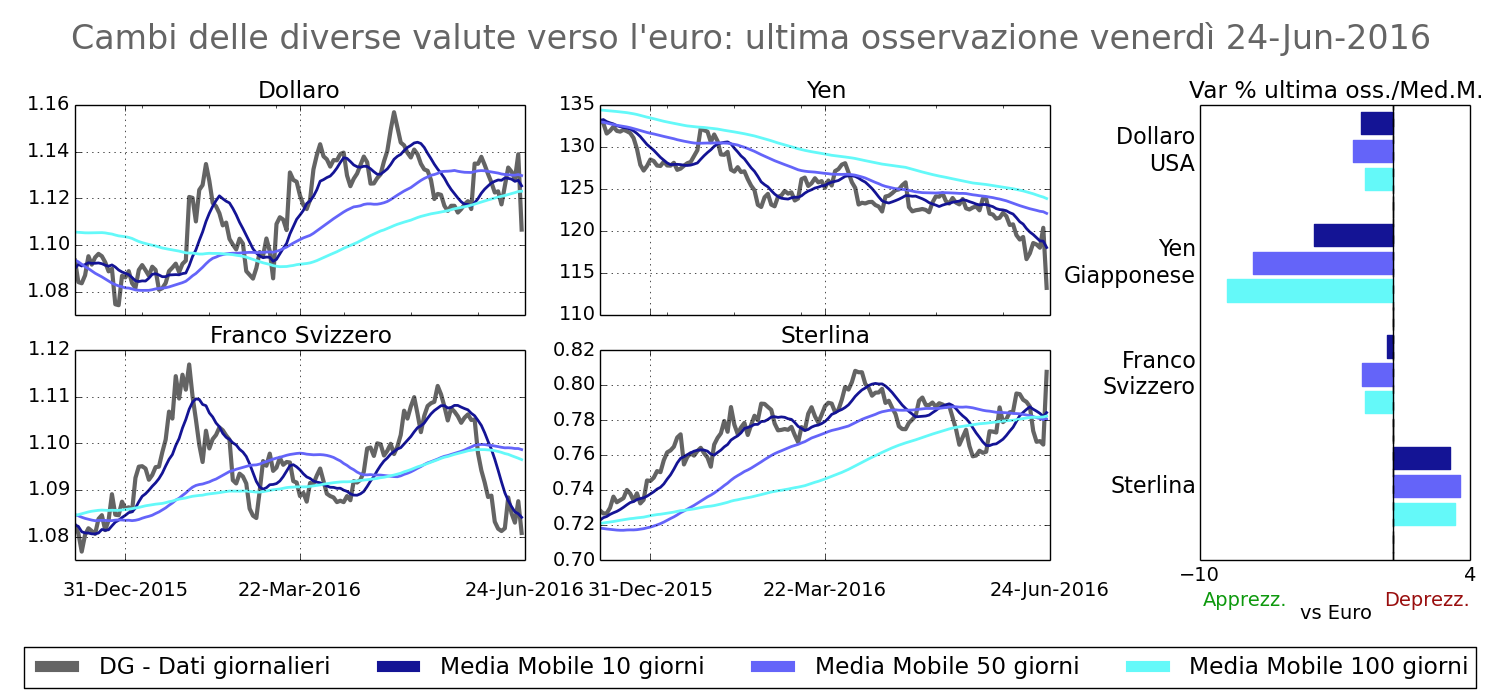 Il grafico che segue consente di avere una visione d'insieme dei cambiamenti intervenuti nell'ultima settimana nei tassi di cambio delle diverse valute mondiali verso l'euro. E' evidente il deprezzamento delle valute europee. Altrettanto evidente è l'apprezzamento nel breve periodo delle valute dei paesi asiatici. Anche il
Ringgit
malese si è apprezzato verso l'euro nel corso dell'ultima settimana. Ugualmente generalizzato è l'apprezzamento delle altre valute mondiali, compresi il
Rublo
, il
Real brasiliano
, la
Lira Turca
e il
Rand Sud Africano
.