L'altalena del rand sudafricano - IV sett. agosto
Published by Luigi Bidoia. .
Exchange rates
Log in to use the pretty print function and embed function.
Aren't you signed up yet? signup!
Due settimane fa avevamo intitolato l'articolo della settimana "Rand sud africano ancora in apprezzamento". Nel corso degli ultimi 15 giorni il
Rand
ha completamente invertito la propria direzione, deprezzandosi del 6% nei confronti dell'euro. Le motivazioni vanno cercate nella possibilità che il
ministro delle finanze Pravin Gordhan possa essere sostituito a causa 

di possibili illeciti commessi durante il suo mandato come capo dell'agenzia fiscale nazionale. Il presidente Jacob Zuma ha

espresso piena fiducia nel

ministro delle Finanze, ma non è riuscito a tranquillizzare i mercati finanziari. Questi temono il ripetersi delle vicende della fine dell'anno scorso, quando fu sostituito l'allora ministro delle Finanze Nhlanhla Nene. L'imprevedibilità delle

decisioni della leadership del paese sono uno dei fattori di debolezza dell'economia sud  africana.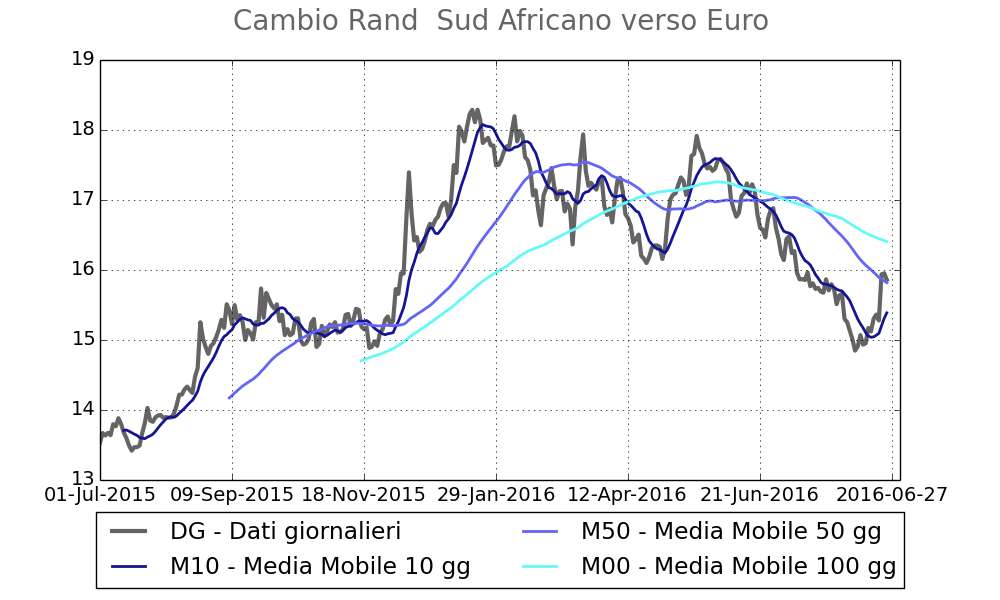 La settimana appena conclusasi è stata caratterizzata da una sostanziale stabilità delle principali valute. Il dollaro è ritornato su valori inferiori a 1.13 dollari per euro, dopo l'indebolimento della scorsa settimana; lo Yen è stabile da alcune settimane su valori prossimi a 113 yen per euro; il franco svizzero oscilla intorno a valori di 1.09 franchi per euro; la sterlina è ritornata a valori di 0.85 pounds per euro dopo che nelle settimane precedenti aveva superato valori di 0.87.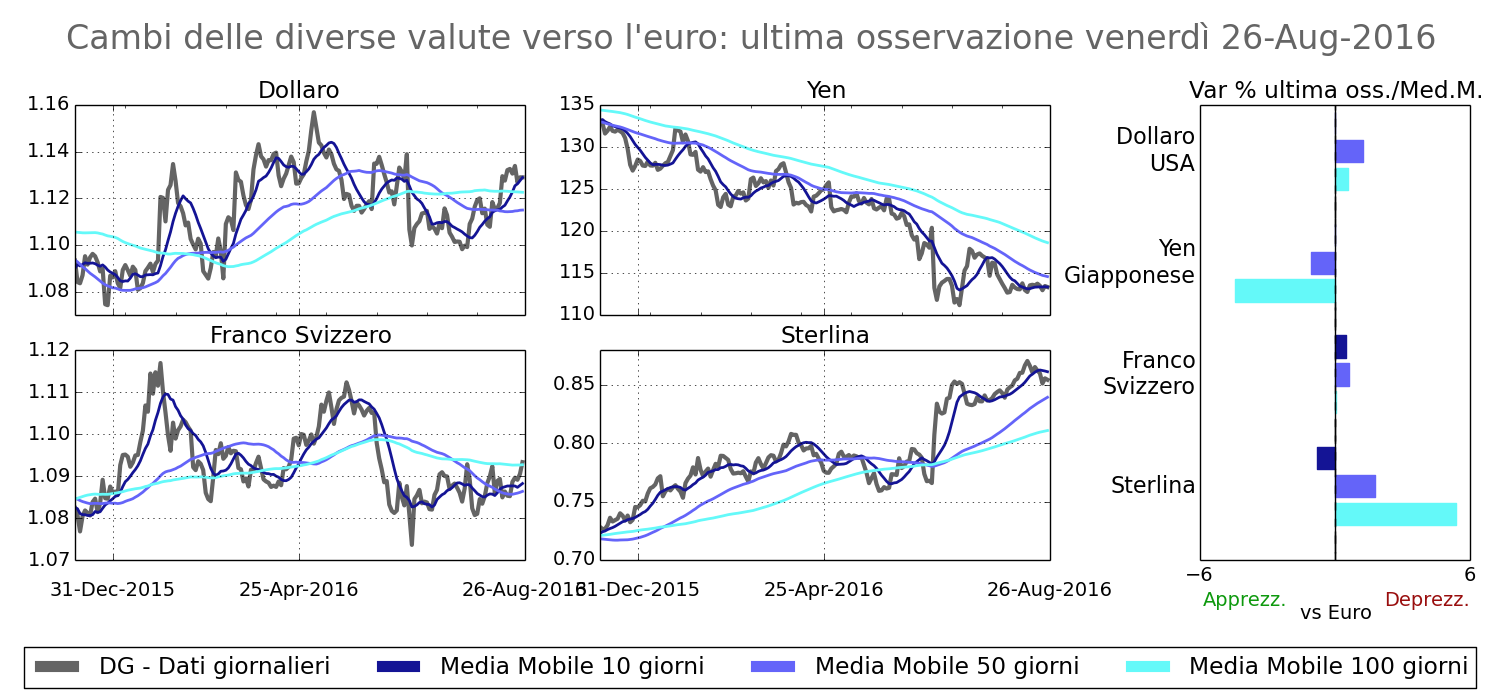 Per quanto riguarda le altre valute mondiali, oltre al deprezzamento del Rand, ci sembra utile segnalare la fase di indebolimento che sta caratterizzando lo
Yuan
cinese. I movimenti sono molto contenuti ma chiari nella loro direzione: da alcuni giorni lo Yuan ha superato la soglia dei 7.5 yuan per euro, stabilizzandosi a 6.675 yuan per dollaro. Complessivamente si conferma la tendenza della scorsa settimana verso un indebolimento di quasi tutte le valute asiatiche (ad esclusione del Baht thailandese). Una leggera, ma prolungata, fase di apprezzamento sta caratterizzando il
Fiorino
ungherese che, nell'arco di due mesi, è passato da 318 a 309 fiorini per euro.