Dollaro nuovamente debole - II set. settembre
Published by Luigi Bidoia. .
Exchange rates
Log in to use the pretty print function and embed function.
Aren't you signed up yet? signup!
In un contesto di cambi mondiali sostanzialmente stabili, il movimento più significativo è stato un leggero indebolimento del
dollaro
, ritornato su quotazioni comprese tra 1.12 e 1.13 dollari per euro. Le aspettative sull'economia americana sono leggermente peggiorate, tanto che la probabilità che la Fed decida di alzare il costo del denaro nel prossimo meeting di questo mese sono sempre minori. In questa situazione il dollaro tende ad indebolirsi.  Il
franco svizzero
ha seguito il dollaro, avvicinandosi a 1.10 franchi per euro.  Anche yen e sterlina hanno in parte seguito il dollaro. I loro movimenti sono risultati, tuttavia, molto contenuti, tanto che è possibile qualificare come sostanzialmente stabili le loro quotazioni verso l'euro.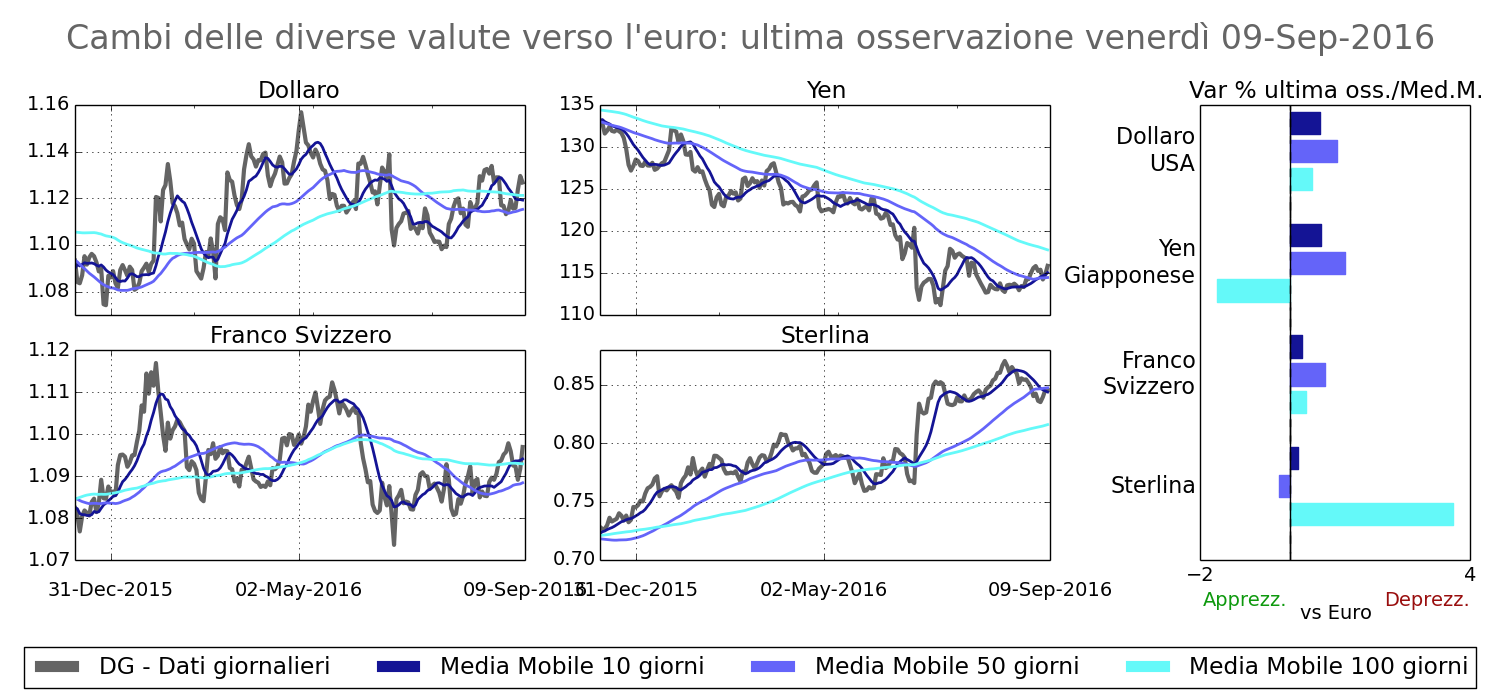 Anche le monete asiatiche hanno seguito il dollaro accusando un leggero indebolimento verso l'euro. Tra queste la più debole è risultata il
Ringgit
malese, avvicinatosi ai 4.6 ringgit per euro.  Continua la fase di leggero, ma progressivo indebolimento dello
Yuan
cinese, ritornato negli ultimi giorni su valori superiori a 7.5 yuan per euro. Il Rand sudafricano si è stabilizzato su valori prossimi a 16 rand per euro, dopo la fase di deprezzamento accusata tra la fine di agosto e l'inizio di questo mese. All'interno di movimenti molto contenuti, tutte le valute europee hanno registrato questa settimana un leggero apprezzamento.