Dollaro sostenuto dalle aspettative sui tassi di interesse - II sett. Ottobre
Published by Luigi Bidoia. .
Exchange rates
Log in to use the pretty print function and embed function.
Aren't you signed up yet? signup!
La settimana è iniziata con un dollaro quotato a 1.12 contro l'euro ed è terminata con quotazioni inferiori a 1.10. Nell'arco di soli 5 giorni il
dollaro
si è quindi apprezzato verso l'euro del 2%.  Il grafico di seguito riportato evidenzia come il movimento del dollaro nell'ultima settimana sia tutt'altro che un evento eccezionale. Da più mesi, infatti, si registrano settimane in cui il dollaro si apprezza o deprezza con intensità anche maggiore del 2%. La settimana appena terminata deve quindi essere considerata come "normale", nell'ambito dell'incertezza che caratterizza il timing con cui la Federal Reserve procederà al previsto aumento dei tassi di interesse. L'aumento dei tassi di interesse americani si tradurrà in un maggior flusso di capitali verso gli Stati Uniti portando ad un apprezzamento del dollaro. Gli operatori finanziari cercano di anticipare questo movimento, aumentando la quota di attività in dollari nel loro portafoglio. D'altra parte, l'economia americana sta accusando un forte deficit di bilancia commerciale e una diminuzione del suo potenziale di crescita. Questi fattori dovrebbero tradursi in un progressivo indebolimento del dollaro. Una tendenza di medio periodo di indebolimento si interseca, quindi, con una aspettativa di apprezzamento nel breve, portando il tasso di cambio del dollaro a registrare repentini apprezzamenti quando l'aumento previsto nei tassi di interesse è atteso a breve, e movimenti opposti quando l'aumento dei tassi è posticipato nel tempo. Poichè il livello dei tassi di interesse americani sono guidati dal
Federal funds rate
deciso dal FOMC (
Federal Open Market Committee) della Federal Reserve , l'opinione che i membri di questo comitato (e sopratutto del presidente Janet Yellen) hanno in merito ai benefici che potrebbero derivare all'economia americana da un aumento o meno dei tassi è sempre più un fattore in grado di determinare le aspettative dei mercati. La lettura delle minute dell'ultimo meeting del FOMC, pubblicate mercoledì (e la loro anticipazione nei giorni precedenti), hanno portato i mercati ad attendersi un probabile aumento dei tassi di interesse entro la fine di quest'anno.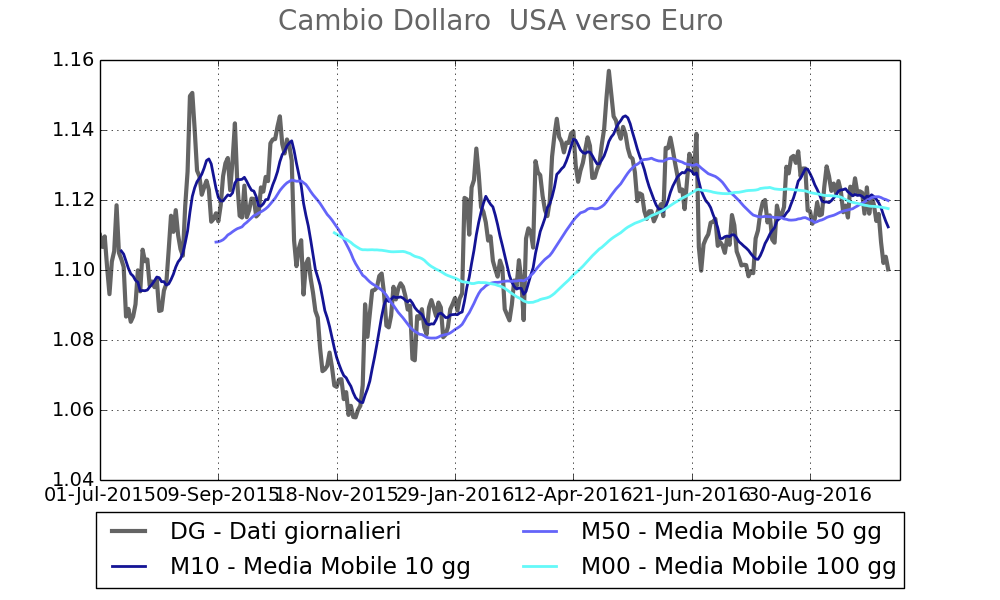 L'apprezzamento del dollaro verso l'euro si è accompagnato ad una relativa stabilità delle altre principali valute mondiali. La Sterlina si è stabilizzata nel corso della settimana su valori pari a 0.90 pound per euro; lo Yen continua a muoversi in un intorno di 115 yen per euro e il Franco svizzero oscilla su valori prossimi a 1.09 franchi per euro.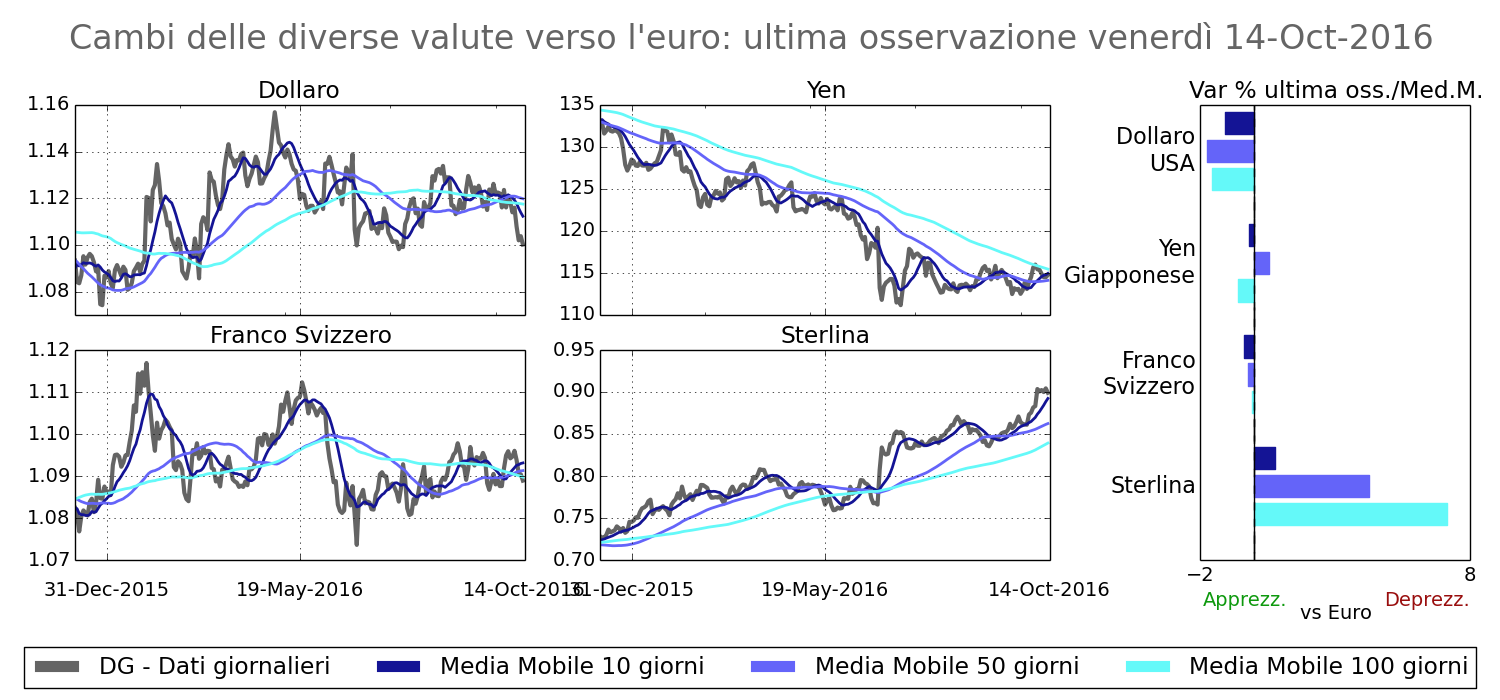 Le valute asiatiche hanno quasi tutte seguito l'apprezzamento del dollaro. I movimenti più significativi sono stati registrati dallo
Yuan
, dal
Dollaro Hong Kong
, dalla
Rupia indonesiana
e dalla
Rupia indiana
. Come atteso, in linea con i movimenti del dollaro sono inoltre risultati il
Dollaro Australiano
, il
Dollaro Canadese
e il
Peso Messicano
. Anche il
Real Brasiliano
si è mosso con decisione nella direzione di apprezzarsi verso l'euro, segnalando l'esistenza di fattori aggiuntivi rispetto a quelli derivanti dai movimenti del dollaro. Più incerti sono risultati, invece, nel corso della settimana i movimenti del Rublo e del Rand sudafricano.