Log in to use the pretty print function and embed function.
Aren't you signed up yet? signup!
In the first half of the year, US imports of mobile phones from China reported a sharp contraction, as anticipated in the previous analysis China risk and Asia opportunities of US tariffs.
This is the continuation of the contraction phase started in the second half of 2018, which in the early months of 2019 showed a further deterioration.
Fig.1: US import of mobile phones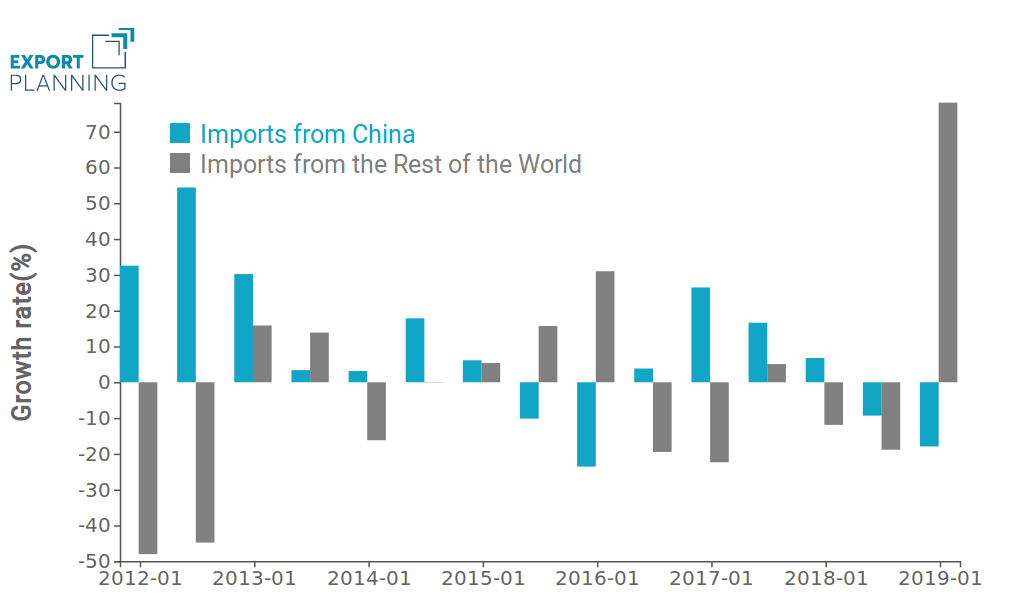 Source: ExportPlanning.
Significant for analysis purposes is the performance of US imports of mobile phones from third countries. As shown in Fig.1, US imports from the rest of the world grown at a strongly dynamic rate, marking a year-over-year increase of $bn4, against a drop of 18% (- $bn3.3) of US imports of Chinese smartphones.
The results reveal that the substitution effect of Chinese mobile phones with products from third countries has been particularly intense, and is an indicator of the beginning of a process of reducing US dependency on Chinese smartphone, to prevent a possible intensification of the trade war.
Although no US tariff provision is currently affecting US imports of mobile phones, the threat of a widening of protectionist action and the worsening of relations with Chinese tech company Huawei, strongly supported by the Trump administration, sees these products particularly exposed.
Until last year, Chinese mobile phone exports accounted for 75%- 80% of US imports, a share that in the first half of 2019 has fallen below 60%. The country that benefited the most from the downsizing of the Chinese share on the US market is Vietnam, which significantly increased its product exports to the US (Fig.2).
Fig.2: China and Vietnam - Share of US mobile phone imports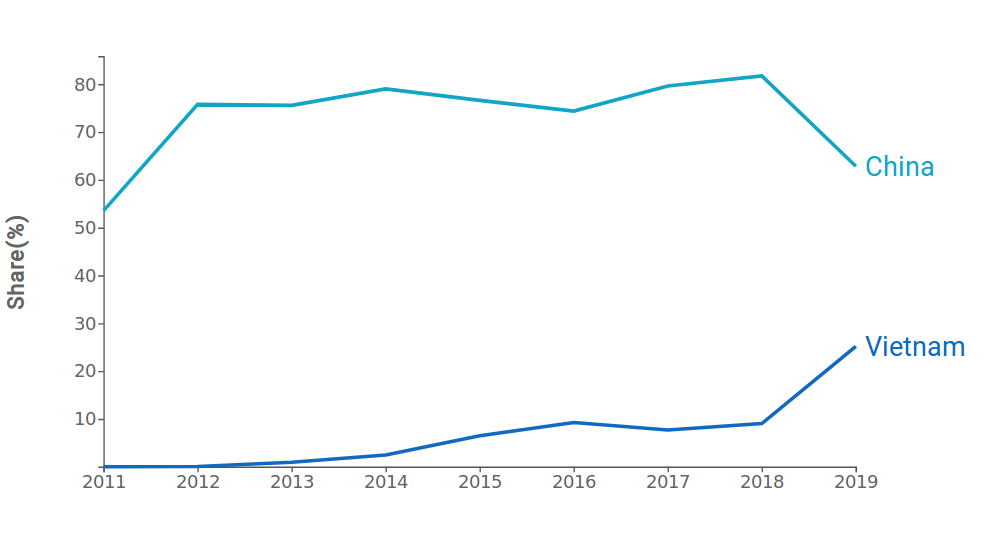 Source: ExportPlanning.
At the base of the dependence of the American market on Chinese smartphone exports is the strong integration existing in the value chains of the high-tech multinationals and Chinese manufacturing companies. Several manufacturers of mobile phones have assembly facilities in China, one of the most important is the American company Apple. According to the analysts, Apple is the market leader, with a share on the US market close to 40%, followed by Samsung. The biggest part of the iPhone sold on the market is assembled on Chinese territory, by the supplier Foxconn International Holdings.
The integration of the production chains of the technological multinationals with the companies of the Country of the Dragon makes multinationals like Apple significantly exposed to the risk of a possible escalation of the trade war and of a worsening of the Washington-Beijing relations. For these reasons, the results recorded in the first half of the year could suggest a restructuring process of existing value chains, in order to mitigate the exposure to such risks.