Log in to use the pretty print function and embed function.
Aren't you signed up yet? signup!
The international outbreak of the Covid-19 pandemic and the related measures to contain and restrict movement have significantly changed lifestyles and purchasing behaviour of consumers, on an international scale. In a previous article "Covid-19 and Purchasing Behavior: Evidence from International Trade Figurese" we reported how this phenomenon has led to an increase in demand for specific categories of goods, typically intendend for domestic consumption.
Among these products, the analysis of the world trade dynamics of some household appliances is particularly interesting. In fact, these goods have shown a remarkable growth, in sharp contrast to the overall trend of the Home industry, which declined sharply in the first nine months of the year.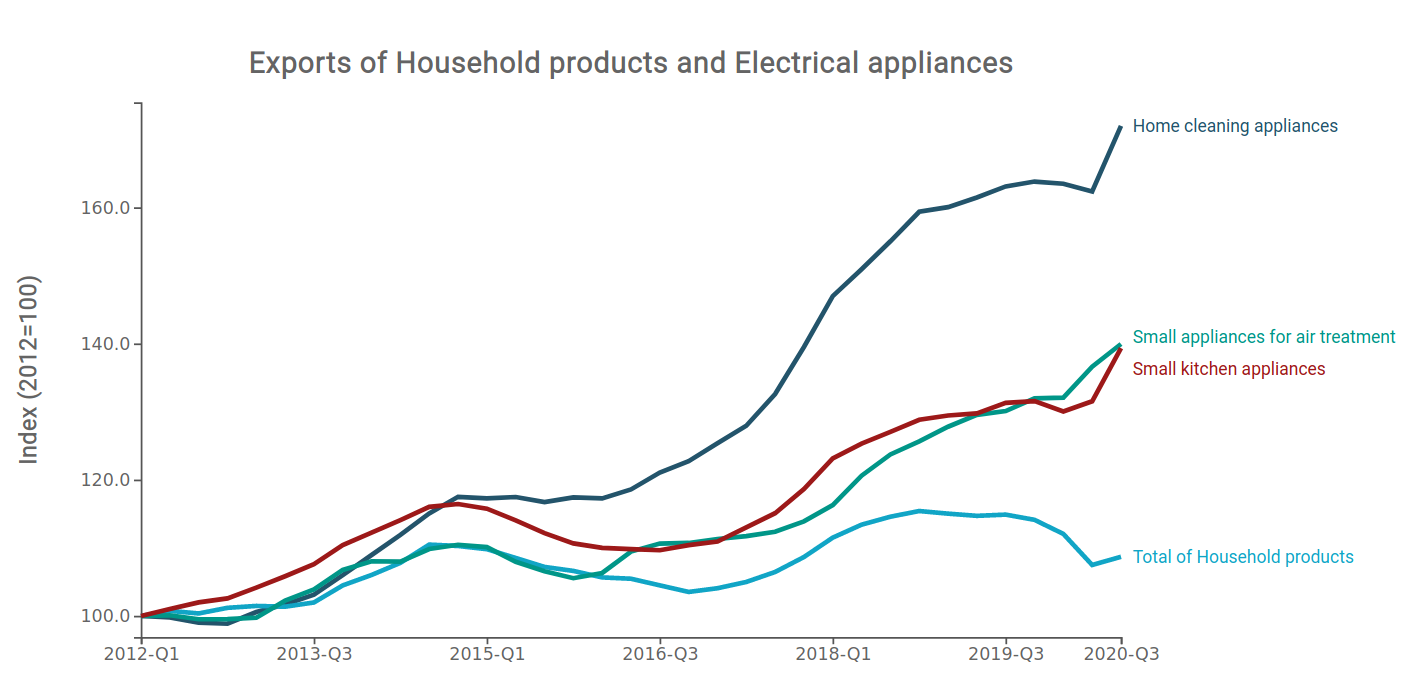 Source: ExportPlanning
As shown in the graph above, in the last quarters we can see a marked increase in exports of small and large household appliances (vacuum cleaners, pressure washers, washing machines), small air treatment appliances (portable fans and air conditioners, small electric radiators) and, above all, small kitchen appliances (mixers, fryers, centrifuges, electric and microwave ovens). Global export of these three categories of products grew by 7% in the first three quarters of 2020, year-over-year. This is a result that bucks the trend, considering that global exports of Household products contracted by 6.5% year-over-year between January and September 2020.
The case of small kitchen appliances
In terms of absolute change, the most significant result was achieved by small kitchen appliances, with an increase close to $3 billion over the period. The acceleration experienced by the sector is in line with an almost uninterrupted growth trend that has been visible since 2016, reflecting an ever stronger interest of international consumers in improving the kitchen environment. This trend has intensified sharply over the past few months, as the average time spent at home has increased due to virus containment measures.
For the small kitchen appliances sector, China undisputedly dominates the ranking of the main exporting countries, with an export value close to $25 billion in 2019. The Asian giant is followed at a distance by Germany, Italy and Poland, which are, however, at much lower levels.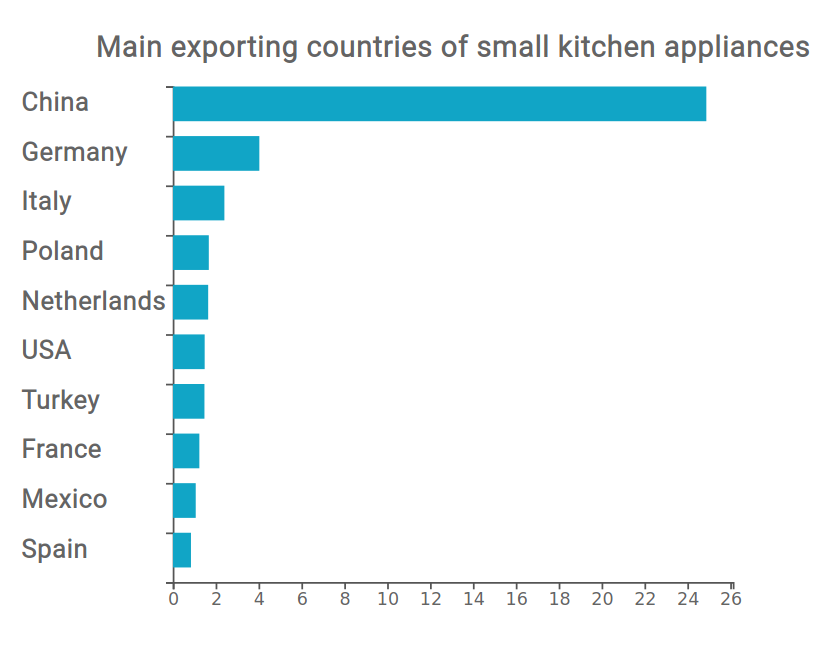 Source: ExportPlanning
With a much faster recovery and a world trade share close to 50%, the growth in demand for small kitchen appliances seems to have favoured China, at least in the short term. As shown in the graph below, China has in fact experienced a further increase in its market share during 2020, unlike the other main competitor countries, affected by more stringent lockdown policies.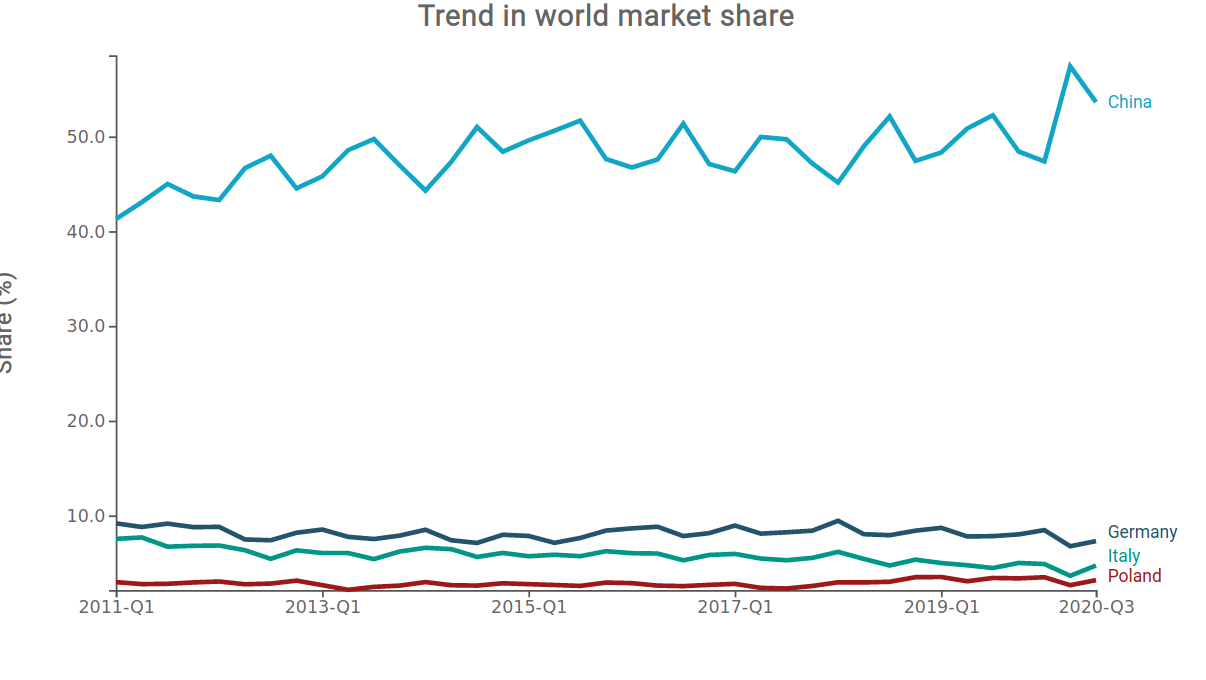 Source: ExportPlanning
However, it is interesting to point out that, for particular categories of products, this result is not confirmed. In the graphs below, we consider the case of electric toasters, comparing the world trade share dynamics that have characterised the main international players on the market: China, Germany and Italy. As can be seen, the Dragon country has suffered a drastic reduction in its market share in recent years, and the last few quarters have been no exception. On the contrary, the growth in world market shares held by Germany and Italy has not stopped.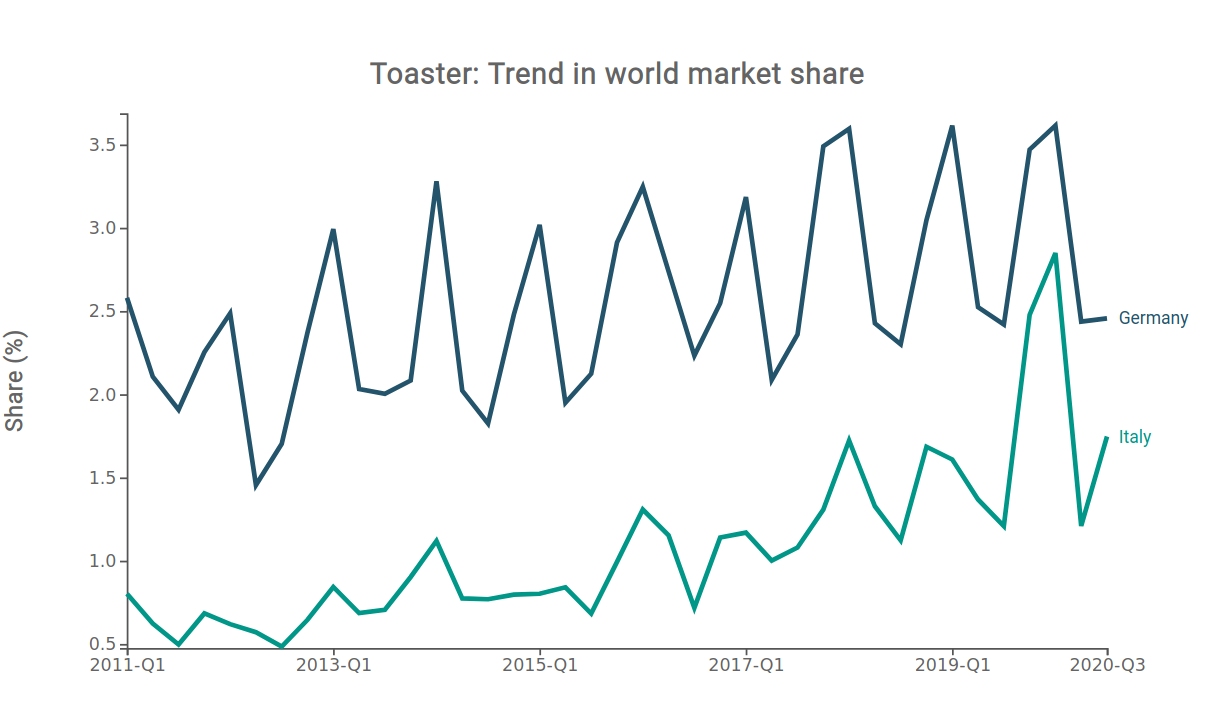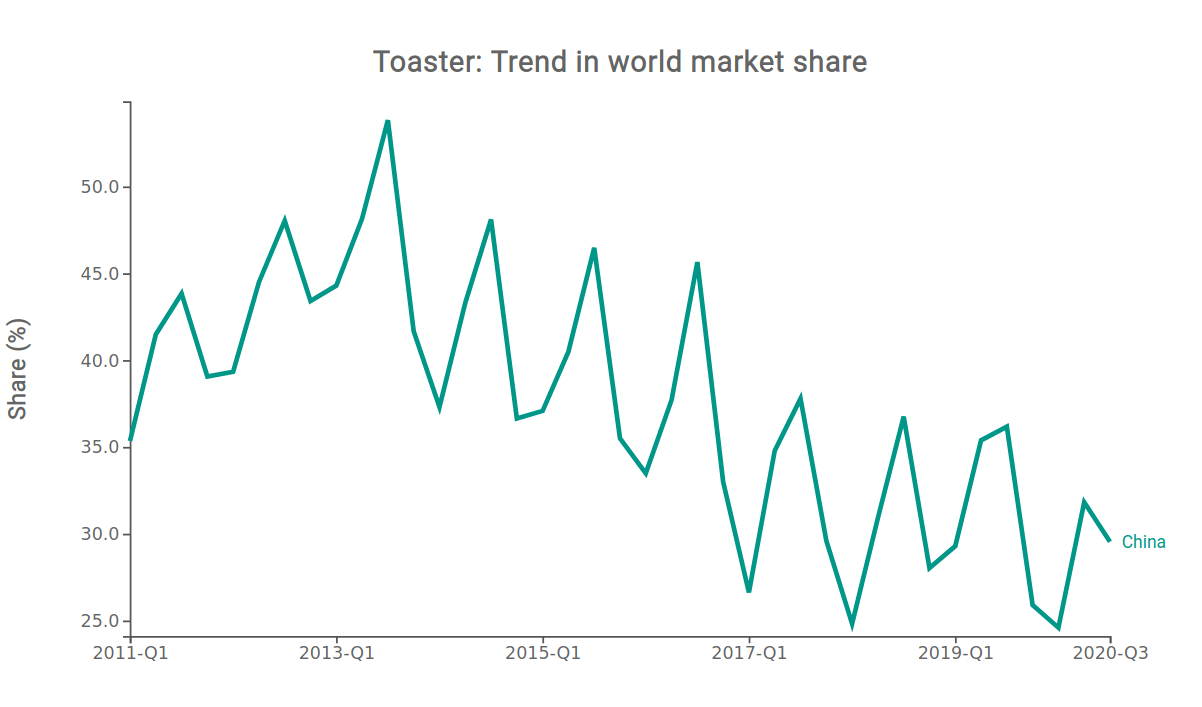 Source: ExportPlanning
Over the most recent months, the Chinese competitor has confirmed as a particularly successful player in supporting the changing lifestyle and consumption patterns of international shoppers with an adequate supply structure. However, as witnessed by the case of electric toasters, there are market segments that are still strongly contestable. It will therefore be crucial for companies operating in international markets to take advantage of the coming months to improve their knowledge of the changes taking place, as well as adapt their strategies to the new competitive environment.