Log in to use the pretty print function and embed function.
Aren't you signed up yet? signup!
Nel 2012 le esportazioni italiane sono aumentate in euro del 3.7%, consentendo di contenere gli effetti negativi sui fatturati delle imprese manifatturiere legati alla profonda crisi attraversata dal mercato nazionale.
L'analisi dei risultati per provincia consente di evidenziare come l'Italia presenti una situazione a macchia di leopardo, con province che hanno saputo incrementare le vendite all'estero a tassi significativamente maggiori rispetto a quali medi nazionali e, viceversa, territori che hanno subito riduzioni delle vendite anche sui mercati esteri. La mappa qui presentata consente, inoltre, di evidenziare aree della penisola in cui i risultati sono stati relativamente omogenei, distinguendole dalle aree che, viceversa, si sono caratterizzate per profonde differenze tra territori anche confinanti.
[caption id="attachment_2047" align="alignleft" width="1024" caption="Export delle Province Italia: Tassi di variazione 2012 (prezzi correnti)"]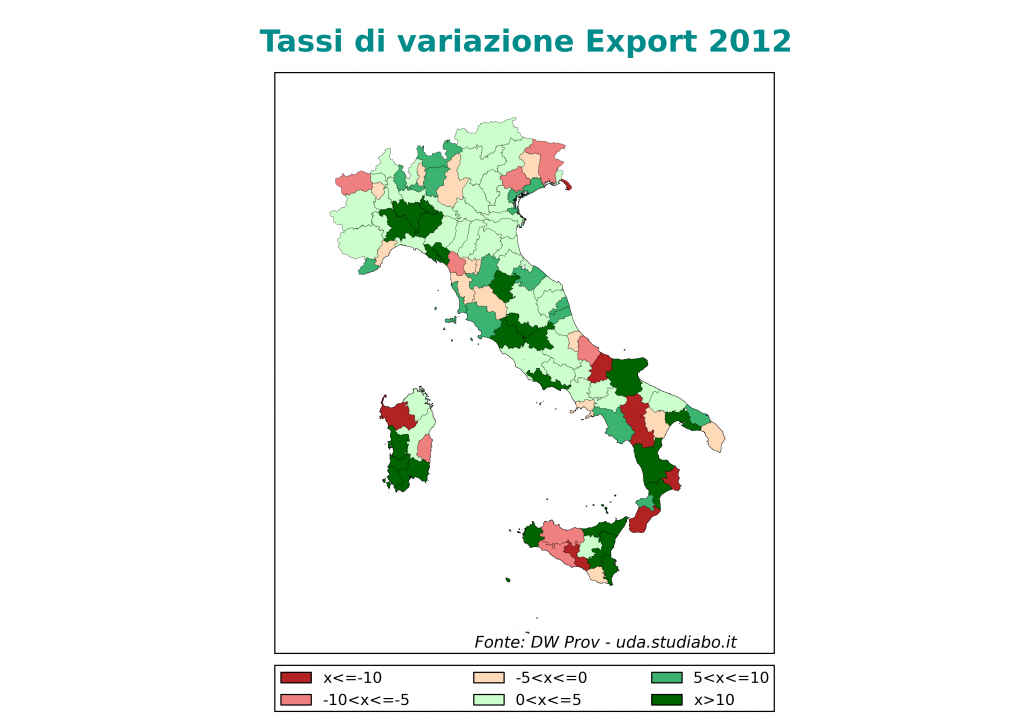 [/caption]
Cinque sembrano i territori/cluster che hanno beneficiato nel 2012 di un forte sostegno delle esportazioni alla crescita delle fatturati delle imprese manifatturiere. Il primo si colloca all'incrocio tra Piemonte, Lombardia ed Emilia, e comprende le province di Alessandria , Pavia , Lodi e Piacenza . Il secondo è posizionato all' incrocio tra Liguria e nord di Toscana . Il terzo riguarda le province di confine tra la stessa Toscana , l' Umbria , il Lazio e le Marche e taglia l'Italia da Est a Ovest. Il quarto territorio con esportazioni in forte crescita è collocato nella costa orientale della Sicilia e comprende le province di Siracusa , Catania e Messina . Il quinto territorio è rappresentato dalla parte meridionale della Sardegna .
All'opposto, due sembrano i territori/cluster che hanno accusato le maggiori difficoltà nel 2012 . Il primo è rappresentato dalla province friulane a cui si aggiunge la provincia di Treviso , segno inequivocabile delle difficoltà che sta attraversando il Sistema Casa italiano. Il secondo riguarda, con l'esclusione della provincia di Trapani, la parte occidentale della Sicilia .
In termini di diversità dei risultati , salta all'occhio l'area che, partendo dalla Calabria, sale verso l'Adriatico fino ad arrivare in Abruzzo, dove le province in forte crescita si alternano a quelle in difficoltà .
Da segnalare, infine, l'ampia area che dall'Emilia Romagna sale al Veneto e al Trentino Alto Adige, dove tutte le province hanno ottenuto risultati in linea con la media nazionale .
Purtroppo questa breve analisi non ci consente di comprendere quali fattori abbiano consentito ad alcuni territori di meglio cogliere le opportunità offerte dai mercati internazionali e quali fattori, invece, abbiano agito in altri casi da freno alla capacità di crescita all'estero degli operatori locali. In particolare, meriterebbe un approfondimento specifico la dispersione dei risultati riscontrata in numerosi territori tra loro contigui, che potrebbe essere oggetto di lettura e riflessione congiunta con gli stakeholder territoriali.