Log in to use the pretty print function and embed function.
Aren't you signed up yet? signup!
Nel primo trimestre del 2013, nonostante il generale peggioramento del quadro di domanda, le esportazioni italiane hanno evidenziato sui mercati extra-UE nuovi segnali di recupero di competitività. Questi segnali emergono, infatti, dal confronto tra i risultati delle imprese italiane e quelli dei concorrenti europei.
Nei primi mesi dell'anno, sui mercati extra-comunitari le vendite delle imprese italiane hanno registrato un aumento tendenziale del +5% in euro (Figura 1), risultando più dinamiche dei concorrenti dell'Unione Europea a 27 (+3.6%).
[caption id="attachment_2167" align="alignleft" width="1000" caption="Figura 1 - Esportazioni trimestrali UE27 ed Italia verso i mercati extra-UE: Tassi di variazione tendenziali (prezzi correnti; fonte: Sistema Informativo Ulisse)"]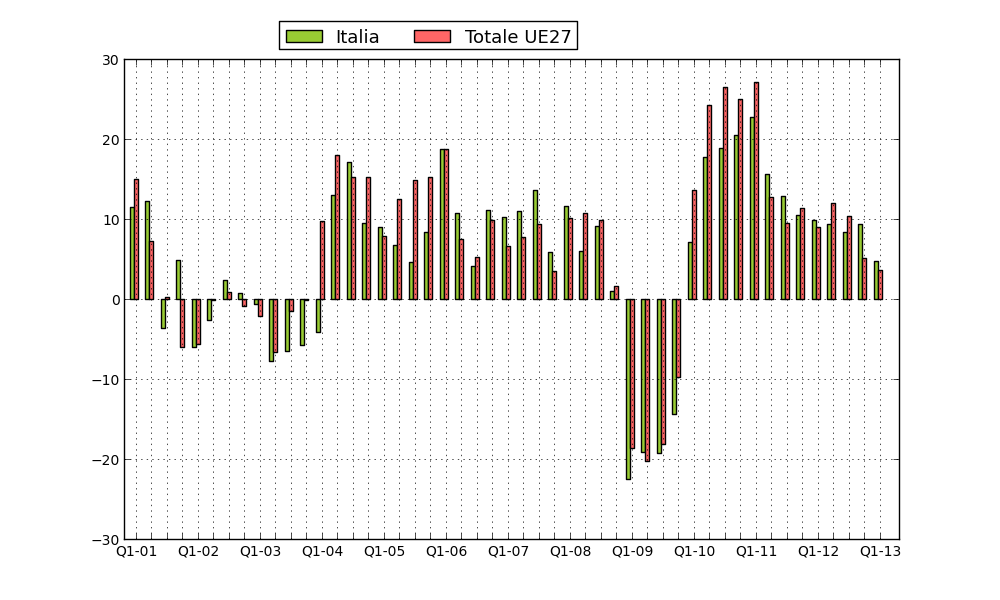 [/caption]
La performance più favorevole delle imprese italiane sui mercati extra-comunitari non appare, peraltro, circoscritta agli ultimi tre mesi, ma sembra avere origine da più lungo tempo: se si considerano, infatti, gli ultimi due anni, in 5 trimestri su 8 l'export italiano rivolto ai mercati extra-UE è cresciuto a tassi più accelerati del totale UE27. Tali evidenze appaiono di un certo rilievo perché si inseriscono in un'esperienza storica dei precedenti dieci anni (dal 2001 al 2011) in cui sui mercati extra-UE le esportazioni delle imprese italiane erano cresciute nettamente meno (circa il 60% in euro, in termini cumulati) di quelle delle omologhe comunitarie (Figura 2).
[caption id="attachment_2170" align="alignleft" width="1000" caption="Figura 2 - Esportazioni trimestrali verso mercati extra-UE: Differenziali di crescita cumulati Italia vs UE27 (prezzi correnti; fonte: Sistema Informativo Ulisse)"]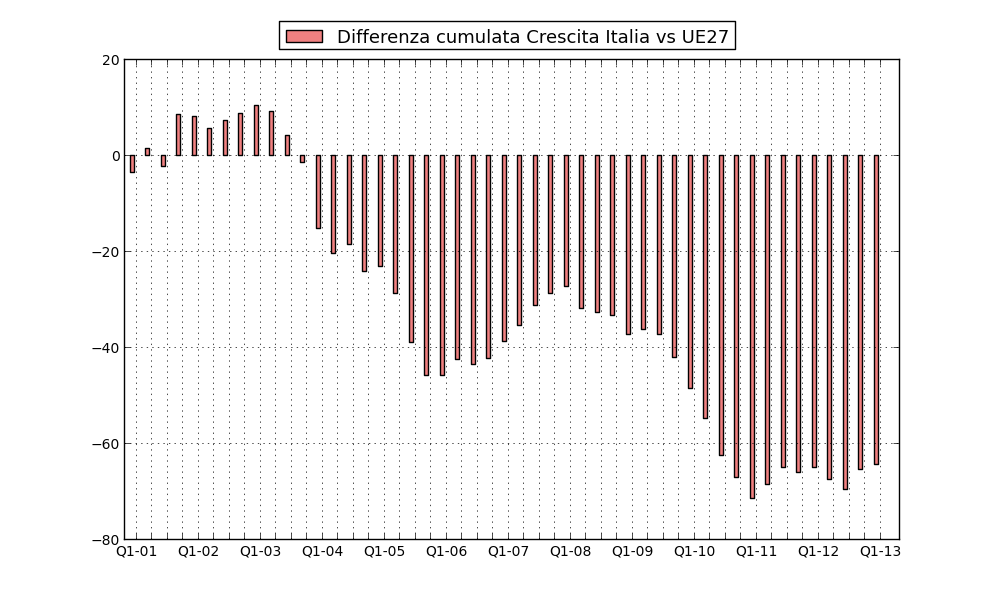 [/caption]
In modo particolare, dopo aver sperimentato nel biennio 2006-2007 una fase di recupero nei differenziali di crescita (peraltro in un contesto di domanda meno selettivo di quello attuale), in epoca più recente le nostre esportazioni sui mercati extra-UE avevano evidenziato una significativa perdita di competitività rispetto a quelle degli altri partner comunitari, documentata dal formarsi in appena 12 trimestri (da inizio 2008 a inizio 2011) di un gap di crescita rispetto al totale UE di circa 40 punti percentuali in termini cumulati.
Alla luce di ciò, pur con le cautele del caso, è da salutare come un segnale incoraggiante l'interruzione del processo di allargamento della "forbice" competitiva intervenuta nel corso del 2011 e seguita, nel semestre più recente, in un contesto di domanda divenuto meno favorevole anche sui mercati extra-UE, da una più significativa inversione di tendenza.
Se confermata anche nei prossimi mesi, essa potrebbe essere interpretata come l'avvio da parte del sistema industriale italiano di un riposizionamento più sistematico sui mercati extra-europei, con un sempre maggior numero di aziende che "imparano" a internazionalizzarsi e a esportare sempre di più.