Lira Turca sotto controllo - IV sett. luglio
Published by Luigi Bidoia. .
Exchange rates
Log in to use the pretty print function and embed function.
Aren't you signed up yet? signup!
Dopo essersi deprezzata di oltre sei punti percentuali a fronte del tentato golpe militare dello scorso venerdì notte, la
Lira turca
negli ultimi giorni della settimana è ritornata su quotazioni inferiori a 3.4 lire per euro, contenendo al 5% la perdita di valore cumulata nella settimana.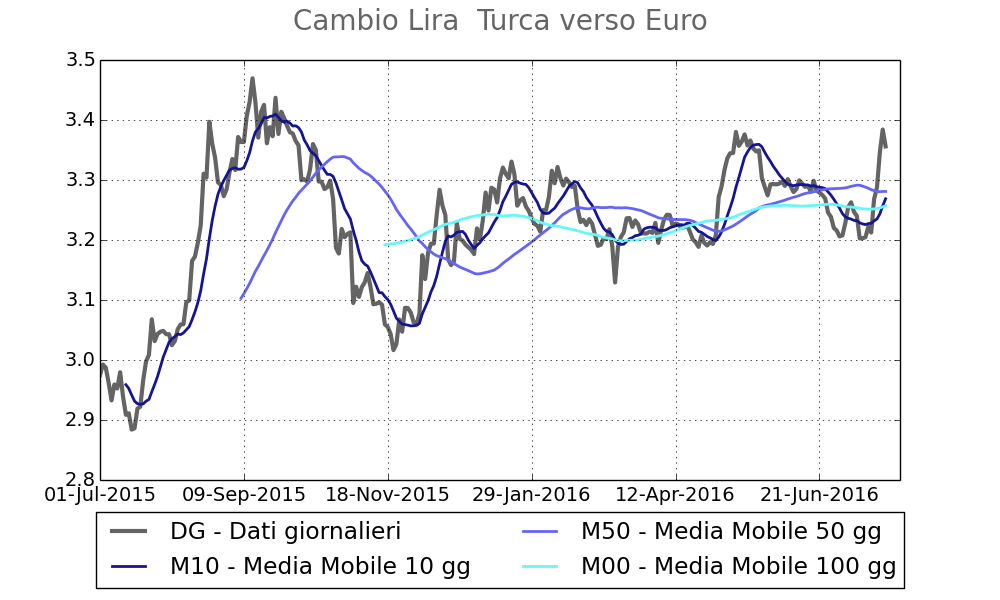 La settimana appena trascorsa ha registrato una relativa stabilità delle principali valute mondiali. Il tasso di cambio del dollaro verso l'euro si è posizionato su valori leggermente superiori a 1.10; lo Yen su valori prossimi a 117; il Franco svizzero su valori compresi tra 1.085 e 1.090; la Sterlina su livelli prossimi a 0.84.
Anche le altre valute mondiali hanno registrato una relativa stabilità o movimenti lungo una tendenza già manifestata nelle prime settimane di questo mese, ad esclusione del
Ringgit
malese che nel corso della settimana è passato da una tendenza all'apprezzamento ad una tendenza opposta. Da segnalare la prosecuzione della fase di apprezzamento del
Rand
sudafricano, che anche questa settimana si è apprezzato verso l'euro di quasi il 2%, portando l'apprezzamento cumulato nel corso del 2016 ad oltre il 7%.