Anche lo Zloty si apprezza - I sett. agosto
Published by Luigi Bidoia. .
Exchange rates
Log in to use the pretty print function and embed function.
Aren't you signed up yet? Log in!
L'unico elemento di una qualche novita' questa settimana, e' l'apprezzamento dello
Zloty polacco
, passato da valori di 4.36 zloty per euro della fine della scorsa settimana ai 4.29 di ieri.  Lo Zloty si sta avvicinando ai valori che lo avevavo caratterizzato nella seconda meta' del 2015, recuperando quasi interamente le due fasi di deprezzamento accusate nel corso del 2016.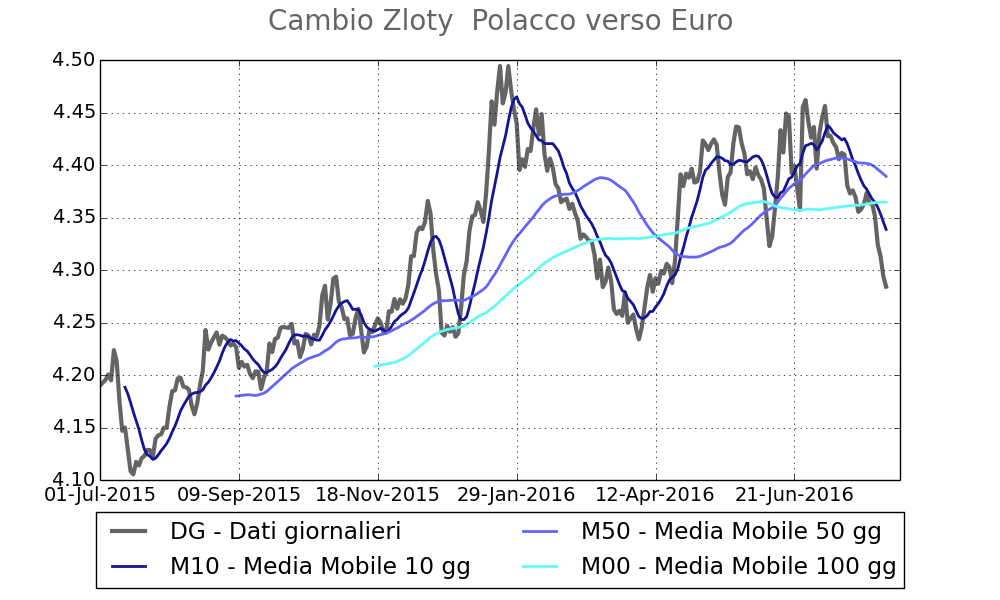 Niente di nuovo da segnalare, invece, dal lato dei cambi delle principali valute mondiali. Il dollaro continua ad oscillare su un intorno di 1.11 dollari per euro; la sterlina su un intorno di 0.84 e il franco svizzero all'interno di un range compreso tra 1.08 e 1.09 franchi per euro. Lo
Yen
continua ad apprezzarzi lungo il trend che lo caratterizza da inizio anno.
Tra le altre valute mondiali, continuano a spiccare lo
Won
sud coreano, il
Real
brasiliano e il
Rand
sudafricano, in costante apprezzamento. Le ultime due si sono apprezzate nell'arco di una settimana del 3% verso l'euro, portando rispettivamente al 10% e al 19% l'apprezzamento accumultato nel corso dell'anno.