Log in to use the pretty print function and embed function.
Aren't you signed up yet? signup!
In una situazione di mercato dei cambi caratterizzata da elevata incertezza, due valute sembrano percorrere in modo deciso un percorso di apprezzamento: il Peso Messicano (si veda "Peso messicano e Sterlina agli estremi") e lo Shekel Israeliano.
Mentre per la prima valuta si tratta di un aggiustamento rispetto al giudizio espresso dai mercati nel corso della campagna elettorale americana e nei primi mesi dell'insediamento di Trump, per la valuta israeliana si tratta di un lungo percorso iniziato già nel 2016.
I fattori che sostengono la valuta israeliana sono molteplici. Da più anni Israele registra un tasso di sviluppo prossimo al 3%. Le recenti previsioni del Fondo Monetario Internazionale prolungano questa crescita anche per i prossimi anni. I fattori alla base di questo sviluppo sono l'elevata qualità istituzionale, l'ampia dotazione infrastrutturale e soprattutto la forte crescita di risorse umane con elevate competenze. Inoltre, le news stanno rafforzando l'immagine di un paese in continuo miglioramento. Negli ultimi mesi, ad esempio, la visita del presidente americano D. Trump in Terra Santa, non solo ha rafforzato il legame tra le due nazioni, ma fa ben sperare su un miglioramento dei rapporti diplomatici tra Israele e i Paesi arabi, in particolare con la Palestina da tempo in conflitto.
Un'altra importante notizia relativa l'economia Israeliana riguarda la recente scoperta di giacimenti di gas a largo delle coste cipriote e israeliane. Israele, infatti, punta alla realizzazione di un importante progetto, ovvero alla costruzione di un gasdotto "Est-Med" che andrà a rifornire i paesi europei.
Tale situazione contribuisce alla stabilità socio-economica del Paese che di conseguenza si riflette sul significativo rafforzamento dello Shekel Israeliano. Come è possibile osservare dal grafico, questa settimana il tasso di cambio effettivo dello Shekel israeliano ha superato la soglia di 113 (indice base 2015=100), corrispondente ad un apprezzamento nell'ultimo anno superiore al 10%.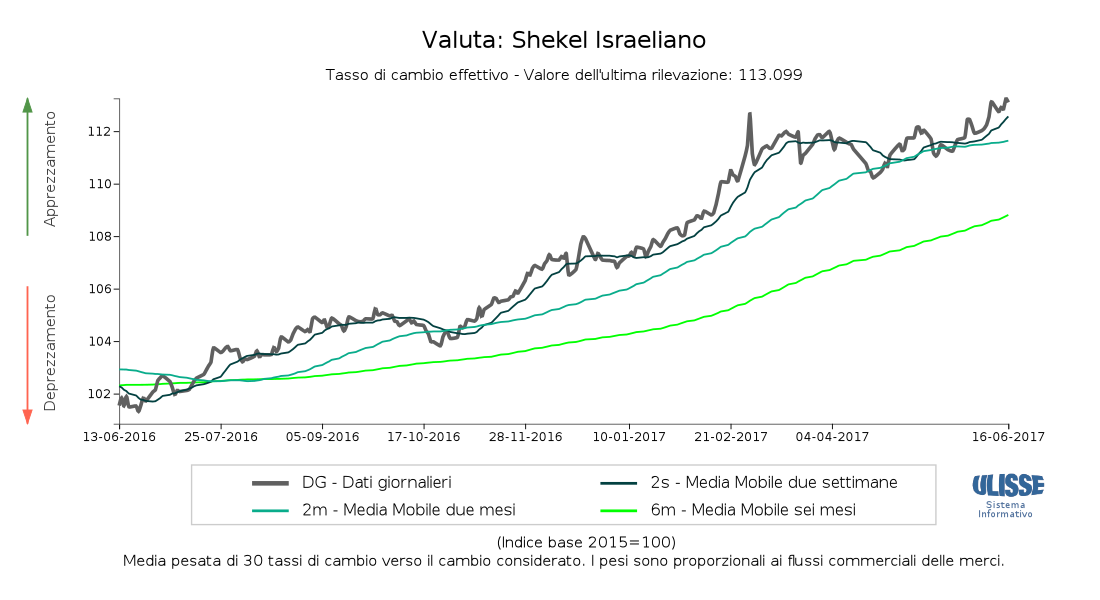 Dal grafico a barre, riportato di seguito, è possibile notare come il Dollaro Canadese, il Dollaro Australiano e Neozelandese manifestano una dinamica molto simile. Tutte e tre le valute mostrano un rapporto di cambio effettivo che si sta rafforzando, in quanto, i tassi di variazione delle medie mobili a sei mesi, due mesi e due settimane mostrano, per ciascuna valuta, un andamento crescente.
La natura di tale dinamica è giustificata dalla buona situazione macroeconomico che sta caratterizzando i tre paesi oggetto d'analisi.
L'economia canadese è cresciuta ad un tasso dello 0.9% nel primo trimestre del 2017, crescita che va oltre le aspettative degli esperti che avevano previsto un tasso trimestrale dello 0.8%.
Stesso quadro macroeconomico per l'Australia e la Nuova Zelanda le quali registrano rispettivamente, per il primo trimestre dell'anno, un tasso di crescita del PIL pari allo 0.3% e 0.5%.
Dinamica dei tassi di cambio effettivi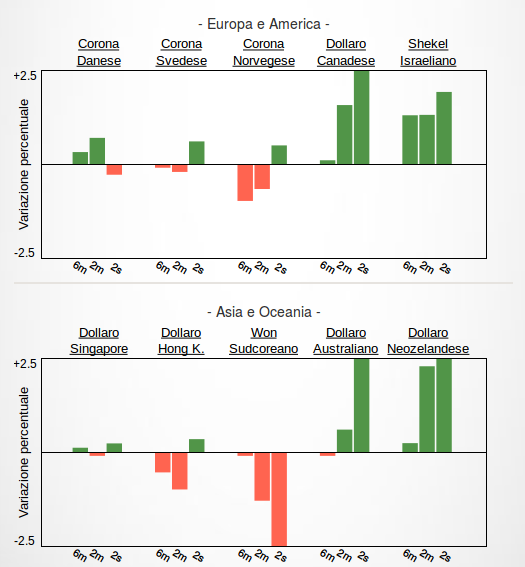 Sembra migliorare la situazione in Brasile dopo che il Tribunale Elettorale brasiliano ha assolto il presidente Michel Temer dall'accusa di abuso di potere politico ed economico durante la campagna elettorale del 2014.
Il tasso di cambio effettivo del Real Brasiliano (calcolato utilizzando come indice base l'anno 2015) si stabilizza, infatti, su valori compresi tra 103 e 106 e chiude la settimana con un valore pari a 104.38.