Log in to use the pretty print function and embed function.
Aren't you signed up yet? signup!
Russian Ruble has been quite dynamic in the last few months. Since the beginning of 2019, the currency has shown an appreciation trend and now it is basically back to the levels it reached last spring, prior to the collapse occurred in April because of US sanctions that hit the energy sector, the core of national exports.
Overall, since the beginning of 2019, the ruble has strengthened by more than 9% in terms of effective exchange rate, as you can see from the chart below.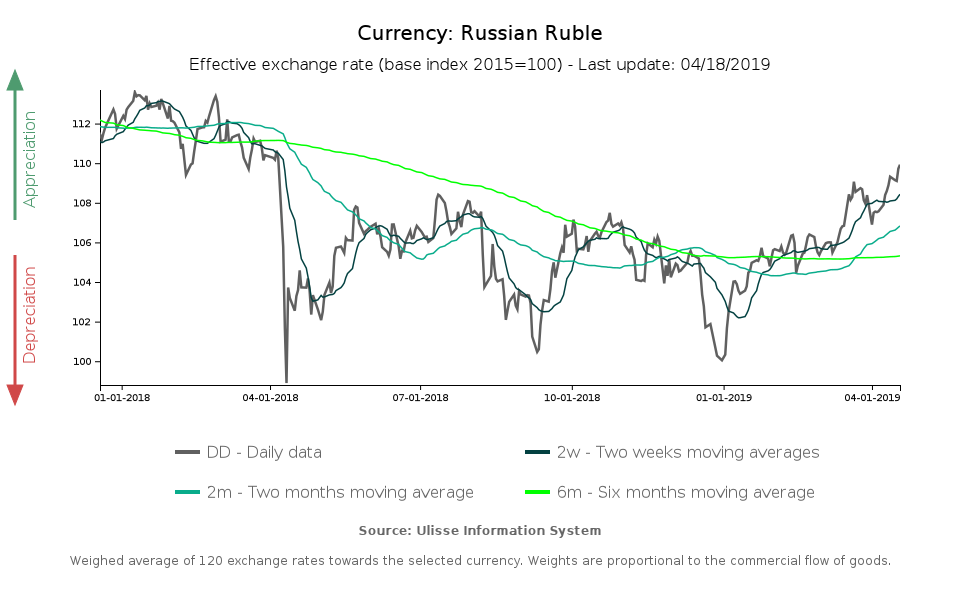 According to analysts, the main reasons behind this appreciation can be summarized as follows:
recent portfolio investment inflows in the government bond market;
relaxation of tensions related to the theme of US sanctions.
Foreign investors are back to Russia
The following chart shows the dynamics of the OFZ, a bond issued by Russian government in national currency, and the share of foreign investors on the market. After a collapse in the presence of foreign investors during 2018, due to the imposition of US sanctions, their share has started to rise again since the beginning of 2019.
According to the latest statements of the Russian finance minister, the last two auctions of OFZ proved to be a success, collecting almost 2 billion euros.
OFZ market: size and share of foreign investors
(January 2016-March 2019)
Source: StudiaBo elaborations on Central Bank of Russia data.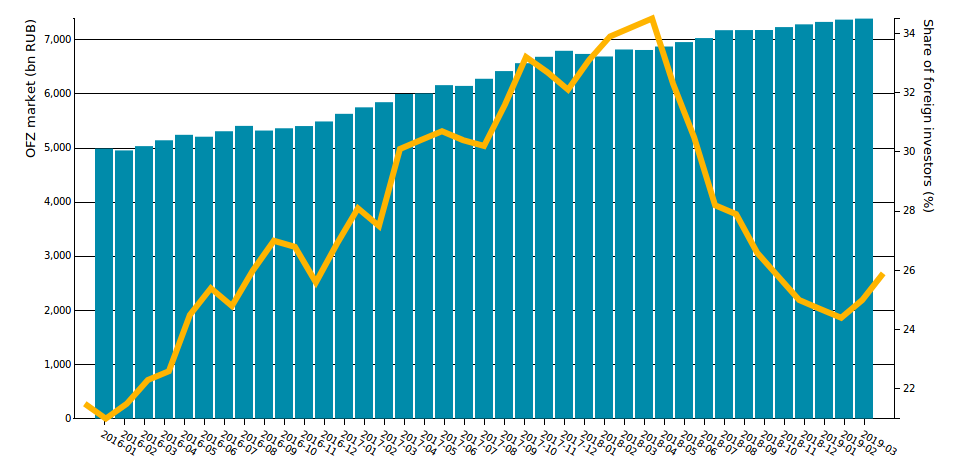 Investors' comeback to Russia is therefore one of the main reasons for the appreciation of the Ruble. Russian economy is in good shape, and this has certainly contributed to these investment choices, together with the high interest rates offered by Russian bonds: since December 2018, the benchmark interest rate in Russia amounts to 7.75%, while inflation is currently close to 5%. This is a significant return, especially in a context in which the two main world central banks, the ECB and the FED, are not likely to hike rates in the short term. Therefore, the securities of a relatively stable emerging market such as Russia can be an attractive investment opportunity.
US sanctions: moderate easing of tensions
In addition to the renewed appetite for risk, a further element to be considered in the determination of investors' sentiment is the easing of tensions related to US sanctions.
In January, signs of thaw came from Washington: sanctions on Rusal, one of the world's largest aluminium producers, have been dropped, and this month an agreement was signed between Rusal and an American company for the construction of a plant in Kentucky.
Nevertheless, in mid-March a coordinated action by the US, the EU and Canada took place to impose new sanctions on Russia, aimed at punishing attacks in Ukraine. The situation is therefore still marked by a high degree of uncertainty, a factor that will continue to weigh on the Ruble in the coming months, together with investors' appetite for risk.