Log in to use the pretty print function and embed function.
Aren't you signed up yet? signup!
The "tit-for-tat" tariff battle involving European Union and United States has intensified transatlantic tensions and has been generating substantial fears about a possible shift of the center of gravity of trade war.
American tariff measures and the European counter-offensive are part of a 14-year battle conducted in the WTO, as described in a previous article "USA-EU: new front of trade war?".
The US market is a highly strategic market for European exports, so the possibility of tariff imposition could generate significant costs. In fact, analyzing the main sectors covered by the tariff provision, it is clear that in some sectors the duties would particularly hit a preponderant share of European exports, as shown in the graph below.
European products subject to US tariffs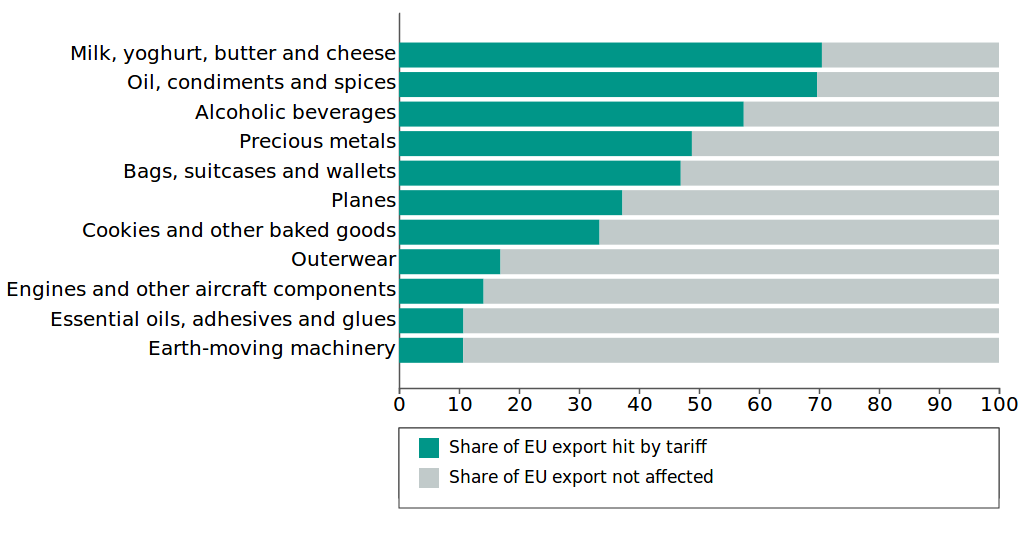 The agricultural sector is one of the most affected sectors: tariffs include about 70% of total European exports of cheese and oil and about 57% of total exports of wine.
However, an important aspect to be considered is the one related to the typology of goods subject to tariffs. Unlike Chinese imported goods, in fact, typically low-end, European exports to the market mainly consist of higher-end goods.
This means that American imports are mainly aimed at highly differentiated goods, for which the price factor tends to be less relevant. Consumer rewards the availability of a highly differentiated good, which responds more to his needs. When undertakings offer differentiated products, the demand might be less responsive to a relative change in price.
Therefore, during the evaluation phase of the possible effects of the tariff action made by the Trump administration, it becomes relevant to highlight which types of European products are affected.
EU exports hit by US tariffs split by price-bands
As the graph shows, a significant portion of European exports of products included in the American "blacklist" consists of high and medium-high end exports. This factor could threaten the effectiveness of the provision: in the case of highly differentiated goods, imports could prove inelastic following a small price increase, not generating a significant contraction in demand. The impact of the tariff provision might therefore be limited.