Log in to use the pretty print function and embed function.
Aren't you signed up yet? signup!
Last week the World Trade Organization (WTO) published the May update of the World Trade Outlook Indicator. This indicator is built by combining the measures of some economic factors that historically anticipated the evolution of world trade:
the sales orders on foreign markets of a firms sample in the world;
the freight transport index, produced by the International Air Transport Association (IATA);
the number of containers handled in the main international ports in North America, Europe and Asia;
the number of cars sold and produced in the world;
the number of electronic components transited to customs in the main world countries;
the world trade in agricultural raw materials.
The following chart shows the value of this indicator from Q3-2016 to Q2-2019.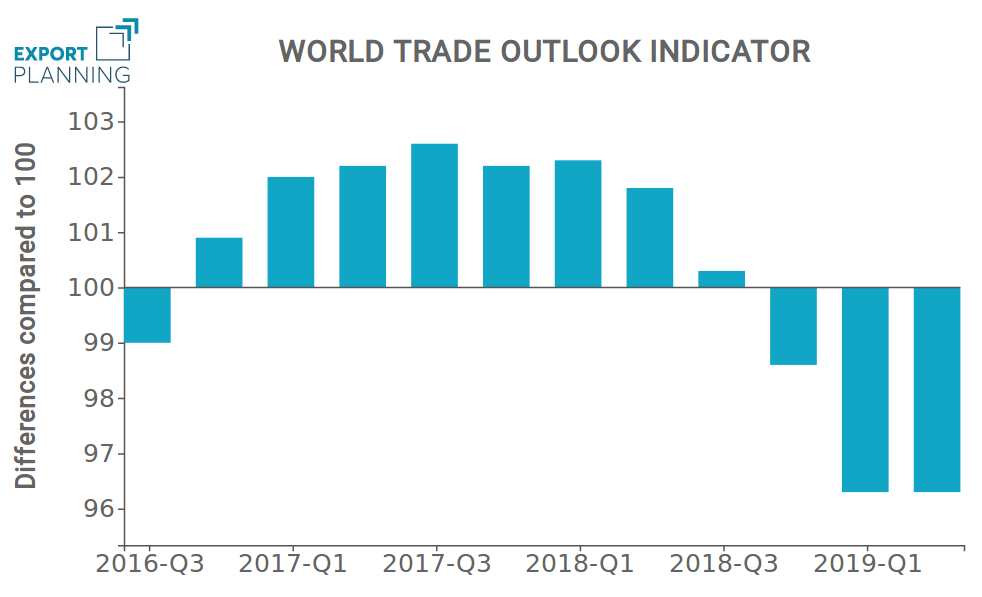 A value equal to 100 means that world trade is developing at a rate close to the one observed in the medium to long term. A value greater than 100 indicates that world trade is doing better than its long-term trend.
The value of the index in May (96.3) indicates that the dynamics of world trade in Q2-2019 is probably almost 4% lower compared to its medium to long term value.
Historically, the WTOI index anticipated turning points of the world trade; it is therefore important to compare this index with the values observed in the previous quarters. The value calculated in May 2019 is equal to the one of the previous quarter (February 2019): this means that, in recent months, the growth rate of world trade did not accelerate nor decelerate. Thus, the dynamics of world trade looks substantially stable compared to the last quarter.
The glass is certainly half empty, if we consider that in this decade, on average, world trade has increased at rates close to 4%. However, the glass can also be considered half full if we keep in mind the fears that characterized the second part of 2018, concerning a possible fall in world trade in the first half of 2019.
In the second half of 2019, the evolution of world trade will be closely linked to the development of the trade war that the Trump administration has declared to the rest of the world. From this point of view, the latest news are far from being positive: the Huawei case represents an expansion of the conflict between the USA and China, with possible repercussions on the growth rate of world economy. These effects have already been anticipated by financial markets, as we can see from the price of oil.