Log in to use the pretty print function and embed function.
Aren't you signed up yet? signup!
Il motore della crescita delle esportazioni italiane si conferma essere costituito dai mercati al di fuori dell'area UE . In modo particolare, le imprese italiane stanno evidenziando crescenti capacità di servire i mercati extra-UE. Nel primo semestre del 2013 l'export italiano è cresciuto sui mercati non UE del +2.8%  in euro in termini tendenziali, a fronte invece del -3.1% sperimentato sui mercati comunitari.
Il rafforzamento delle esportazioni italiane sui mercati extra-UE appare un fenomeno diffuso a livello territoriale : nel primo semestre dell'anno due province italiane su tre hanno sperimentato una crescita delle esportazioni in valore rivolte ai mercati extra-comunitari .
L'analisi dei risultati del primo semestre 2013 delle esportazioni italiane per provincia consente di evidenziare come le imprese di alcune regioni ( Emilia Romagna , Marche , Lombardia , Trentino Alto Adige ) abbiano mostrato sui mercati extra-UE crescite particolarmente diffuse a livello territoriale. Aumenti tendenziali delle esportazioni sui mercati extra-UE hanno riguardato anche la gran parte delle province di Piemonte , Veneto , Toscana e Sicilia . In particolare, risultano siciliane (Agrigento e Messina) due delle tre province italiane a maggiore crescita tendenziale dell'export extra-UE nel primo semestre 2013. Anche Lazio e Campania mostrano performance delle esportazioni provinciali sui mercati extra-UE per la maggior parte positive.
Di converso, Valle d'Aosta , Molise , Calabria , Liguria , Friuli Venezia Giulia e Puglia risultano le regioni con la minore diffusione (o, nel caso di Valle d'Aosta e Molise, l'assenza) di province in crescita in termini di esportazioni sui mercati extra-UE.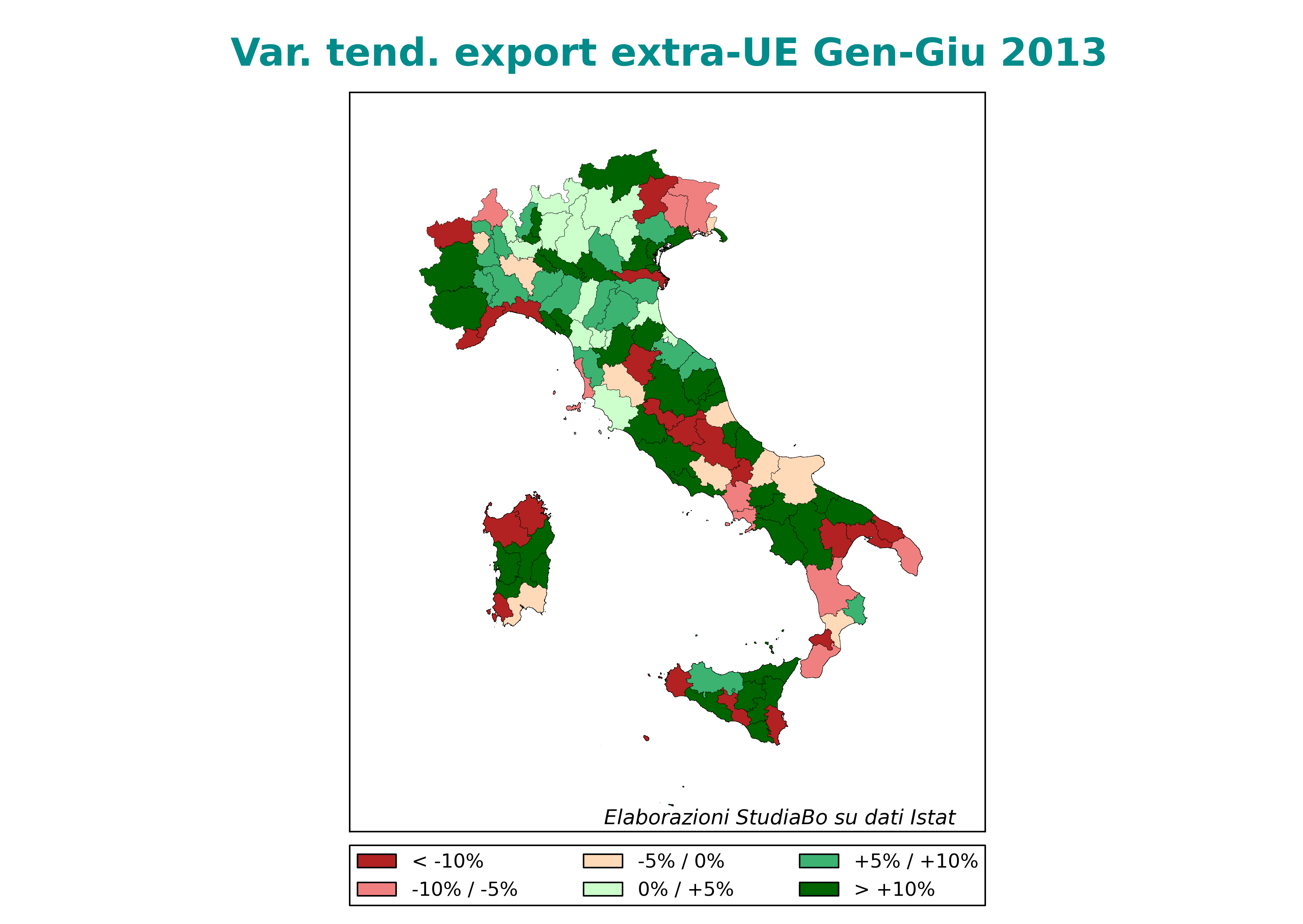 Va peraltro evidenziato come in alcune di queste regioni ( Liguria e Puglia ) e anche in altre come la Sardegna si rilevino risultati alquanto diversificati , con province, da un lato, che nel primo semestre dell'anno hanno registrato significative performance di crescita (La Spezia per la Liguria, Barletta-Andria-Trani e Bari per la Puglia, Oristano, Ogliastra e Medio Campidano per la Sardegna) e, dall'altro, territori che hanno sperimentato marcate riduzioni tendenziali delle esportazioni verso i mercati extra-UE. Questi ultimi risultati sembrano, peraltro, almeno in alcuni casi (le province di Carbonia-Iglesias e Taranto), trovare giustificazione in situazioni aziendali particolarmente destabilizzanti per l'economia del territorio.
Al di là di alcuni casi per certi versi "eccezionali", da questa analisi emergono, quindi, segnali diffusi di un rafforzamento in atto delle esportazioni italiane sui mercati extra-UE a livello territoriale, con una ampia maggioranza di province in cui le imprese hanno saputo sinora migliorare i risultati dell'anno scorso.