Log in to use the pretty print function and embed function.
Aren't you signed up yet? signup!
Il quadro congiunturale delle esportazioni dei territori italiani si conferma solo moderatamente positivo. Tuttavia, i dati del terzo trimestre dell'anno evidenziano una elevata diffusione della crescita – pur in molti casi moderata – nelle province settentrionali (in Piemonte, Liguria ed Emilia Romagna in modo particolare) e, in misura minore, al Centro (Lazio e Marche in particolare). Al Sud, invece, si rilevano situazioni più differenziate, con una marcata polarizzazione tra un gruppo rilevante di province (in Molise e in Puglia in particolare) che evidenzia aumenti tendenziali significativi del proprio export, da un lato, ed un altrettanto folto gruppo di province (soprattutto in Sicilia) che registra rilevanti flessioni, dall'altro.
Nel terzo trimestre 2014 la performance delle esportazioni italiane, benché solo debolmente positiva (+2.28% in termini tendenziali nei valori in euro), evidenzia una decisa prevalenza di territori con segno "più". Tra giugno e settembre 2014 poco meno del 60% delle province italiane ha registrato crescite tendenziali delle proprie esportazioni.
In modo particolare, si rileva una prevalenza di territori in crescita nei valori tendenziali soprattutto nel Nord Ovest (71% delle province), nel Nord Est (68%) e nel Centro (62%), mentre al Sud il quadro appare alquanto differenziato (46% delle province in crescita nei valori tendenziali, contro, invece, un 54% in calo).
[caption id="attachment_4303" align="alignnone" width="656" caption="Esportazioni italiane III Trimestre 2014: Variazioni tendenziali (euro correnti; fonte: Exportpedia)"]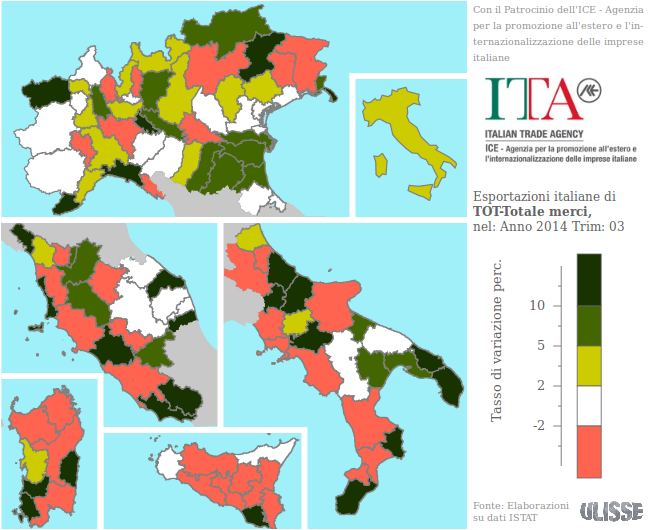 [/caption]
Nel Nord Ovest spiccano per crescite superiori al 10% le esportazioni delle province di Genova , Imperia , Valle d'Aosta e Lodi . Nel Nord Est registrano aumenti tendenziali a due cifre le esportazioni delle province di Belluno e Trieste ; a queste vanno aggiunte le performance significativamente positive (superiori al +5% tendenziale) delle province di Gorizia , Ravenna , Bolzano , Modena , Ferrara , Rovigo , Bologna .
Tra i territori del Centro si evidenziano incrementi tendenziali a doppia cifra per le esportazioni delle province di Livorno, Frosinone, Ascoli Piceno , Viterbo, Latina , Ancona e Massa-Carrara .
Al Sud , infine, si rilevano performance alquanto eterogenee: ben 12 province, infatti, registrano aumenti tendenziali a doppia cifra (in particolare le province sarde di Ogliastra , Medio Campidano e Carbonia-Iglesias , con crescite superiori al 30%), a fronte, invece, di altre 13 province che hanno sperimentato una riduzione tendenziale del proprio export superiore ai 10 punti percentuali.
[caption id="attachment_4304" align="alignnone" width="658" caption="Esportazioni italiane III Trimestre 2014: Contributi alla variazione (euro correnti; fonte: Exportpedia)"]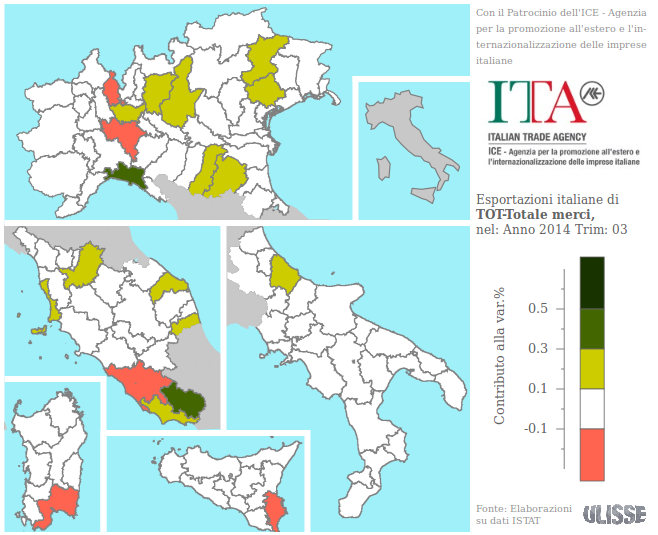 [/caption]
Per stilare una "graduatoria" dei territori maggiormente trainanti e frenanti , può essere utile, soprattutto, considerare il contributo fornito dalle diverse province alla variazione delle esportazioni nazionali. Nel terzo trimestre dell'anno Genova e Frosinone si sono caratterizzate come le principali province trainanti l'export italiano, avendo offerto tra luglio e settembre i contributi più significativi (superiori allo 0.5%) alla crescita delle vendite all'estero italiane. Ad esse vanno aggiunte le province di Firenze , Milano , Bergamo , Livorno , Ascoli Piceno , Modena , Bologna e Belluno , con contributi superiori a 3 decimi di punti percentuali.
Di converso, Siracusa , Roma , Pavia , Cagliari e Varese si segnalano come le province maggiormente " frenanti " l'export italiano nel terzo trimestre dell'anno, a causa di contributi negativi superiori a 1 decimo di punti percentuali.