Log in to use the pretty print function and embed function.
Aren't you signed up yet? signup!
(di Ornella Sottile e Annalisa Vignoli, StudiaBo srl)
Le informazioni più recenti rese disponibili dal Sistema Informativo Ulisse confermano un commercio mondiale di Prodotti Finiti per la Persona particolarmente dinamico: nel terzo trimestre 2014 le Esportazioni Mondiali 1 registrano, infatti, una crescita in euro del 5.4 per cento rispetto al corrispondente trimestre 2013. Si segnala, quindi, un contesto favorevole del commercio mondiale del settore che continua ad evidenziare tassi di crescita positivi.
Nel caso delle vendite all'estero italiane sembra tuttavia esserci una fase di rallentamento: nel terzo trimestre 2014 le Esportazioni Italiane di Prodotti Finiti per la Persona hanno registrato una crescita modesta (+0.85%), in decisa decelerazione rispetto alla prima parte dell'anno.
Prodotti Finiti per la Persona: dinamica delle Esportazioni Mondiali e Italiane a confronto (tassi di variazione in euro correnti)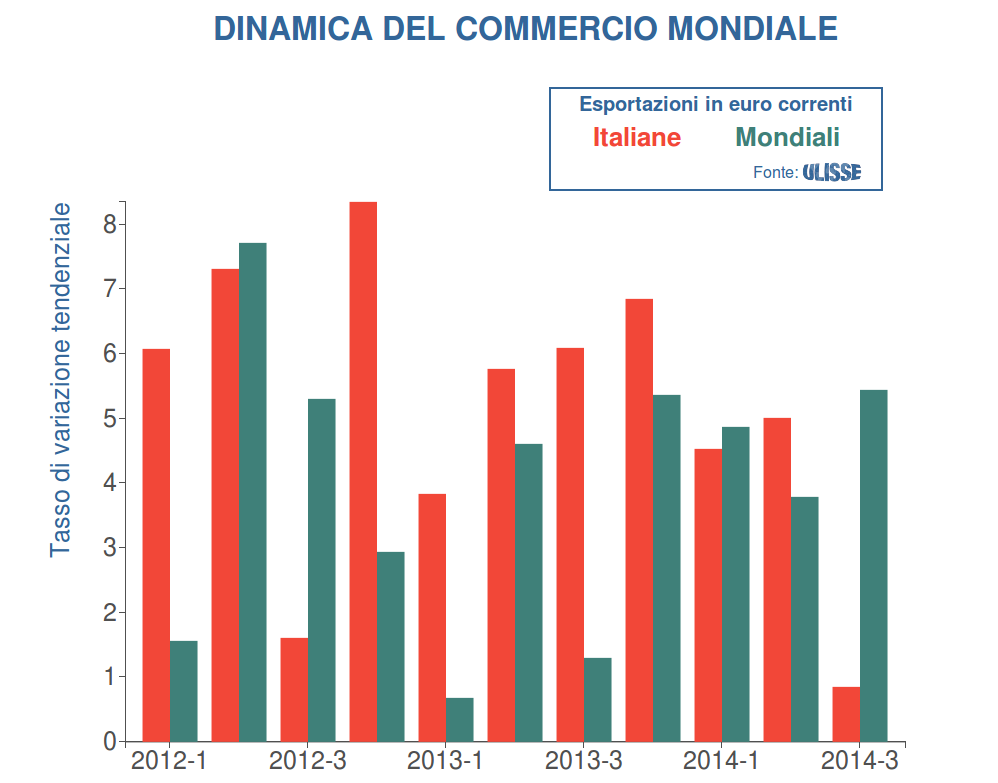 1
. Il campione congiunturale Ulisse è composto da 70 paesi, rappresentativi del 70% dei flussi di esportazione di beni. Il campione può quindi essere considerato rappresentativo del totale degli scambi internazionali.