Log in to use the pretty print function and embed function.
Aren't you signed up yet? Log in!
Conferme di dinamiche di crescita in atto nel commercio mondiale di pompe e filtri. In base alle pre-stime formulate da StudiaBo, nel quarto trimestre 2014 i 70 paesi del campione congiunturale Ulisse 1 hanno, infatti, evidenziato crescite molto intense sia dal lato delle importazioni che delle esportazioni di Pompe e filtri . In modo particolare, tra ottobre e dicembre 2014 le Importazioni mondiali di Pompe e filtri sono risultate in crescita tendenziale del +13.3% in euro rispetto al corrispondente periodo 2013; le Esportazioni mondiali di Pompe e filtri hanno evidenziato una crescita tendenziale del +10.2% in euro rispetto al corrispondente periodo 2013.
[caption id="attachment_5185" align="alignnone" width="752" caption="Pompe e filtri: tassi di variazione tendenziali commercio mondiale (euro correnti; fonte: SI Ulisse)"]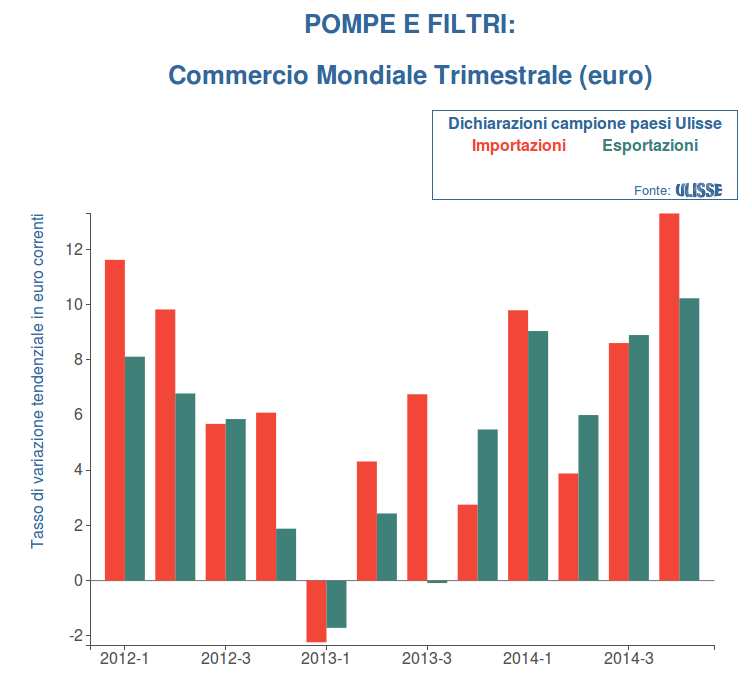 [/caption]
Se è pur vero che la svalutazione dell'euro nei confronti del dollaro (prossima agli 8 punti percentuali nel quarto trimestre 2014 rispetto al corrispondente periodo 2013) ha senz'altro favorito la crescita dei valori in euro, si tratta del 7° trimestre consecutivo nel quale gli scambi di commercio estero del settore evidenziano crescite tendenziali positive nei valori in euro e, se si eccettua la caduta sperimentata nel primo trimestre 2013, negli ultimi 12 trimestri il commercio mondiale di Pompe e filtri denominato in euro è sempre cresciuto.
I valori raggiunti nell'ultimo trimestre 2014 costituiscono, di fatto, un nuovo punto di massimo per il commercio internazionale di Pompe e filtri denominato in euro, su livelli di circa il 35% superiori in termini di dichiarazioni di importazione e di quasi il 30% in quelle di esportazione, segnalando come per questo settore si sia avviata già da qualche tempo una fase di ripresa degli scambi a livello mondiale.
1 Il campione congiunturale Ulisse è composto dalle principali economie mondiali. Le loro esportazioni e importazioni superano rispettivamente il 70 % e il 75% del flussi totali di commercio mondiale. Il campione può quindi essere considerato rappresentativo del totale degli scambi internazionali.