Log in to use the pretty print function and embed function.
Aren't you signed up yet? signup!
Le esportazioni della provincia di Varese nel secondo Trimestre 2015 registrano una miglioramento rispetto allo stesso periodo di rilevazione dell'anno precedente. Infatti, in quest'ultimo trimestre, la realtà provinciale lombarda ha registrato un aumento complessivo delle proprie esportazioni pari a +4.1% in euro, dopo il +2.9% del trimestre precedente .
Una panoramica dei macro comparti che costituiscono il sistema economico provinciale evidenzia l'importante ruolo di traino giocato dal Sistema Casa e dall' Agroalimentare alla buona performance complessiva. Questi due comparti, infatti, registrano i più alti tassi di crescita tendenziale nel periodo considerato, con crescite tendenziali nei valori in euro rispettivamente pari a +8.9% e +7.9%. Bene anche la Metalmeccanica (+4.7% in euro nel secondo trimestre dell'anno) e la Chimica (+4.2% in euro), mentre il Sistema Moda registra una battuta d'arresto dell'export (-6.7% in euro).
A determinare il buon andamento complessivo delle esportazioni provinciali ha avuto senza dubbio un ruolo fondamentale il comparto delle " Macchine non utensili ", che tra aprile e giugno 2015 registra un incremento del +27.9% in euro rispetto al corrispondente trimestre 2014, in crescita in tutti i principali Paesi partner.
[caption id="attachment_5973" align="alignnone" width="583"]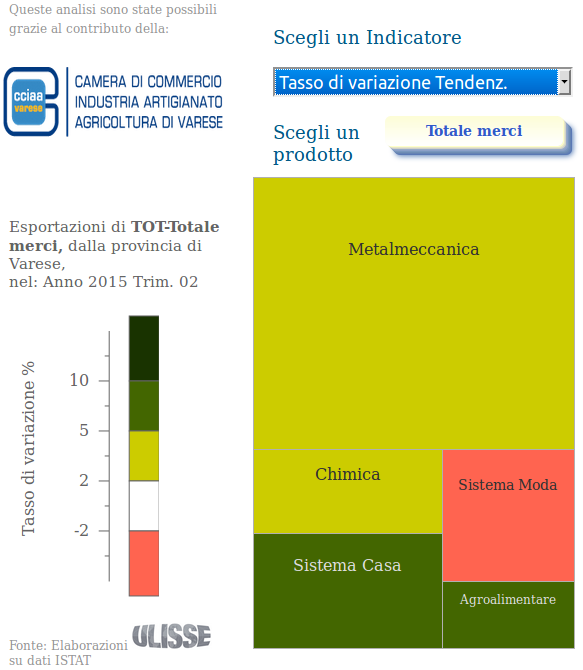 Esportazioni totali della provincia di Varese: Variazioni tendenziali II trimestre 2015 per macrosettore[/caption]
Un altro comparto metalmeccanico che si è messo in luce nel corso del secondo Trimestre dell'anno è senz'altro quello delle " Caldaie, valvole e cuscinetti ", che nel contesto varesino registra un incremento assoluto delle esportazioni pari a 25 milioni di euro. I principali mercati di sbocco che hanno permesso al comparto di crescere sono stati gli Emirati Arabi Uniti (+ 6 milioni di euro) e l'Australia (+2.2 milioni di euro).
Molto bene anche gli " Elettrodomestici per la casa ", che traiano il sistema Casa con un incremento tendenziale pari a +12.9% in euro.
In controtendenza rispetto al contesto provinciale appare, infine, il cluster dell' Aerospazio , che registra una variazione negativa pari a -12.8% in euro rispetto all'omologo Trimestre 2014, con una perdita secca di 61 milioni di euro di export. Tali performance sembrano essere condizionate da un calo delle esportazioni verso mercati quali Algeria (-87 milioni di euro), Arabia Saudita (-36 milioni di euro) e Malesia (-32 milioni di euro). Notizie comunque confortanti provengono dai nuovi partner in crescita nel settore, ovvero Emirati Arabi Uniti , Israele e Australia, che insieme hanno determinato un aumento di 161 milioni di euro delle esportazioni provinciali del settore nel secondo trimestre dell'anno.
[caption id="attachment_5972" align="alignnone" width="1153"]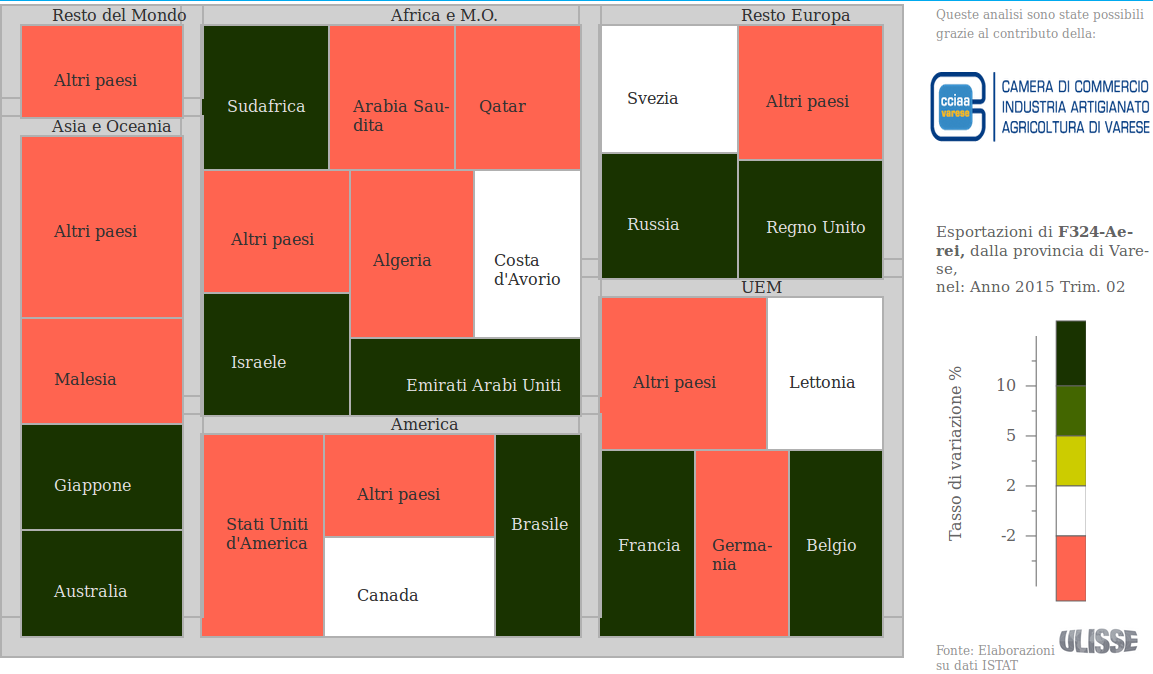 Esportazioni Cluster Aerospaziale della provincia di Varese: Variazioni tendenziali II trimestre 2015 per Paese di destinazione[/caption]