Log in to use the pretty print function and embed function.
Aren't you signed up yet? signup!
Stati Uniti, Cina e Germania principali mercati ricchi; rilevanti anche Russia, Sud Corea, Brasile, India, Singapore
Figura 1 – Elettromedicali : evoluzione della domanda mondiale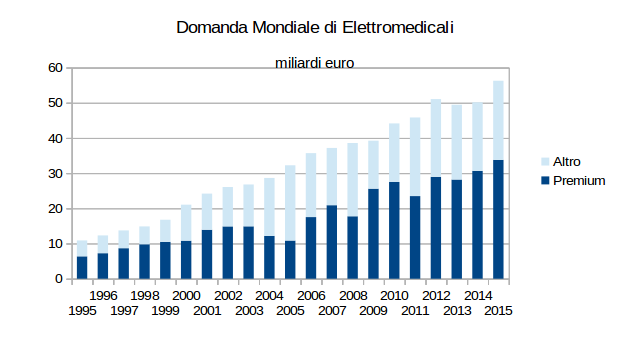 Nel 2015 la domanda mondiale di Elettromedicali 1 ha registrato una crescita nei valori in euro del +12.2%, attestandosi su nuovi livelli di massimo, pari a 56.3 miliardi di euro (fonte: Sistema Informativo Ulisse 2 ).
La componente di domanda Premium-Price 3 del settore si è confermata predominante: nel 2015 le importazioni "premium" di Elettromedicali , riconducibili alla Fascia Alta e Medio-Alta di Prezzo , sono arrivate a toccare i 34 miliardi di euro (pari al 60% dei flussi totali).
Figura 2 - Elettromedicali : primi 20 mercati per importazioni a livello mondiale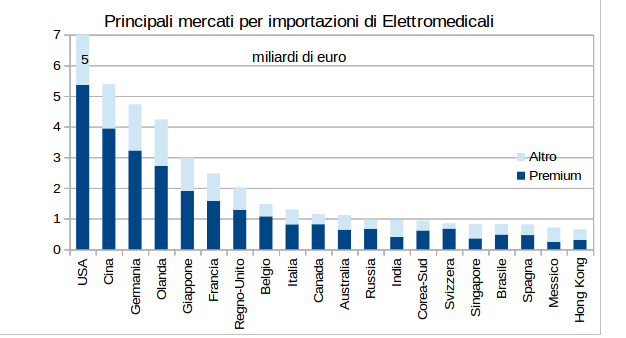 La graduatoria dei mercati più rilevanti per importazioni Premium-Price del settore vede ai primi tre posti i seguenti paesi: Stati Uniti (con oltre 5 miliardi di euro di acquisti dall'estero di Elettromedicali di Fascia Alta e Medio-Alta di prezzo ) , Cina (con ben 4 miliardi di euro di importazioni settoriali " premium " ), Germania (con oltre 3 miliardi di euro relativi ai segmenti "Premium-Price" ).
Si evidenziano, inoltre, i posizionamenti rilevanti sui segmenti Premium-Price delle importazioni di Olanda , Giappone , Francia , Regno Unito e Belgio , con valori 2015 relativi alle fasce "premium" superiori ad 1 miliardo di euro.
Si segnalano, infine, valori di importazioni Premium-Price già significativi per alcuni mercati emergenti come Russia (0.67 miliardi di euro di importazioni di Elettromedicali dei segmenti "Premium"), Corea del Sud (0.61 miliardi di euro), Brasile (0.48 miliardi di euro), India (0.40 miliardi di euro) e Singapore (0.35 miliardi di euro).
1 Per questa analisi sono stati considerati i seguenti prodotti Ulisse (http://docs.ulisse.studiabo.it/ulisse/it/E4.23.pdf):
UL901811 Elettrocardiografi

UL901812 Apparecchi di diagnosi a scansione ultrasonica

UL901813 Apparecchi di diagnosi ad immagine, a risonanza magnetica

UL901814 Apparecchi per scintigrafia

UL901819 Apparecchi di elettrodiagnosi

UL901820 Apparecchi a raggi ultravioletti o infrarossi, per uso medico

UL902140 Protesi uditive

UL902150 Pacemakers

UL902190 Apparecchi medicali per compensare una deficienza o un'infermità

UL902212 Apparecchi di tomografia computerizzata

UL902213 Apparecchi a raggi X per uso odontoiatrico

UL902214 Apparecchi a raggi X per uso medico, chirurgico o veterinario

UL902219 Altri apparecchi a raggi X

UL902221 Apparecchi di radioterapia per usi medici

UL902229 Apparecchi di radioterapia non per usi medici

UL902230 Tubi a raggi X

UL902290 Parti ed accessori per apparecchiature a raggi X
2 Si veda il Datamart Ulisse disponibile, per utenti accreditati, all'indirizzo http://www.siulisse.it/analytics/query/285628/
3 In questa analisi con segmenti "Premium-Price" si fa riferimento alla somma dei flussi di commercio estero riconducibili alle fasce Alta e Medio-Alta di prezzo, calcolate sulla base della distribuzione ordinata dei prezzi a livello mondiale per singolo prodotto.