Log in to use the pretty print function and embed function.
Aren't you signed up yet? signup!
Dall'inizio del 2017 è in atto una fase di apprezzamento di alcune delle valute dei paesi emergenti, che sembra aver registato una accelerazione nel periodo più recente. In dettaglio, nella settimana appena conclusa il Real Brasiliano si è apprezzato significativamente, portando al 5.6% il guadagno rispetto al dollaro dall'inizio del 2017. In pochi si sarebbero immaginati questo recupero, specialmente in seguito alla difficile situazione economica e sociale venuta a crearsi dopo l'impeachment nella metà dello scorso anno.
Il sentiero della valuta brasiliana è seguito dal Rublo che ha chiuso la settimana su valori inferiori a quelli di luglio del 2015, segnando un apprezzamento del 5% verso il dollaro dall'inizio del 2017. Anche il Rand Sudafricano rientra tra le valute rafforzate, attestandosi su valori vicini a 13 Rand per dollaro, inferiori a quelli di agosto 2016.
Il fattore alla base del rafforzamento di queste valute sono i tassi di interesse di questi paesi, tra i più alti al mondo (13% quello brasiliano, 10% quello russo e 7% quello sudafricano), in grado di stimolare uno spostamento dei capitali verso queste economie.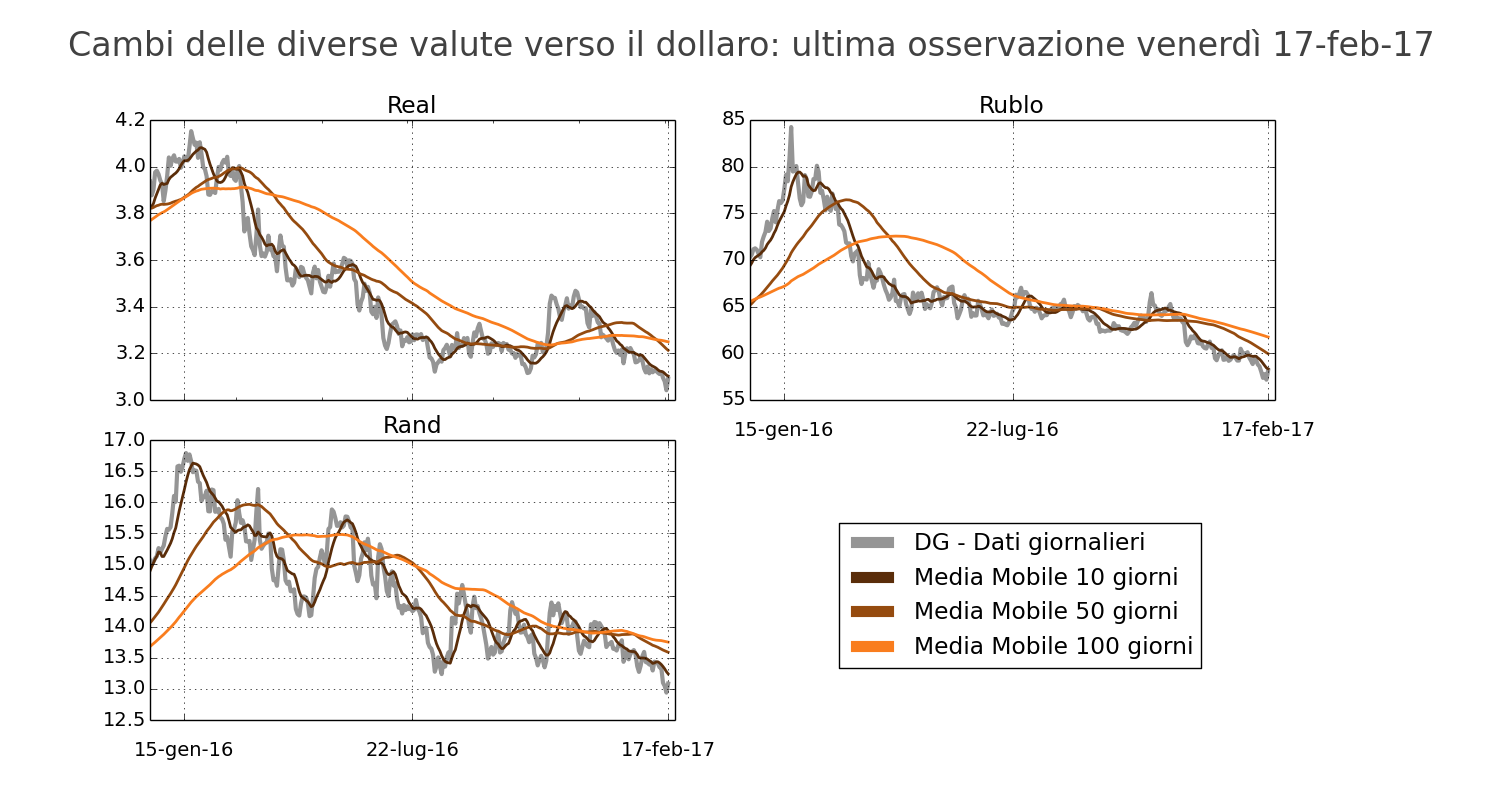 In riferimento alle principali valute mondiali è opportuno considerare l'intervento di metà settimana da parte del Presidente della FED, J. Yellen, che ha lasciato presagire la possibilità di un aumento dei tassi di interesse americani. Al di là di alcuni movimenti marginali, queste dichiarazioni non sembrano aver impresso direzioni chiare alla dinamica del tasso di cambio del dollaro verso le altre principali valute.
Infine, non si notano particolari dinamiche nelle valute asiatiche.