Log in to use the pretty print function and embed function.
Aren't you signed up yet? signup!
La settimana scorsa abbiamo descritto la dinamica del Won Sudcoreano, analizzando gli effetti su questa valuta di alcune turbolenze politiche, nonostante il buono stato di salute della sua economia.
In questa settimana ci concentreremo sul dollaro che nei primi tre mesi del 2017 ha registrato una dinamica ciclica, a causa dell'incertezza politica dovuta alla nuova amministrazione.
Gli aumenti dei tassi di interesse da parte della Fed dei mesi scorsi (15/12/2016 e 15/03/2107) avrebbero dovuto rafforzare la valuta statunitense ma così non è stato. Infatti, come riportato nel grafico di seguito, nel mese di gennaio il dollaro ha attraversato una fase di significativo indebolimento nei confronti dell'euro, scendendo a fine mese a valori prossimi a 0.93 euro per dollaro (1.075 dollari per euro). Dopo il recupero di febbraio, dovuto ai primi interventi di Trump da presidente in cui sembrava aver dismesso i toni della campagna elettorale, dal 28 febbraio, giorno in cui Trump ha presentato al Congresso il proprio programma politico, il dollaro è ricaduto in una nuova fase di significativo deprezzamento, chiudendo questo fine settimana con un valore nuovamente inferiore a 0.93 euro per dollaro.
La dinamica del dollaro nell'ultimo periodo potrebbe far pensare ad "incidenti" politici (limitato consenso del programma dell'amministrazione Trump all'interno del partito repubblicano) o di comunicazione (i sempre più studiati tweet del presidente), se non fosse che tra gli obiettivi dichiarati del neo presidente ci sia proprio un recupero di competitività dell'industria americana, anche attraverso il deprezzamento del dollaro. Negli ultimi due anni dell'amministrazione Obama, il dollaro, infatti, si è nella media fortemente apprezzato, dato il contemporaneo deprezzamento delle valute di tutti i principali partner commerciali americani: Cina, Ue, Messico e Brasile. Per quella parte di imprese industriali americane che competono principalmente in termini di prezzo, il forte apprezzamento del dollaro nel biennio 2015-2016 ha limitato fortemente la loro capacità di crescita sui mercati esteri, portando ad una netta diminuzione delle esportazioni americane di manufatti.
La fase di deprezzamento del dollaro è evidente nei confronti di Sterlina e, in particolar modo, nei confronti di Yen e Franco Svizzero.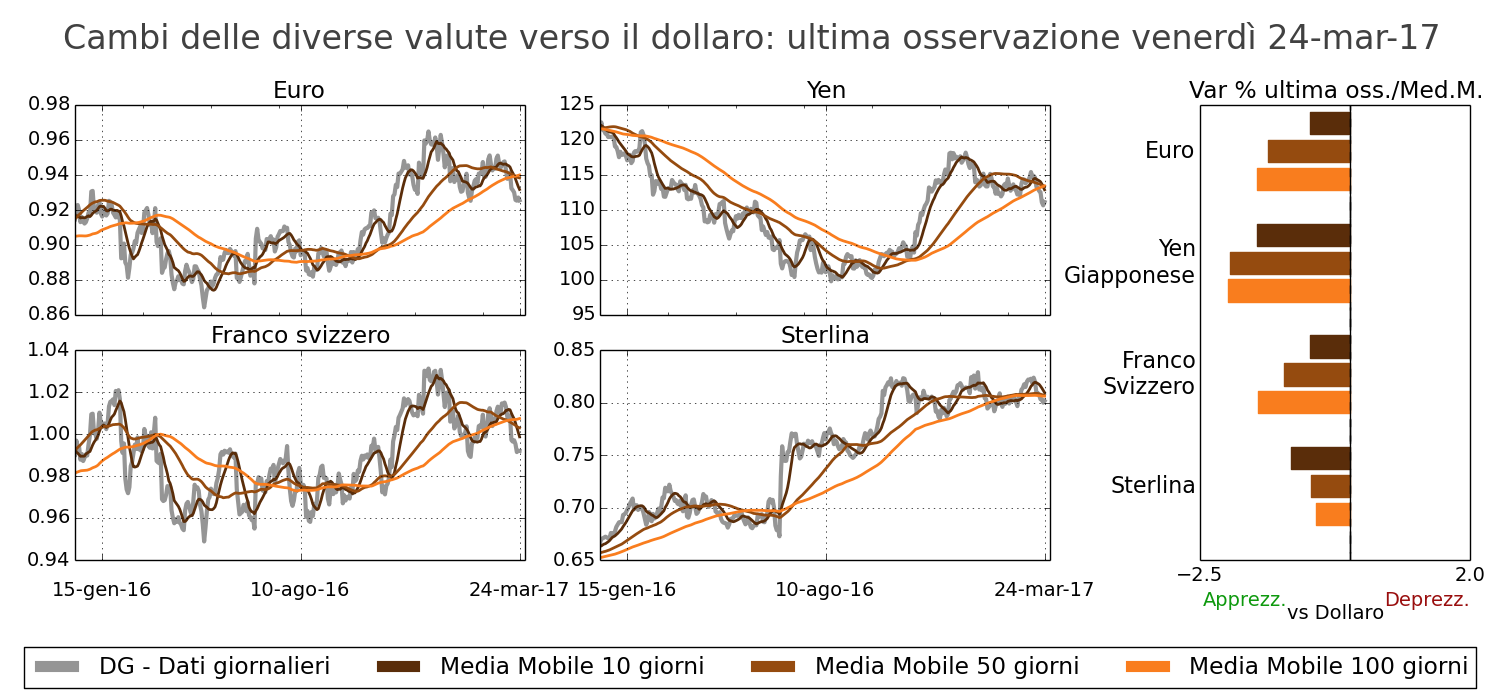 Infine, la debolezza del dollaro si riflette anche nel cambio verso le valute dei paesi emergenti. Da segnalare la fase di forte apprezzamento verso il dollaro del Rand sudafricano, del Peso messicano e del Rublo.