Log in to use the pretty print function and embed function.
Aren't you signed up yet? signup!
Nella settimana appena conclusa alcuni eventi hanno influenzato l'andamento di diverse valute mondiali. Tra questi, particolarmente significativa è stata la dinamica del Ringgit Malese che negli ultimi giorni ha registrato una netta fase di rafforzamento nei confronti del dollaro.
Per la prima volta nel corso del 2017 il Ringgit Malese ha raggiunto il massimo valore di apprezzamento nei confronti della valuta statunitense attestandosi a 4.34 Ringgit per dollaro, pari a quello registrato nello scorso Novembre.
Alcuni analisti ritengono che la Malesia possa risultare un forte centro di attrazione di capitali esteri. I fondamentali economici sono, infatti, particolarmente buoni: il PIL nel 2016 è cresciuto del 4.2%; il debito pubblico è poco superiore al 50% del PIL; il saldo delle partite correnti è positivo e pari a 8.7 miliardi di dollari; l'inflazione evidenzia un significativo incremento dalla fine del 2016, passando dall'1.8% di Dicembre al 5.1% di Febbraio 2017, dovuta in larga parte all'aumento del costo dei trasporti, ma anche ai prezzi dei beni alimentari e dei servizi, segnalando una domanda interna vivace; l'accelerazione nei prezzi al consumo è ritenuta strettamente congiunturale, tanto da non modificare le stime sull'inflazione media del 2017: +2.6%; infine i tassi di interesse applicati dalla Bank Negara Malaysia sono stabili da Luglio 2016 (pari al 3%).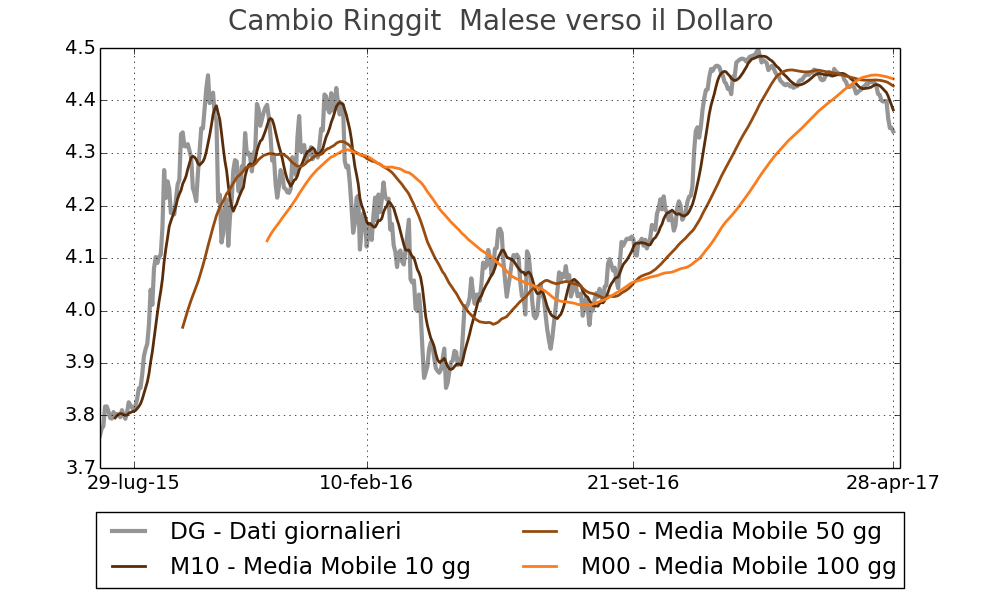 Le elezioni presidenziali in Francia e le parole del Presidente della BCE, M. Draghi, hanno rafforzato l'euro nei confronti del dollaro anche se la dinamica della valuta statunitense può aver trovato sostegno nella scelta dell'amministrazione americana di mantenere l'accordo del NAFTA. La moneta europea si attesta a 0.91 euro per dollaro (1.09 dollari per euro), inferiore al valore registrato il 27 Marzo scorso.
Sterlina e Franco Svizzero continuano la fase di rafforzamento mentre lo Yen registra una fase di debolezza, nonostante il miglioramento delle stime sull'economia giapponese pubblicate dalla BOJ.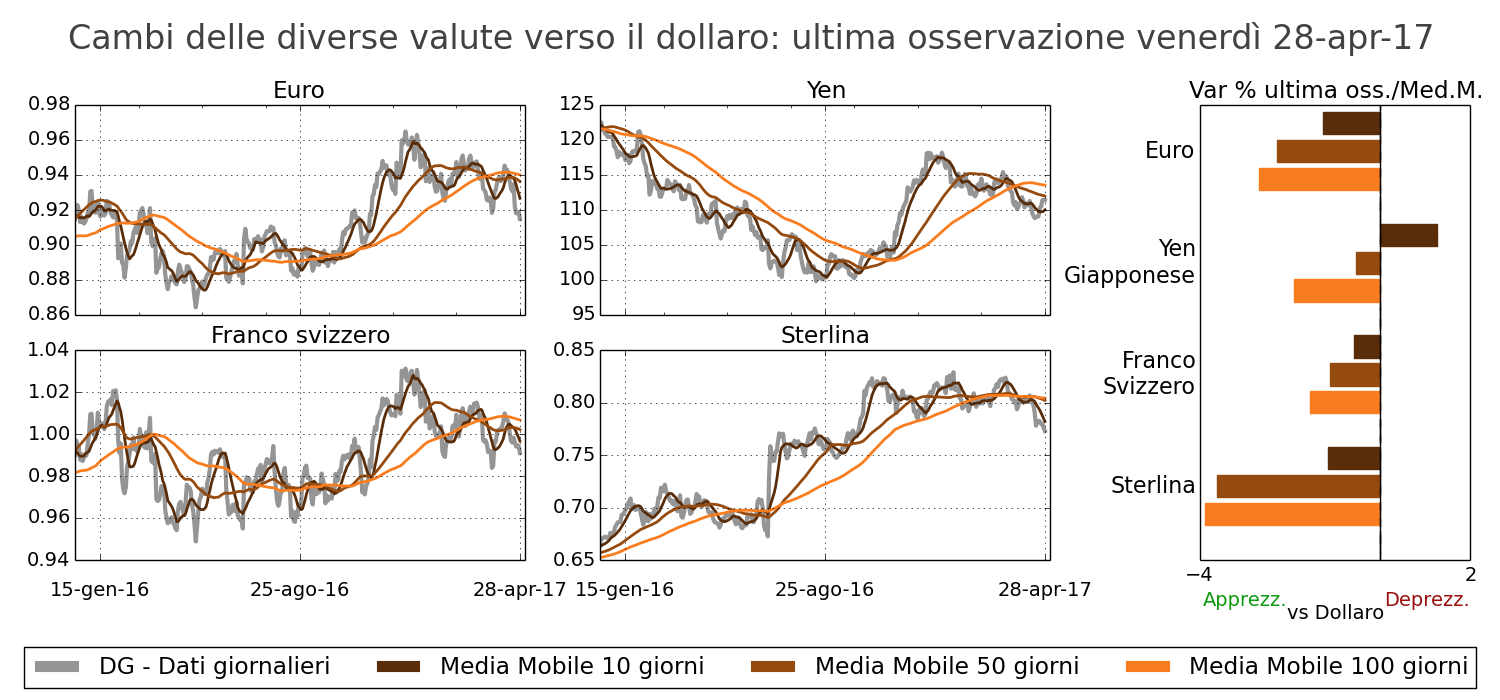 Da segnalare infine la fase di comune debolezza del Dollaro Australiano, Dollaro Neozelandese e del Dollaro Canadese che riflettono molti fattori tra cui la debolezza nella crescita economica cinese e le tensioni sui dazi minacciate dall'aministrazione Trump.