Log in to use the pretty print function and embed function.
Aren't you signed up yet? signup!
Continua la fase di indebolimento del dollaro che perde in poco più di una settimana l'1.31% del suo valore (tasso di cambio effettivo).
Le ultime news sulla vicenda Russiagate vedono il figlio del presidente americano, Donald Jon Trump jr, sempre più coinvolto nella vicenda. Dopo la pubblicazione delle email scambiate la scorsa estate tra il primogenito del presidente e funzionari governativi russi, il presidente della commissione Giustizia del Senato americano, Charles Grassley, ha invitato Trump jr a testimoniare davanti la sua commissione in un udienza pubblica.
Ad incidere negativamente sul dollaro sono state anche le parole del presidente della Federal Reserve, Janet Yellen, che lo scorso 12 luglio ha affermato come l'economia americana si trovi ancora in una fase d'incertezza e quindi la necessità, da parte della Fed, di adottare una politica monetaria di normalizzazione cauta e graduale. Le prospettive economiche annunciate dal numero uno della Fed sono confermate dagli ultimi dati rilasciati dal Dipartimento del Lavoro americano che vedono l'inflazione invariata rispetto al mese precedente e segnalano una diminuzione dello 0.2% delle vendite al dettaglio.
Come si può osservare dal grafico sottostante, il tasso di cambio effettivo del dollaro è passato da valori prossimi a 104.33 a 102.96, subendo quindi un indebolimento nei confronti delle principali valute mondiali.
Più precisamente il dollaro si è indebolito nei confronti della Sterlina inglese (0.771 sterline per dollaro), dello Yen giapponese (113.097 yen per dollaro), del Rublo russo (59.531 Rublo per dollaro) e dello 0.5% nei confronti dell'euro.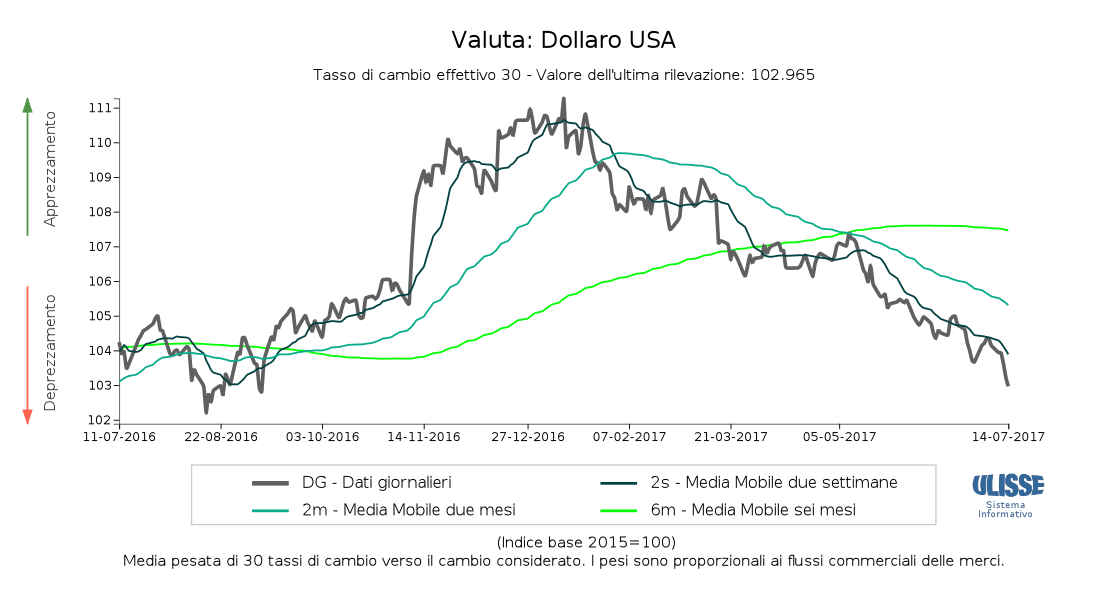 Situazione opposta sembra caratterizzare il Dollaro canadese che, in seguito al rialzo dei tassi d'interesse (dallo 0.5% all'attuale 0.75%) effettuato dalla Banca del Canada lo scorso 12 luglio, ha subito un rafforzamento dell'1.54% chiudendo la settimana con un valore pari a 101.582 (tasso di cambio effettivo).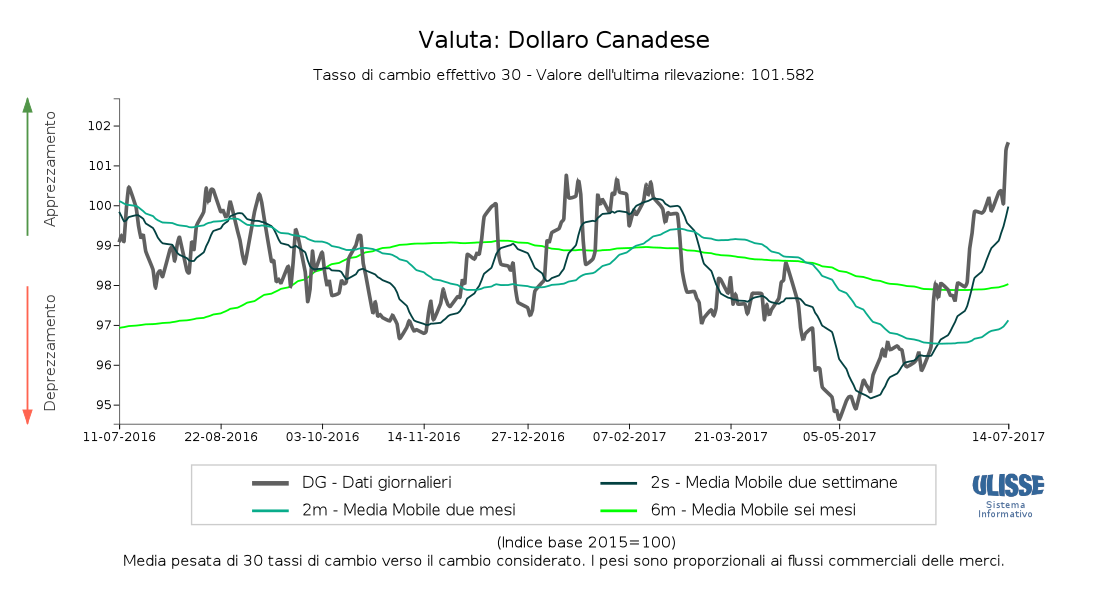 Inversione di rotta del Real brasiliano che, in poco più di una settimana, ha riacquistato il 2.6% del suo valore. I mercati sembrano reagire positivamente alle ultime news politiche del Paese.
La commissione di Costituzione e Giustizia della camera brasiliana ha approvato l'archiviazione della denuncia per corruzione formulata lo scorso mese dalla procura generale nei confronti del presidente Michel Temer. Il 2 agosto spetterà alla camera, riunita in sessione plenaria, decidere definitivamente sulle sorti del presidente.
Inoltre, la condanna per corruzione dell'ex presidente Lula incrementa la fiducia degli agenti di mercato nei confronti del paese e nei confronti del Real brasiliano che chiude la settimana con un valore pari a 106.146 (tasso di cambio effettivo).
(Per monitorare le altre valute mondiali
accedi al tool "Tassi di Cambio"
)