Log in to use the pretty print function and embed function.
Aren't you signed up yet? signup!
In base alle informazioni disponibili nel Sistema Informativo Ulisse, nel primo semestre 2017 la domanda mondiale di Prodotti e strumenti per la Salute1 – misurata in termini di importazioni del campione di paesi Ulisse2 – ha toccato un punto di massimo nei valori in euro, grazie ad una crescita tendenziale del +7% rispetto al primo semestre 2016.



Stati Uniti e Cina si confermano come principali mercati trainanti la domanda mondiale di Sistema Salute, con incrementi tendenziali delle importazioni settoriali nel primo semestre 2017 stimati pari rispettivamente a quasi 4.2 e 2.4 miliardi di euro.


SISTEMA SALUTE: top 10 mercati mondiali per incrementi tendenziali import Gennaio-Giugno 2017 (tra parentesi variazioni %)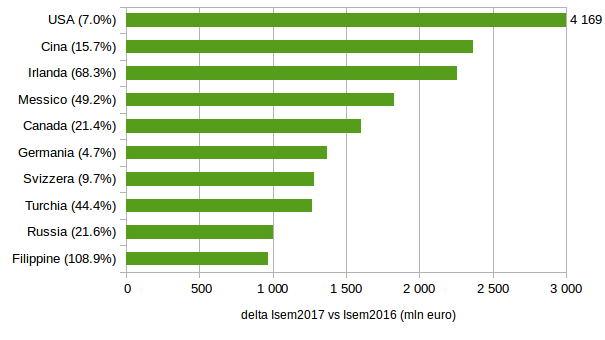 Fonte: Sistema Informativo Ulisse (Data Warehouse Congiuntura Mondiale)



Si tratta, soprattutto nel caso del mercato cinese, di andamenti particolarmente accelerati: +15.7% nei valori in euro rispetto al corrispondente periodo 2016 (+7% nel caso, invece, del mercato USA). Da segnalare, inoltre, le performance particolarmente positive – con tassi di crescita a due cifre - delle importazioni di Irlanda, Messico e Canada, rispettivamente al terzo, quarto e quinto posto assoluto per aumenti tendenziali dell'import di Prodotti e strumenti per la Salute nel primo semestre 2017. Conferme positive provengono delle importazioni di Prodotti e strumenti per la Salute di Germania (+1.4 miliardi di euro rispetto al corrispondente periodo 2016) e Svizzera (1.3 miliardi di euro tendenziali). Si evidenziano, in aggiunta, le dinamiche di forte crescita dei mercati russo, turco e filippino, le cui importazioni di Sistema Salute risultano nel primo semestre dell'anno in aumento tendenziale di oltre 1 miliardo di euro.
Opportunità di crescita, quindi, provengono per le vendite di prodotti e strumenti per la Salute sia dai mercati più consolidati e ad alto reddito, ma anche – in maniera rilevante – da quelli emergenti.
---
1 Il macro-settore "Sistema Salute" qui considerato ricomprende i seguenti settori: Farmaci, Siringhe, protesi e altri prodotti per la salute, Strumenti e attrezzature medico e dentistici, Elettromedicali, Microscopi.
2 Il campione congiunturale Ulisse è composto dalle principali economie mondiali. Le loro importazioni superano l'80% del flussi totali di commercio mondiale. Il campione può quindi essere considerato rappresentativo del totale degli scambi internazionali.