Log in to use the pretty print function and embed function.
Aren't you signed up yet? signup!
Dopo aver oscillato per alcuni giorni intorno a 1.18 dollari per euro, nel pomeriggio di ieri il cambio del dollaro ha registrato un netto deprezzamento, superando le quotazioni di 1.19 e avvicinandosi alla soglia di 1.20.
Tutta la comunità finanziaria ieri aveva gli occhi puntati sul tradizionale convegno organizzato a Jackson Hole dalla Federal Reserve Bank di Kansas City, dove sono intervenuti Janet Yellen, presidente della Federal Reserve americana, e Mario Draghi, presidente della Banca Centrale Europea.
Nel suo intervento Yellen ha difeso le regolamentazioni introdotte nel mondo bancario dopo la crisi finanziaria iniziata nel 2007, lasciando intendere di non condividere le opinioni espresse da alcuni membri dell'amministrazione Trump sulla opportunità di una nuova fase di deregolamentazione finanziaria. Contemporaneamente il dollaro è scivolato a 1.185.
Draghi nel suo intervento ha sostenuto, argomentandola, l'importanza di un'economia mondiale aperta, necessaria per affrontare le sfide strutturali dell'invecchiamento della popolazione e dell'alto livello di indebitamento dei paesi maggiormente sviluppati. Ha sostenuto, portando ad esempio l'Unione Europea, che le fasce più deboli della popolazione si proteggono maggiormente regolamentando i mercati, e non alzando barriere agli scambi internazionali. Anche in questo caso è netta la differenza di opinione rispetto a quella espresse dall'amministrazione Trump. Contemporaneamente il dollaro si è deprezzato, andando oltre 1.19.
Non passa giorno che non ci sia un fatto o un giudizio che segnali quanto l'attuale amministrazione americana sia distante dal mainstream internazionale. Gli effetti di questa distanza sono evidenti nella dinamica del dollaro, non solo verso l'euro, ma verso la maggior parte delle valute mondiali. La mappa presentata nella figura che segue colora in verde i diversi paesi le cui valute hanno registrato nell'ultimo periodo una tendenza ad apprezzarsi per il dollaro.
Figura 1: mappa mondiale della dinamica delle tassi di cambio verso il dollaro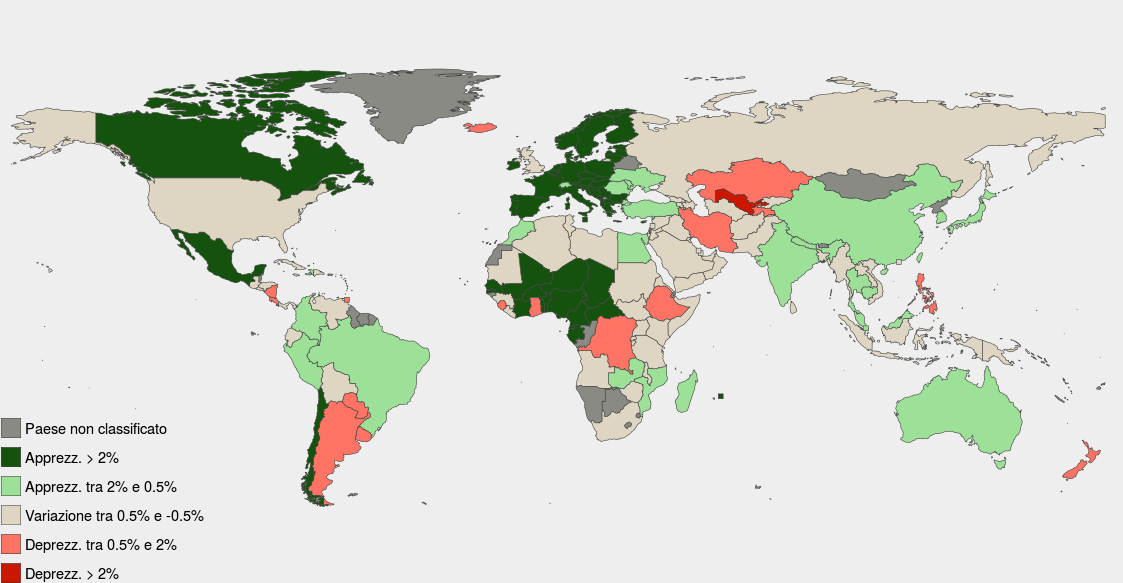 E' evidente la predominanza del colore verde, soprattutto nelle aree più sviluppate del pianeta e per le valute in regime di floating o di free-floating. Le aree rosse (che indicano paesi la cui valuta registra una tendenza al deprezzamento verso il dollaro) sono limitate ad alcuni paesi, prevalentemente in regime di crawling peg o crawl-like arrangement. Solo due paesi le cui valute sono in regime di floating sono colorati di rosso: le Filippine e la Nuova Zelanda.
Peso filippino
Come risulta dal grafico qui riportato, il peso filippino sta registrando una fase di deprezzamento verso il dollaro da più mesi, iniziata ancor prima dell'insediamento dell'amministrazione Trump.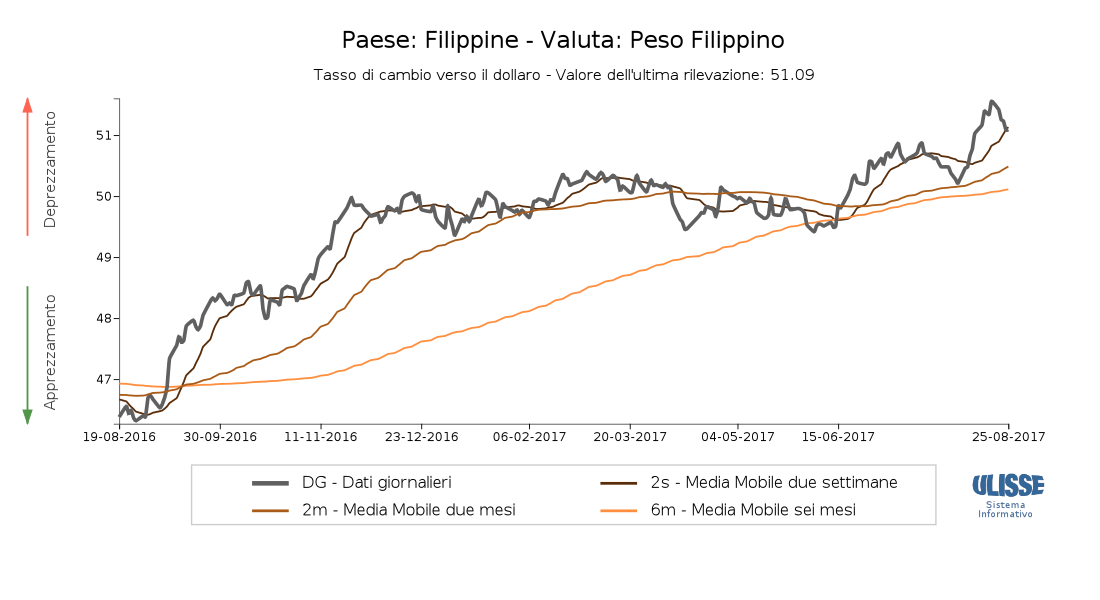 Con tassi di crescita prossimi al 7%, le Filippine sono una delle economie che sta crescendo maggiormente al mondo. L'elevata domanda interna ha sostenuto una crescita delle importazioni significativamente maggiore delle esportazioni, portando in rosso il saldo delle partire correnti e ad un progressivo indebolimento del peso. Poichè l'inflazione è sotto controllo, questo non preoccupa le autorità di governo e monetarie, nella convinzione che le importazioni, in buona parte di beni strumentali di investimento, si tradurranno in un aumento della produttività e competitività dell'economia filippina.
Dollaro neozelandese
La fase di deprezzamento verso il dollaro è iniziata solo recentemente (si veda il grafico di seguito riportato), alla fine di luglio, quando le nuove valutazioni pre-elettorali hanno portato a rivedere le stime di crescita economica del 2017 (dal 3.1 al 2.7%) e i risultati di bilancio. Inoltre, ad un mese dalle elezioni generali del 23 settembre, l'incertezza è molto elevata.