Log in to use the pretty print function and embed function.
Aren't you signed up yet? signup!
La settimana appena conclusa si caratterizza da un significativo deprezzamento del Birr, la valuta ufficiale dell'Etiopia.
La National Bank of Ethiopia (NBE) ha volontariamente modificato, dopo sette anni dall'ultima rettifica, il crawling peg con il dollaro, un particolare regime di cambio fisso in cui l'andamento di una valuta può oscillare entro una fascia di tassi.
La notizia di politica economica è stata annunciata dal vice governatore della NBE, Yohannes Ayalew, durante la conferenza stampa tenuta ad Addis Abeba e prevede una svalutazione della valuta etiope del 15%.
Le motivazioni che spingono l'istituto bancario ad attuare un manovra simile sono da ricondurre al saldo delle partite correnti che, negli ultimi anni, è peggiorato fino a registrare un deficit che supera i sette miliardi di dollari (10% del PIL).
Il deprezzamento del Birr è quindi volto a sostenere le esportazioni dell'Etiopia (caffè, semi oleosi, cuoio, oro) che, negli ultimi anni, hanno subito una diminuzione a causa dell'indebolimento dei prezzi delle stesse materie prime. Inoltre, la NBE ha aumentato i tassi d'interesse dal 5% al 7% al fine di impedire inattesi deflussi di capitali dal Paese.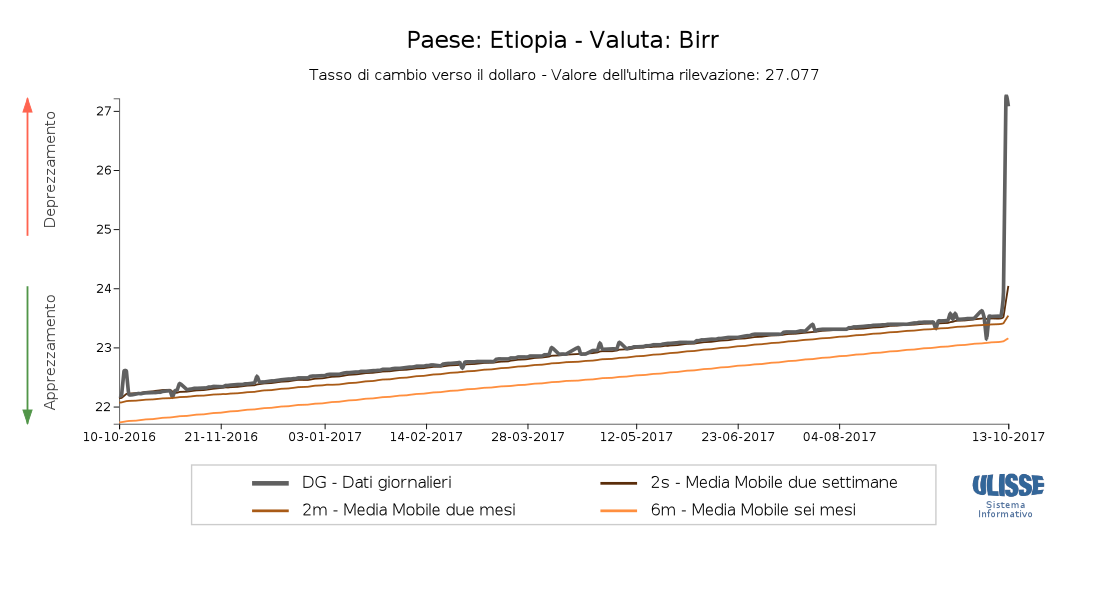 Questa settimana il mercato Forex è stato influenzato anche da tensioni geopolitiche che vedono come protagonista il presidente americano Donald Trump.
In primis da citare le tensioni tra Stati Uniti e Iran in merito alla volontà del presidente americano di uscire dall'accordo sul nucleare (Jcpoa) e imporre nuove sanzioni alla Repubblica islamica, accusata di sostenere attività terroristiche.
Tale accordo, raggiunto nel 2015 tra sei principali potenze mondiali (Usa, Russia, Cina, Gran Bretagna, Francia, e Germania), consisteva in un parziale alleggerimento delle sanzioni economiche imposte all'Iran che avevano di fatto bloccato l'economia del Paese per molti anni.
Tale situazione e la recente decisione della Central Bank of Iran (CBI) di diminuire i tassi d'interesse sui depositi dal 20% al 15%, hanno contribuito ad indebolire il Rial iraniano che da inizio anno ha perso più del 9% del suo valore nei confronti delle principali valute mondiali (vedi grafico Tasso di cambio effettivo sotto riportato).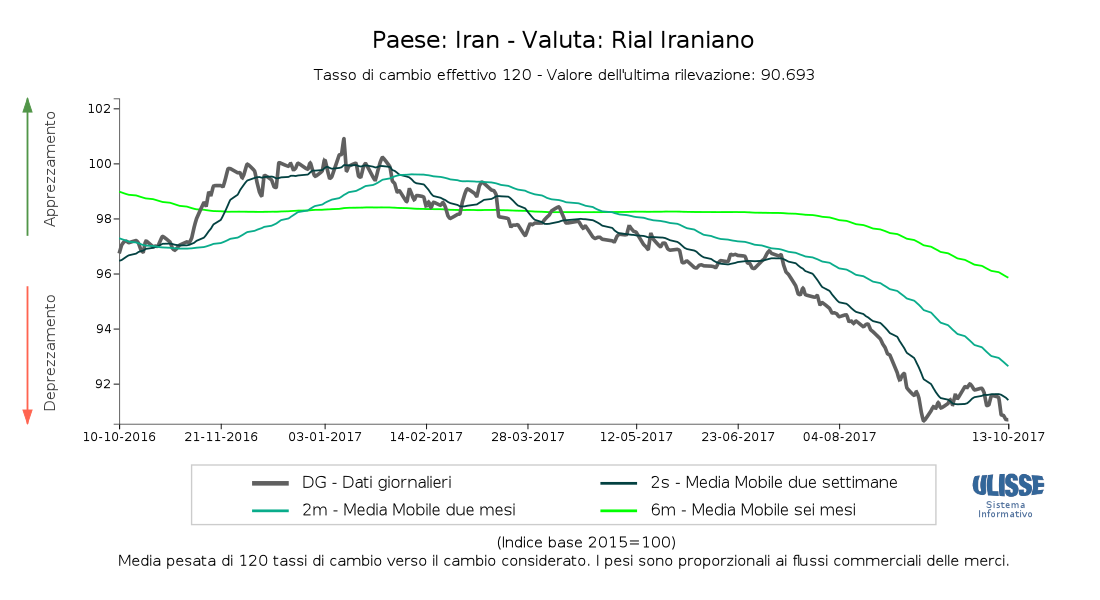 Tensioni politiche anche tra Washington e Ankara. L'arresto di un impiegato turco dell'ambasciata americana, accusato dalla polizia turca di avere legami con Fettulah Gulen (predicatore islamico che secondo Erdogan avrebbe organizzato il golpe militare nel 2016), non è piaciuto al governo americano che ha sospeso tutte le richieste di visto provenienti dalla Turchia. Il governo turco ha risposto allo stesso modo bloccando le richieste di visto dagli Stati Uniti.
I possibili effetti di tale scontro sull'economia turca, hanno indebolito la Lira turca che in un solo giorno ha perso il 3.9% del suo valore nei confronti del dollaro (4% nei confronti dell'euro), per poi chiudere la settimana con un valore pari a 3.66 Lire per dollaro (4.322 Lire per Euro).