La Banca centrale dell'Angola abbandona il regime di cambio fisso con il dollaro
Published by Mattia Perna. .
Exchange rate
Exchange rates
Log in to use the pretty print function and embed function.
Aren't you signed up yet? signup!
La scorsa settimana, la Banca Centrale dell'Angola (NBA) ha deciso di abbandonare il regime di cambio fisso introdotto ad aprile 2016, lasciando che il tasso di cambio del Kwanza fosse determinato dai mercati.
Le motivazioni che hanno spinto la NBA a prendere tale decisione sono da ricondurre all'insostenibilità della politica valutaria adottata dall'istituto centrale, per mantenere il regime di cambio fisso con il dollaro.
A causa della crisi dei prezzi del petrolio del 2014, il conto delle partite correnti dell'Angola (secondo paese africano esportatore di petrolio) è peggiorato fino a raggiungere un deficit di bilancio di 5.9 miliardi di dollari. La NBA, quindi, per mantenere il valore del Kwanza ancorato al dollaro (range 165-166), ha dovuto intraprendere una politica valutaria volta a diminuire le proprie riserve ufficiali.
Tali politiche, però, non sono sostenibili all'infinito, infatti, come si può osservare dal grafico sotto riportato, le riserve dell'istituto centrale, in poco più di tre anni, si sono quasi dimezzate attestandosi su un valore inferiore a 19 miliardi di dollari.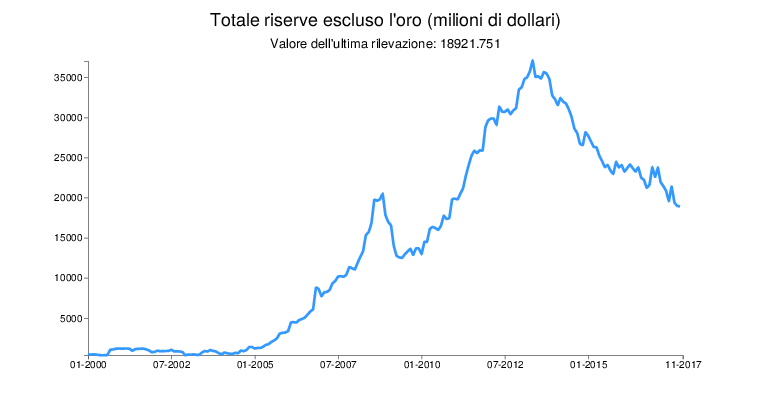 Il Kwanza, determinato interamente dai mercati Forex, si è deprezzato dell'11%, raggiungendo il valore record di 184.053 Kwanza per dollaro (vedi grafico sotto riportato).
Tale deprezzamento, però, potrebbe incidere negativamente sull'economia del Paese, ovvero potrebbe determinare un incremento dei prezzi dei beni importati (provocando un aumento del tasso d'inflazione attualmente pari al 31%) e un aumento del valore del debito pubblico detenuto in valuta estera.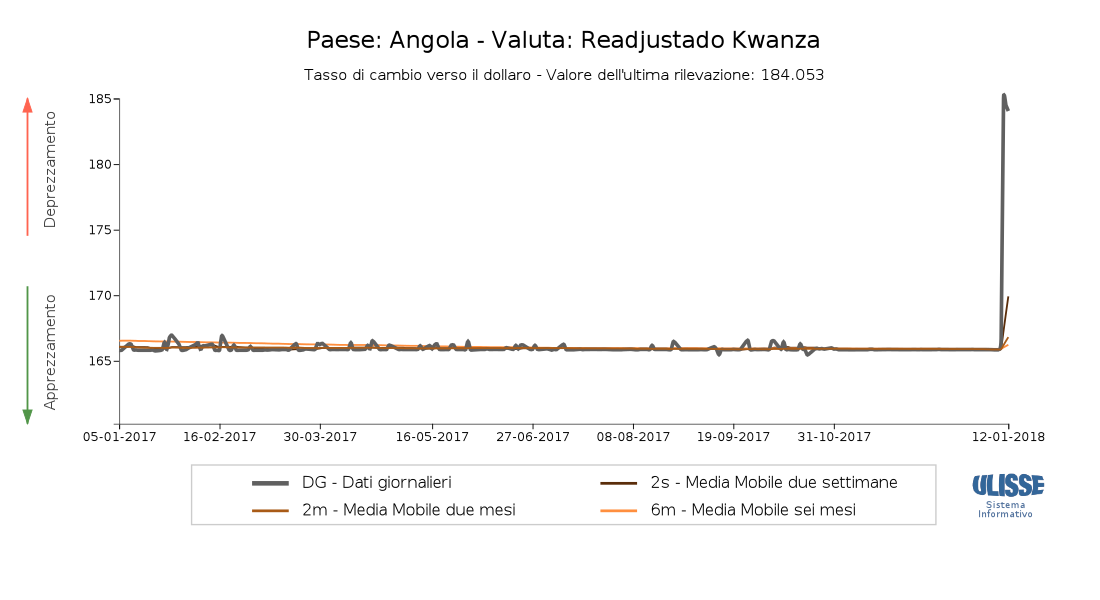 Una valuta che nelle prime settimane dell'anno si è apprezzata significativamente è il Peso colombiano.
Da inizio anno la valuta colombiana si è apprezzata sia nei confronti del dollaro (4.4%), sia nei confronti dell'euro (3.6%), attestandosi su valori pari rispettivamente a: 2857.007 Peso per dollaro, 3467.55 Peso per euro.
Tale apprezzamento, seppur preceduto da una dinamica abbastanza volatile, potrebbe essere giustificato dal recente incremento dei prezzi del petrolio (da inizio anno aumentati oltre il 4%), principale bene esportato dalla Colombia. In un contesto di fondamentali sostanzialmente in equilibrio, l'aumento del prezzo del petrolio potrebbe consentire, infatti, un rapido recupero del saldo delle partite correnti, che nel 2017 sono risultate negative per un valore vicino al 4% del PIL.
La dinamica futura dei prezzi petroliferi rimane, tuttavia, incerta e legata alle tensioni geopolitiche in corso in Iran (sesto paese mondiale esportatore di petrolio) e in Libia.
Rimane, quindi, incerta anche la dinamica del Peso colombiano che, come si può osservare dal grafico sotto riportato, potrebbe continuare ad assumere un andamento molto volatile.