L'indebolimento della Lira turca e del Dollaro canadese
Il declassamento da parte di Moody's del debito sovrano turco non è passato inosservato ai mercati. Il Dollaro canadese risente di possibili guerre commerciali con gli Stati Uniti.
Published by Mattia Perna. .
Exchange rate
United States of America
Turkish lira
Exchange rates
Log in to use the pretty print function and embed function.
Aren't you signed up yet? signup!
Questa settimana una valuta che ha subito un significativo deprezzamento è la Lira turca.
Il declassamento da parte di Moody's del debito sovrano turco (da Ba2 a Ba1) non è passato inosservato ai mercati.
L'agenzia di rating ha affermato che la Banca Centrale Turca (TCMB) sta adottando politiche monetarie focalizzate al breve periodo. Infatti, nonostante un tasso di crescita del PIL a prezzi costanti pari all'11.1%, il tasso d'inflazione (10.26%) è due volte al di sopra il target prefissato dalla TCMB e il conto delle partite correnti ha raggiunto un deficit di 7.09 miliardi di dollari, valore che non si osservava dal 2014.
Nonostante ciò, questa settimana la TCMB ha lasciato i tassi d'interesse invariati (8%), manovra voluta dal presidente Erdogan da sempre contrario ad un aumento dei tassi d'interesse ritenuti dannosi per le imprese locali.
A sollevare ulteriormente incertezza nei confronti della Turchia, la recente riforma elettorale richiesta dal presidente Erdogan (in vista delle elezioni in programma il prossimo novembre) che prevede la possibilità di presentare alleanze elettorali e la libertà del governo di vegliare sul voto.
A farne le spese la Lira turca che in poco più di una settimana ha perso più del 2.7% del suo valore nei confronti dell'euro e il 3.16% nei confronti del dollaro, chiudendo la settimana con un valore rispettivamente pari a 4.82 Lire per euro e 3.91 Lire per dollaro.
(Di seguito il tasso di cambio Lira per dollaro)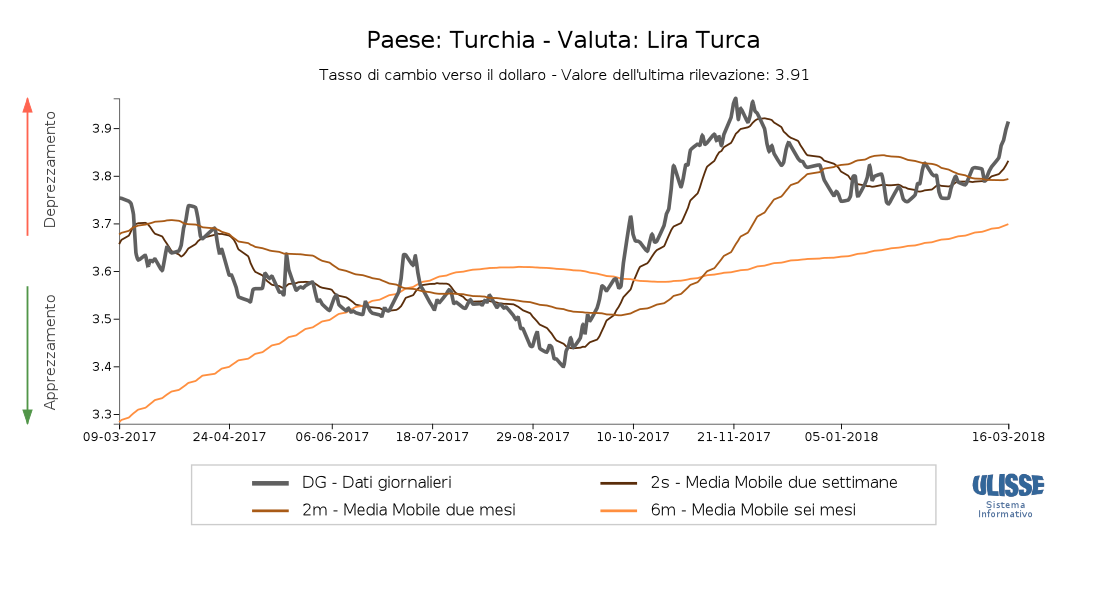 Un'altra valuta che sta subendo una dinamica di deprezzamento è il Dollaro canadese.
Le motivazioni sono da ricondurre ai timori di una possibile guerra commerciale con gli Stati Uniti causata dalle recenti manovre protezionistiche adottate dall'amministrazione Trump.
I dazi su alluminio e acciaio, imposti da Trump di recente, non hanno finora coinvolto il Canada (e il Messico) in quanto vige, almeno per il momento, un trattato di libero scambio tra gli stessi (North American Free Trade Agreement -NAFTA) attualmente in corso di ricontrattazione e, quindi, con esito incerto. Inoltre, a pesare sul Dollaro canadese anche i recenti dati macroeconomici (tasso di crescita del PIL a prezzi costanti è pari all'1.1% e tasso d'inflazione è in diminuzione all'1.7%) che potrebbero rallentare la politica monetaria di normalizzazione della Bank of Canada (tassi attuali pari all'1.25%).
Come si può osservare dal grafico sotto riportato, il Dollaro canadese da inizio febbraio si è indebolito del 6.5% nei confronti del biglietto verde (8.8% nei confronti dell'euro), attestandosi su valori pari a 1.31 Dollari canadesi per dollaro USA (1.61 Dollari canadesi per euro).