Log in to use the pretty print function and embed function.
Aren't you signed up yet? signup!
I dati di esportazione del 4° trimestre 2017 dei territori italiani confermano la farmaceutica come settore trainante la crescita delle vendite all'estero di numerose province.
Le esportazioni italiane di farmaci appaiono in forte aumento non solo su mercati geograficamente vicini (come Svizzera, Olanda e Spagna) - che potrebbbero riflettere, almeno in parte, anche fenomeni di "triangolazioni" nell'ambito di logiche infra-gruppo di multinanazionali del settore localizzate in Italia -, ma soprattutto su mercati lontani, come Stati Uniti, Cina, Brasile e Australia, oltre che in Russia, Turchia e Polonia.
Esportazioni Italia di Farmaci nel 4° trimestre 2017:
var. % tendenziali per mercati di destinazione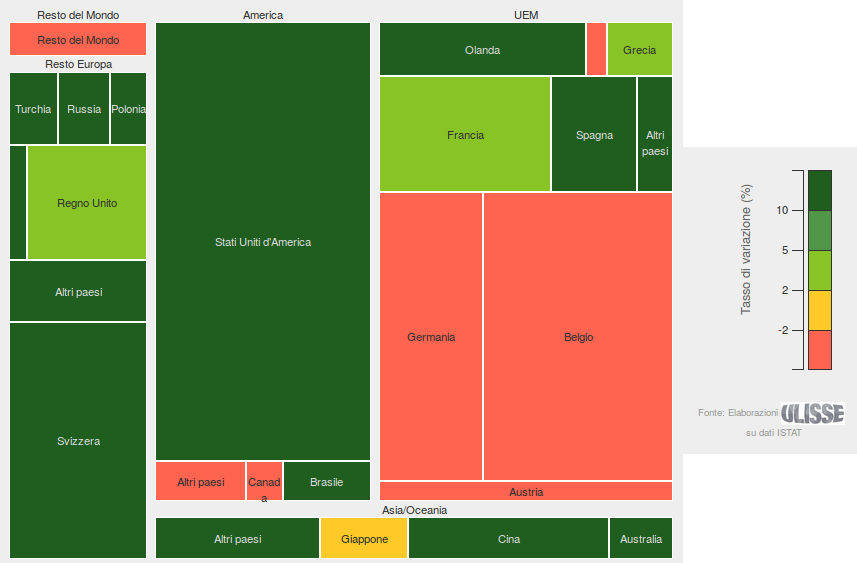 La dimensione dei rettangoli nel grafico è proporzionale al valore esportato.

    Fonte Exportpedia Vai a exportpedia
Nell'ultimo trimeste il caso più eclatante è certamente quello del mercato statunitense, che nel periodo ottobre-dicembre 2017 è arrivato a rappresentare il 27.3 per cento delle vendite italiane all'estero del settore, dopo il 15.3 per cento del trimestre precedente, e contro una media prossima al 10% nel 2016.
In chiave storica, i livelli raggiunti dalle vendite italiane dal settore sul mercato USA nel 4° trimestre 2017 rappresentano un massimo assoluto (prossimo ai 900 milioni di euro nei valori trimestrali), superando il record del trimestre precedente (e confermando il segnale che non si è trattato di un "exploit" episodico).
In particolare, si segnala la performance particolarmente positiva delle vendite di farmaci verso gli USA dalla provincia di Latina, che nell'ultimo trimestre hanno registrato un valore di ben 508 milioni di euro.
Altre vendite di farmaci in forte crescita sul mercato statunitense sono quelle dalle province di Frosinone (+102 milioni di euro tendenziali nel 4° trimestre 2017) e di Bergamo (+42 milioni di euro tendenziale, che consentono di portare a 121 milioni di euro i guadagni complessivi rispetto all'anno precedente).
Non di meno, si segnalano numerose conferme di trend particolarmente positivi già in atto da alcuni trimestri nelle vendite verso il mercato USA di farmaci: sono i casi delle province di Milano (che ha chiuso l'anno con un valore cumulato di 964 milioni di euro, in crescita del 143% rispetto al 2016), Roma (con un valore complessivo 2017 di 339 milioni di euro, contro i 61 milioni di euro dell'anno precedente), Firenze (171 milioni di euro a consuntivo 2017, su un mercato praticamente quasi "inesplorato" fino all'anno precedente, quando le vendite si erano fermate ad appena 5 milioni di euro), e Ascoli Piceno (218 milioni di euro nel 2017, a fronte dei 61 milioni del 2016).
La numerosità della casistica di crescita a livello territoriale tende, quindi, a rappresentare una evidente conferma di competitività del sistema Salute italiano (e del settore della farmaceutica in particolare), già evidenziato e documentato da StudiaBo nell'analisi "L'ottima salute della farmaceutica italiana" dello scorso mese.