Alta tecnologia a Reggio Calabria
Sostenute dalle vendite all'estero di setacci molecolari, le esportazioni di chimica per l'industria di Reggio Calabria registrano tassi di crescita particolarmente elevati.
Published by Luigi Bidoia. .
Global economic trends
Log in to use the pretty print function and embed function.
Aren't you signed up yet? signup!
La Calabria è una regione ricca di contraddizioni. Da un lato è la regione più povera d'Italia (16 mila 600 euro pro capite) e con la minor quota di valore aggiunto industriale (7.4%). Dall'altro lato, da più anni sta sperimentando tassi di crescita a due cifre delle esportazioni di agroalimentare, metalmeccanica e chimica per l'industria. Anche nel I° trimestre 2018 la Calabria si è posizionata sul podio delle regioni con maggiore crescita delle esportazioni. La figura che segue (ricavata da www.exportpedia.it) evidenza come la crescita (rettangoli verde scuro) caratterizzi la maggior parte dei comparti di produzione calabrese e la maggior parte dei paesi di destinazione.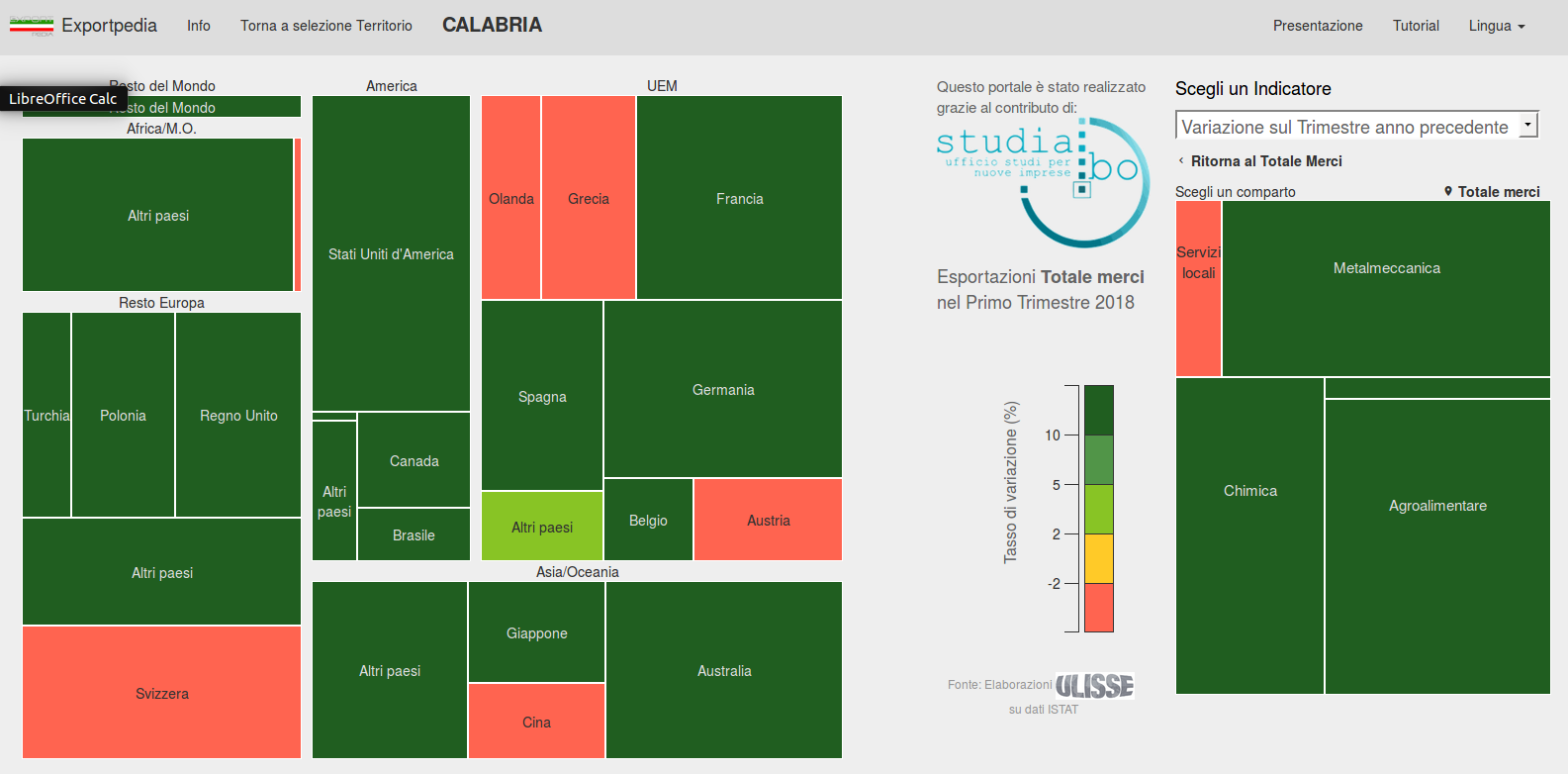 Se si esclude l'agroalimentare della provincia di Cosenza, il successo sui mercati esteri della Calabria è quasi interamente dovuto alle performance della provincia di Reggio Calabria. Abbiamo già segnalato, in un articolo dello scorso dicembre, il caso delle esportazioni di materiale ferro tranviario verso il mercato americano.
In questo articolo ci soffermiamo brevemente sulle esportazioni di Reggio Calabria di prodotti chimici per l'industria, aumentati in pochi anni da valori trimestrali inferiori ai 10 milioni di euro agli oltre 30 milioni di euro registrati nel I° trimestre del 2018. Questo risultato è in larga parte dovuto alla produzione di setacci molecolari, fabbricati nello stabilimento della multinazionale americana U.O.P ed esportati in tutto il mondo.
I setacci molecolari sono materiali che possono separare molecole in base alle loro dimensioni. Sono utilizzati per rimuovere acqua dai solventi, per separare il fruttosio dal saccarosio, ma sopratutto nella produzione di gas, ad esempio, per rimuovere l'anidride carbonica e i prodotti azotati dal gas naturale. La produzione dei setacci molecolari richiede elevate tecnologie di processo e controllo.
Lo stabilimento di Reggio Calabria è il secondo al mondo del settore, dopo quello realizzato sempre dalla UOP, in Alabama. L'attenzione che la UOP pone allo stabilimento calabrese è la dimostrazione concreta che, anche grazie al porto di Gioia Tauro, è possibile produrre in Calabria con elevate tecnologie ed essere competitivi sui mercati mondiali.