Log in to use the pretty print function and embed function.
Aren't you signed up yet? signup!
The Italian Agribusiness sector exports continue to surge forwards. Results from Q1-2019 revealed a strong positive growth rate (+6.5% Year-on-Year in euro), thus confirming the sector - alongside Fashion - as the most dynamic industry in the context of national exports.
Confectionery, Beverages and Dairy Produce are the most dynamic segments for Agribusiness exports; the United States and United Kingdom are the best performing markets.
Agribusiness: Y-o-Y percentage changes in euro for Q1-2019
Italian Exports by destination Markets and Industries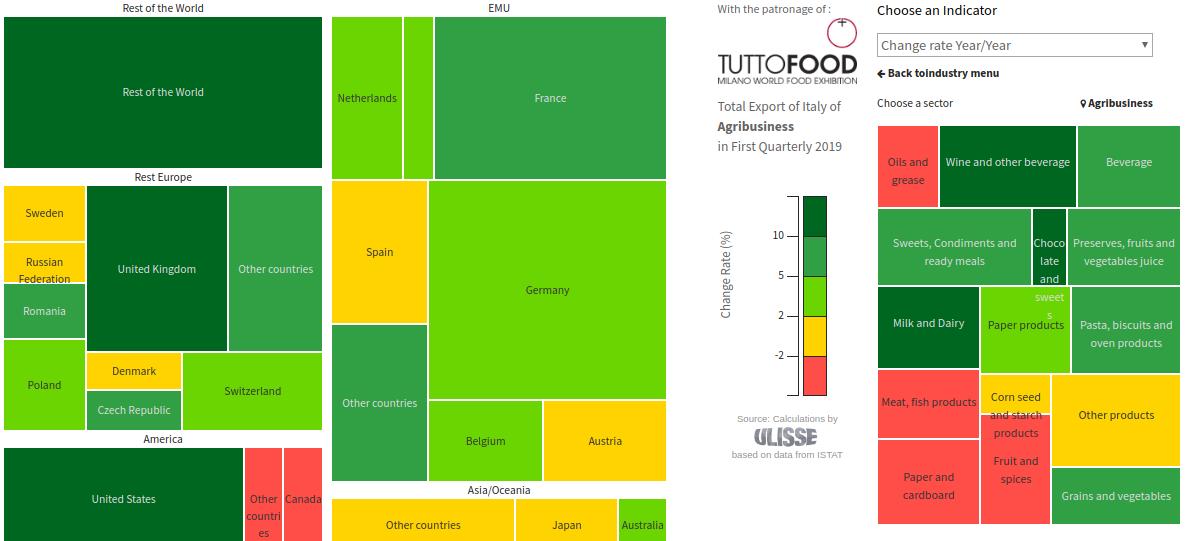 The size of the rectangles is proportional to the value of exports.
Details of agribusiness exports from Italian provinces are documented in the Exportpedia section, both in terms of destination markets and industry types. The following subcategories were the most dynamic (in euro trend changes), for the first-quarter of the year:
Italian exports also showed positive trends for vegetable and fruit preserves and juices (+6.5% Y-o-Y), above all thanks to dynamic sales in UK and USA, and for cereals and vegetables (+5.8% Y-o-Y), with widespread increases reported in all main markets.