The Dollar Dominates Currency Markets, while Argentine Peso Sinks
The central week of August was characterized by the strength of the dollar and the umpteenth crisis of the Argentine peso
Published by Luigi Bidoia. .
Dollar
Argentine peso
Exchange rates
Log in to use the pretty print function and embed function.
Aren't you signed up yet? signup!
Increasingly strong dollar against all currencies
Over the last three days of last week, the dollar has appreciated against all currencies. The Japanese yen, the Swiss franc and the Israeli shekel also depreciated against the dollar by more than 1% in three days. The euro depreciated from 1.122 to 1.108 between August 13 and August 16.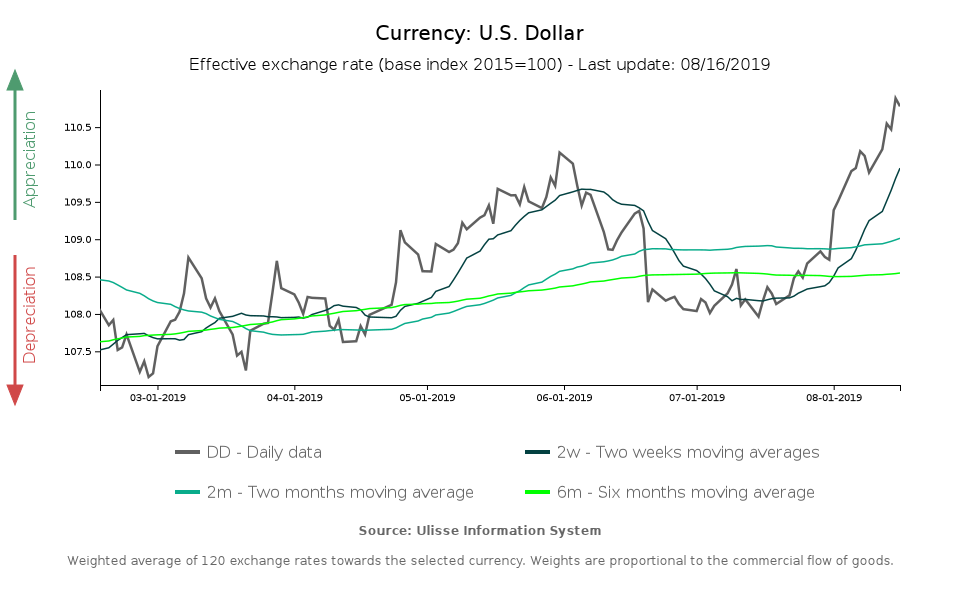 What makes the dollar so strong?
The answer is to be found in US bond yields, which are relatively high compared to those in other strong currencies. In the face of an increasing uncertainty on the short-term prospects of the world economy, the greater yields of US bond are moving more and more capitals towards the dollar.
Uncertainty
There are many sources of uncertainty regarding the short-term prospects for the world economy:
US-China trade war
Slowdown in the Chinese economy
Brexit
European industry crisis
Yields
US 10-year treasury bonds yields 1.6%, over 200 basis points more than the negative yield of German, Swiss and Japanese treasury bonds and nearly 100 basis points more than Israeli bonds.
The umpteenth crisis in the Argentine economy
The current Argentine crisis began in 2013, under the presidency of Cristina Kirchner, with a sharp deterioration in the current account balance. The depreciation of the exchange rate did not improve the competitiveness of the Argentine economy. On the other hand, it has started an inflation-devaluation spiral that has led to 34% inflation and the exchange rate to exceed, in the final months of 2018, the 40 pesos per dollar.
In the last year (see: Warning signs from Argentine Peso? ), the government of President Macri has:
Obtained a loan of over 56 billion dollars from the International Monetary Fund
Cut public spending and increased electricity, gas and transport prices
Increased interest rates above 60%
Nonetheless, president Macri did not obtain signicant results on the inflation side (forecasted at 44% for 2019), creating the conditions for his defeat in the primary elections of August 11, in favor of the Peronist Alberto Fernández.
The market's reaction to a possible new Peronist government was immediate with the stock market crashing and the Argentine peso approaching 60 pesos per dollar.