Log in to use the pretty print function and embed function.
Aren't you signed up yet? signup!
I consumatori mondiali richiedono miele sempre di maggior qualità, ma i produttori italiani non riescono ad intercettare questa domanda.
Nel 2012 il commercio mondiale di miele naturale si è avvicinato ai 500 milioni di chilogrammi, per un valore pari ad un miliardo e 700 milioni di euro. Il grafico qui riportato evidenzia la forte crescita in valore registrata dal commercio mondiale nel corso dell'ultimo decennio.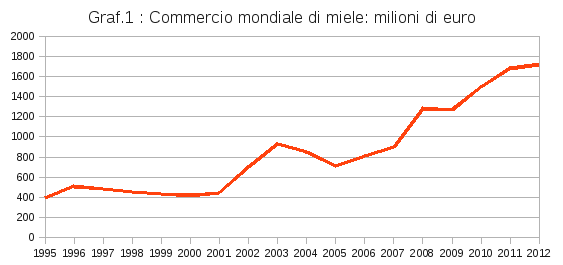 L'elemento che maggiormente ha sostenuto la crescita dei valore del commercio mondiale sono stati i prezzi FOB (Free On Board), aumentati da poco più di un euro al chilogrammo dell'inizio del 2000 agli attuali 3.5 euro, con una crescita media annua prossima al 10%. Se si considera che, nel corrispondente periodo, l'inflazione media dei principali paesi è stata, se misurata in euro, inferiore al 3%, risulta chiaro come la crescita dei prezzi del miele siano il risultato di un continuo aumento della qualità del miele oggetto di scambi internazionali.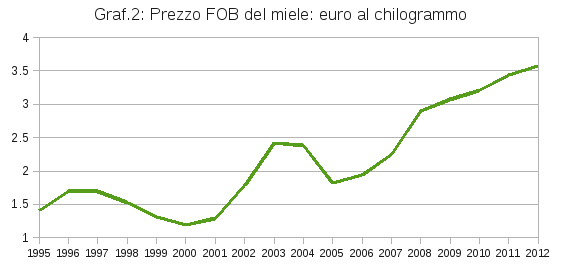 La tabella 1 riporta la lista dei principali esportatori mondiali. Oltre alle quantità esportate, la tabella riporta i valori delle esportazioni e il loro prezzo medio nel 2001 e nel 2012.
[caption id="attachment_1704" align="aligncenter" width="597" caption="Tab. 1: Principali paesi esportatori di miele."]
[/caption]
Dall'analisi dei dati riportati nella tabella emergono le seguenti evidenze:
 il miele prodotto in Italia non riesce a raggiungere i mercati esteri e soprattutto non riesce a farsi apprezzare per la sua qualità e varietà. L'Italia è solo 19-esima tra i principali esportatori mondiali e i produttori italiani non riescono a vendere a prezzi superiori a 5 euro al chilogrammo, a fronte di prezzi medi di 5.7 e 6.2 euro, praticati rispettivamente dai produttori tedeschi e francesi;
anche i grandi produttori mondiali (Argentina e Cina) stanno puntando, con successo, sulla qualità. L'Argentina, in particolare, è riuscita a triplicare il prezzo del proprio miele nell'arco di un decennio;
strategie simili sono state seguite dal Messico, ma soprattutto dal Canada, Ungheria e Romania, che hanno saputo incrementare i prezzi del loro miele, superando i 4 euro al chilogrammo e avvicinandosi nel 2012 ai prezzi praticati dai produttori italiani;
 la Nuova Zelanda ha avuto le performance in assoluto migliori, sapendo trasformare il Miele di Manuka in un successo mondiale. Esportando una quantità di poco superiore alle esportazioni italiane, ma ad un prezzo di 12 euro al chilogrammo, la Nuova Zelanda incassa dall'estero oltre 100 milioni di euro, collocandosi al quinto posto nella graduatoria degli esportatori mondiali.
Non vi è dubbio che le potenzialità in termini di esportazione del miele italiano sono molto maggiori di quelle realizzate nel 2012. La qualità oggettiva del miele italiano colloca l'Italia tra i primi posti al mondo. Eppure, in un mondo che richiede sempre più miele di qualità, i produttori italiani stentano a essere presenti sui mercati esteri e soprattutto a farsi riconosce quel premium-price che la maggior qualità consentirebbe. Le microimprese e i tanti localismi che caratterizzano l'apicoltura italiana consentono l'ampia varietà della nostra produzione e una cultura del miele estesa. Esse non hanno però la forza per pianificare, finanziare e attuare quelle azioni di marketing che sarebbero necessarie per un ampio successo del miele italiano all'estero.