Log in to use the pretty print function and embed function.
Aren't you signed up yet? signup!
Nei primi 9 mesi del 2013, su 110 province italiane, esattamente la metà (55) registra risultati tendenziali di crescita del proprio export in valore, mentre l'altra metà evidenzia andamenti in calo delle vendite all'estero delle proprie imprese.
La mappa qui presentata consente di evidenziare aree della penisola in cui i risultati sono stati relativamente omogenei, distinguendole dalle aree che, viceversa, si sono caratterizzate per profonde differenze tra territori anche confinanti.
Marche , Trentino Alto Adige , Emilia Romagna e Veneto sono le regioni che hanno evidenziato risultati di crescita particolarmente omogenei a livello territoriale delle esportazioni delle proprie imprese. Esse si sono caratterizzate, tutte, per crescite molto positive sui mercati extra-UE .
Anche Piemonte e Toscana si sono caratterizzate per una prevalenza di province in crescita tendenziale nell'export delle proprie imprese.
[caption id="attachment_2794" align="aligncenter" width="3510" caption="Variazioni tendenziali Esportazioni provinciali 2013 (Gennaio-Settembre, euro correnti)"]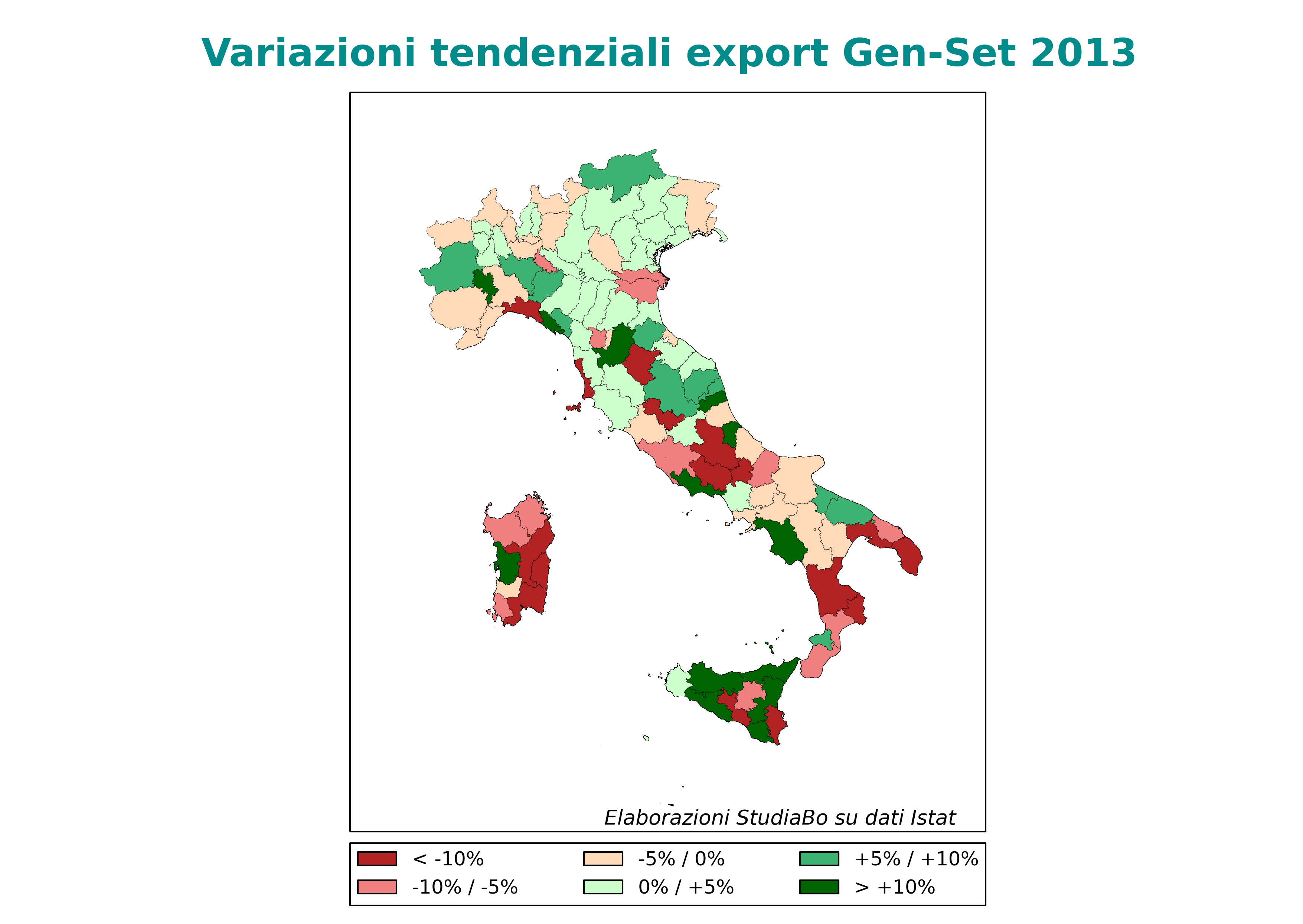 [/caption]
Viceversa, altre regioni appaiono contraddistinte da performance delle esportazioni alquanto eterogenee : la Lombardia , ad esempio, è particolarmente rappresentativa di questo fenomeno, con 6 delle sue 12 province in crescita nelle esportazioni nei primi 9 mesi del 2013 e altrettante in calo. Altre regioni contraddistinte da risultati diseguali al proprio interno sono Friuli Venezia Giulia , Umbria, Lazio , Campania.
Vi è infine un terzo cluster territoriale, costituito da regioni che evidenziano la prevalenza o in alcuni casi la generalità di risultati negativi delle esportazioni delle imprese locali. Sardegna e Calabria , ma anche Puglia , Abruzzo , Basilicata , Molise , Liguria (con la rilevante eccezione di La Spezia ) e Valle d'Aosta registrano, infatti, dinamiche di contrazione dell'export provinciale abbastanza generalizzate.
Questi ultimi segnali suggeriscono come, al di là di alcuni casi in controtendenza (quali buona parte delle province siciliane , ma anche le province di Pescara , Oristano, Salerno , Barletta-Andria-Trani e Bari ), il Sud dell'Italia stia evidenziando particolari difficoltà a "tenere il passo" sui mercati esteri: solo un terzo delle province dell'Italia meridionale ha, infatti, registrato risultati tendenziali di crescita del proprio export nei primi 9 mesi del 2013.
Viceversa, i risultati esportativi della maggior parte (63%) delle province del Centro-Nord del nostro paese sembrano documentare una buona capacità competitiva a livello internazionale delle imprese di questi territori.